How a building fits into its environment and how people move through it are primary concerns of architects. Here are two articles describing both of those issues as seen in proposals for new public and private structures.
The first example is from Urukia.com, a web-based architecture and design magazine. It details a proposal by Toshiki Hirano for a new Guggenheim Museum in Helsinki. In this proposal the museum is situated on a strip of land between a public park and the city's waterfront. Its galleries have panoramic views of the harbor while its roofline dips down to ground level at several points to become an extension of the park. The design team has created a building with galleries and common spaces that lead from one to another forming a large, elongated loop. This flowing traffic pattern not only responds to the long narrow space in which the museum is situated, it also refers to, and complements, the traffic flow of other Guggenheim Museums in New York and Bilbao.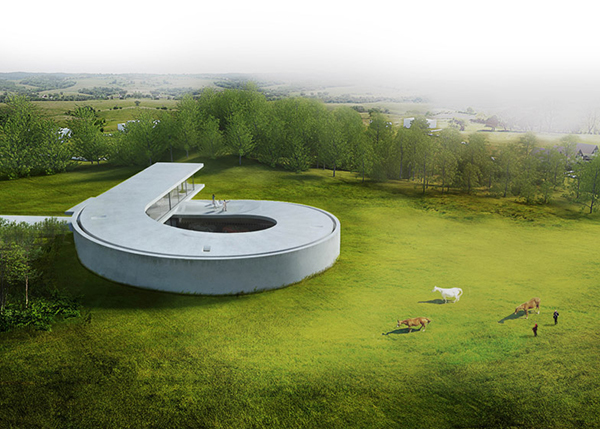 The second example is from Dezeen, an online architecture and design magazine. This article describes a proposal by the Bjarke Ingels Group for a private country house in Denmark. The owner of the house has a passion for automobiles and the proposed design integrates the driveway and garage into the general structure with the living quarters. There is no separate garage. The house starts at ground level where the driveway enters the structure and spirals gradually upwards. All the rooms and spaces flow into each other, one after another, along this gently curving path.
In both of these examples the buildings sit comfortably in their sites and provide ready access to the environment. Both examples also expect that people will move through the structures in very predictable ways. Not all buildings are as straightforward as these two examples but nearly all address the universal issues of site and traffic flow. Be sure to read to the end of each article where there are diagrams explaining how the proposals handle these concerns.
Shape, space, scale, motion and time are major design elements/principles used.
Urukia.com's article can be found here…
http://www.urukia.com/wovenscape-museum-entry-guggenheim-helsinki-competition/
Dezeen's article is here…
http://www.dezeen.com/2015/02/20/big-villa-gug-looping-snail-house-car-collector-denmark/