I've long been fascinated by artists who transform everyday objects. What a wonderful way to move through the world, everywhere you look there's a potential work of art.
In the installation "Gathering Dust,"  the artist Donald Lipski pinned thousands of the small altered objects he has been making since childhood onto the gallery walls. Each small sculpture is made of mundane and discarded materials that have been transformed into tiny works of art.
Lipski has been described as a "restless omnivore," devouring all the materials and experiences that he encounters. In an interview with Leslie Kaufman he says "… I'm an appreciator of the physical world. I'm just as much an appreciator of walking through the woods as walking through a hardware store or a museum. I love seeing things and—I don't know if this is true because I'm probably more industrious than I give myself credit for—I think of myself as using objects that are already in the world because I'm lazy. It's much easier to take a couple of things and glue them together than it is to take a block of stone and start carving."
You can read the entire interview here…
http://www.galerielelong.com/sites/default/files/sculpture_nov_2007.pdf
To see more of Donald Lipski's work visit his website…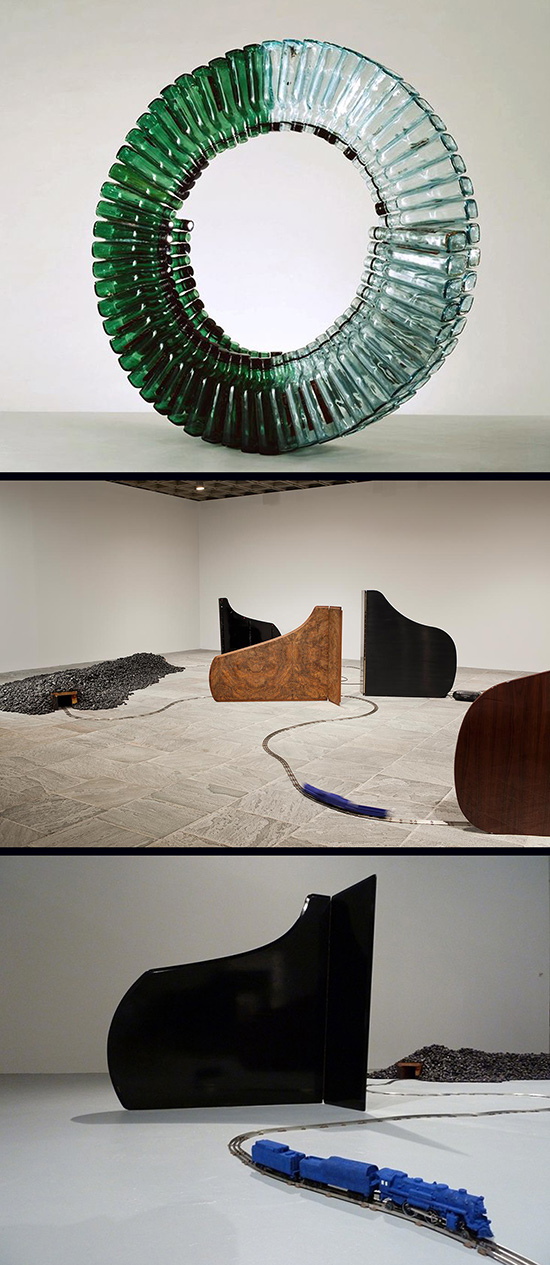 David Hammons is an African-American artist who works with found and discarded objects that resonate historically and culturally. He's worked with greasy chicken bones, gold chains, basketball hoops, hair, bottle caps and bottles of cheap wine – items that can be seen as either shamanistic charms or part of a commentary on racist stereotypes. The writer Steven Stern has called Hammons a "poet of refuse."
In the installation shown above, "Chasing the Blue Train," toy trains move under stacks of dirty coal and around up-ended piano lids. A sculpture is made from discarded bottles of the fortified wine called Night Train, its surface mimicking train tracks. A boom box plays John Coltrane's "Blue 'trane" and James Brown's "Night Train." The multiple references to trains paint a picture of African-American culture that, to quote the New York Times, is "…an amusing idea that arguably has its dark underpinnings…Hammons apparently means for us to think in different ways about his various sight and sound gags – to appreciate the music and to realize the contrary implications of its lyrics; to think of his circles of bottles as both decoration and metaphor…"
To read more about David Hammons…
http://www.nytimes.com/1989/05/19/arts/review-art-giving-voice-to-the-ephemera-of-the-urban-world.html

Alexis Smith is another artist who uses found and discarded objects that are rich with cultural references. She combines found images and objects with text to produce commentary about advertising, consumer culture and the cult of celebrity.
Smith's studio is full of thousands of objects and paper ephemera that she has collected at yard sales and thrift stores, or found discarded on the streets. This veritable mountain of "things" is combined with 'aphorisms by the famous and infamous, from Walt Whitman and Charlie Chan to Richard Nixon and Prince. They are cryptic, witty and poignant..' (LA Times)
Here's more about Alexis Smith…
http://whitehotmagazine.com/articles/alexis-smith-honor-fraser-gallery/2819