Here are two artists who have taken common items out of their predictable environments. By putting them in a new context they cause us to look at them again…to reconsider the form and meaning of these well-known things.
Norwegian artist Per Kristian Nygård questioned the organized and functional exhibition space of the NoPlace Gallery in Oslo by creating a life size grassy landscape that fills the entire gallery. Real grass grows from 4500 liters of soil layered over a wooden framework. In this installation titled Not Red But Green, Nygård introduces the randomness of nature to the rational spaces of a pristine art gallery. The rooms intended for browsing are suddenly off limits and even the basic premise of architecture is challenged. Outside is now inside. Nygård says that he is "…trying to make works and experiences that can detach you and me from familiar categories…"
It is hard to look at this installation and not be hyper aware of the wispy green grass, the massive weight of the dark soil, and the rhythmic shapes of the mounds of earth leading back from the entrance. Even the cramped negative space between the surface of the hillside and the gallery ceiling has a strong presence.
You can see more of Per Kristian Nygård's installation here…
http://www.designboom.com/art/per-kristian-nygard-grassy-landscape-olso-11-25-2014/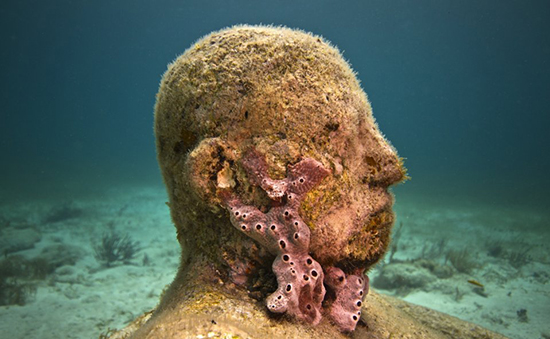 Jason deCaires Taylor is a sculptor/environmentalist known for creating mysterious underwater installations that evolve over time as aquatic lifeforms colonize and eventually claim his objects. These permanent and semi-permanent installations are comprised of multiple life-sized casts of people from all walks of life engaged in mundane activities. Taylor works with marine biologists to ensure that his sculptures are environmentally neutral and installed in locations that encourage marine life to take hold. It is his intention that these installations will become artificial reefs, teeming with coral, sea fans, algae and starfish. The Silent Evolution is his largest installation to date and consists of 400 life-sized human figures spread over 420 square meters off the Caribbean coast of Mexico.
Watching a video of Taylor's submerged figures is an eerie but beautiful experience. There is a strong sense of timelessness mixed with an equally strong sense of the vibrant life forces that permeate the ocean waters surrounding his sculptures. Eventually the figures become simple shapes buried under layers of texture and color.
You can learn more about Jason deCaires Taylor and see videos of his work here…