Nearly every artist uses color in their work but for some artists color has special significance. Here are two artists whose use of this design element is so important that it is almost impossible to discuss their work without mentioning the word color early in the conversation.
Luis Barragan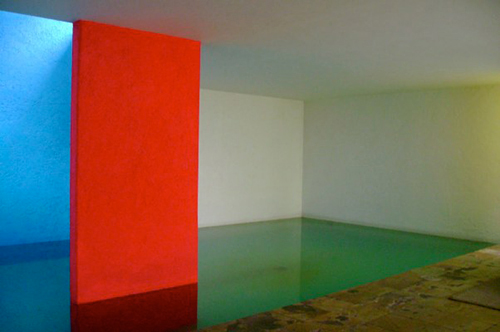 Luis Barragan was a Mexican architect active during the mid-twentieth century. He was trained as an engineer, self-taught as an architect, and equally known for his contributions to landscape architecture and urban planning. Although the buildings he designed have the minimal flat planes of the International Style popular at the time, they do not share that style's gray industrial surfaces. Barragan felt that architecture should reflect the cultural, spiritual and mythical roots of its site. The buildings he designed are alive with the bold, saturated color combinations common to historic Mexico. The "guiding lights" of his vision as an architect included the terms magic, spellbound, serenity and amazement. Barragan's adventurous use of color was a primary means of realizing these lights.
Sandy Skoglund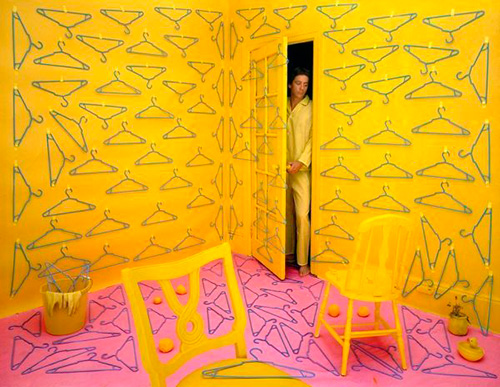 Sandy Skoglund is a contemporary American artist. She was trained as a painter and multimedia artist but taught herself photography and sculpture as an extension of the conceptual art she created in the 1970s. Today she is known for life size installations depicting quizzical dreamlike events. She is equally known for large scale color photographs of those same installations. Her installations often include actors and mannequins. Some are also filled with hundreds (even thousands) of obsessively repeated objects. The installations are usually dominated by a simple but intense color combination or by the use of one strong color appearing multiple times in a neutral environment.
You can learn more about Luis Barragan here…
http://en.wikipedia.org/wiki/Luis_Barrag%C3%A1n
Read more about Sandy Skoglund and see more images here…