Over the past few years several world class art museums have digitized large chunks of their collections and publications and now make them available for free to the general public. Anyone with a computer, tablet or smart phone can view rare historical images and detail-rich versions of some of the finest artwork in the world. They can also see digital copies of exhibition catalogs that were once considered expensive treasures. For anyone interested in the visual arts this is a wonderful opportunity. Here are a few major sources for this newly available material. Other museums are beginning to follow this model and more resources are becoming available every year.
The Rijksmuseum has 125,000 hi-resolution images of Dutch masterpieces (including paintings by Rembrandt and Vermeer) available for download.
The Metropolitan Museum of Art has over 400,000 hi-resolution images online available for download.
The Met also has over 400 art books and catalogs you can download.
The National Gallery of Art offers over 45,000 high quality images free for download and use.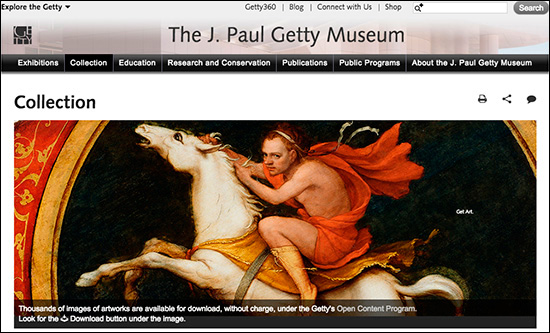 The Getty Museum has some 4,600 hi-resolution images as well as 250 art books and catalogs available for download.
The Guggenheim Museum has more than 100 of their art books and catalogs available for you to read online.