Last week I wrote about the magic of the camera obscura. While writing that post I was reminded of the work of artist Steven Pippin who constructs unique camera obscura/pinhole cameras out of unexpected materials. He has converted refrigerators, washing machines, toilets, closets and other common objects into pinhole cameras that use film and paper.
What strikes me about Pippin's work is his ability to take a simple process and let it be the leaping off point for a wild ride into a world where anything is possible. Everything he encounters he views through a creative filter – he sees what the thing can be, rather than what it is. To me this is the essence of the inventive mind all artists need.
The process of exploration is as important to Pippin as the finished photographs. He usually documents the making of the cameras, often displaying the altered camera-objects with the completed photographs. There is also a connection between the camera and the thing photographed: a converted refrigerator used to photograph the food on its shelves; a closet used to photograph the clothes inside; a bathtub for bathers on a beach.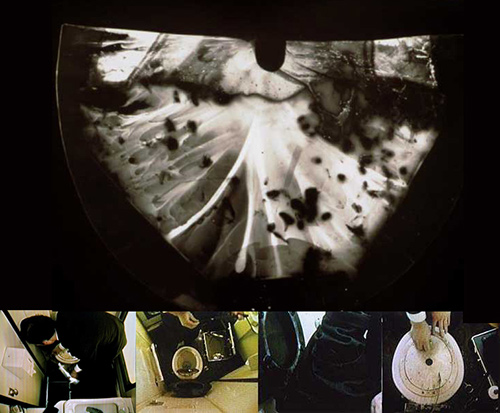 In one of his projects, "The Continued Saga of an Amateur Photographer,"  Pippin traveled on a train from London to Brighton. The trip took 55 minutes, and it took him 50 minutes to complete a photograph. He converted the toilet into an analog pinhole camera. The toilet also became a photographic darkroom – he processed the film with developer and fixer in the toilet bowl.
His most famous project, "Laundromat-Locomotion," used a row of twelve washing machines in a laundromat. He turned each of them into a camera and photographic darkroom – taking the picture and then processing it during the rinse cycles of the machine. He rigged up a trip wire so that the cameras would take timed sequential pictures. In a homage to the 19th century photographer-scientist Eadweard Muybridge, Pippin photographed a variety of subjects moving through the laundromat, even bringing in a horse. If you aren't familiar with Muybridge's locomotion studies here is a link… http://www.muybridge.org
Of his work Pippin writes, "The future of photography seems to rely on the progress of the camera and its ability to be continually refined, to a point whereby images will be indistinguishable from reality. Working in the opposite direction to this mentality I have become fascinated with the idea of constructing a camera whose view point is not some external subject, but instead one having the capability of looking back in on itself toward its own darkness. An instrument designed with the intention of recording its own mechanism and features. A singular entity bearing no relationship to anything other than its own intricate and elaborate operation."
To read more about Steven Pippin click here…
http://www.theguardian.com/turner1999/Story/0,,201737,00.html