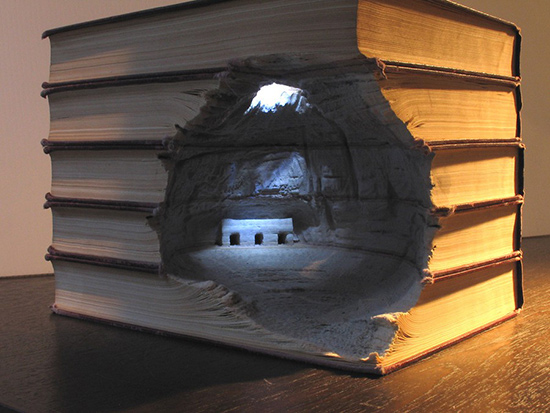 Guy Laramee
I love books. They fill the shelves in every room of my house. They're piled on floors and stacked in my studio.
I read incessantly but I'm also enamored of a book's physical form, so straightforward but one with plenty of potential.
Guy Laramee
So here is a favorite assignment to try. Really, it works every time.
Find a hardcover book that you don't mind altering – thrift stores and yard sales are great resources. Now, do something to the book. Anything. Staple it. Paint on it. Sew it. Dye it.Tear it apart. Cut into it. Photograph it. Drive a car over it. Burn it. Carve it. Cross out all the words you hate. There are no rules but think about the design elements and principles as you complete this project.
Brian Dettmer
Books, books, books. Yes, the ones shown in this post have been altered by professional artists but there are still great things you can do with very basic skills.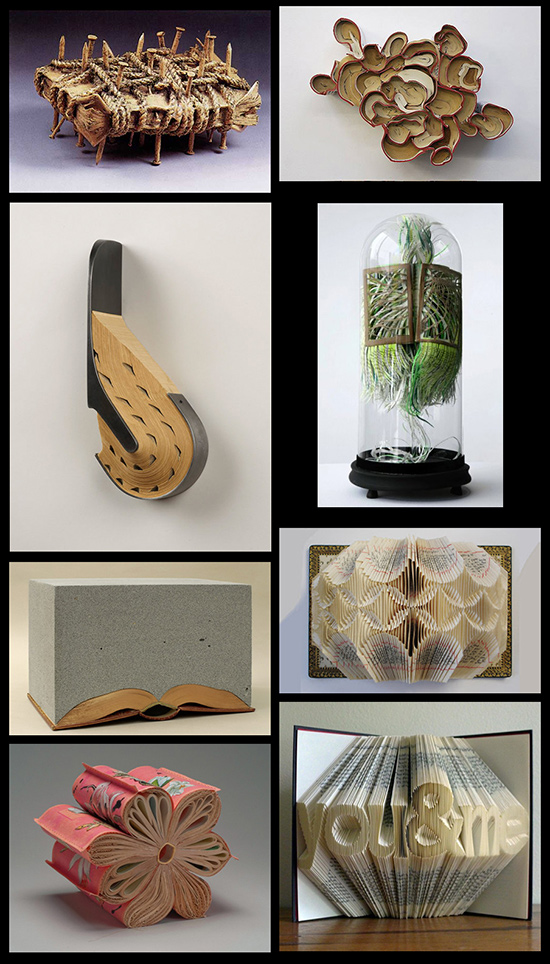 Above photo: clockwise from upper left – Barton Lidice Benes, Jonathan Callan, Georgia Russell, Lucille Moroni, Luciana Frigerio, Jacqueline Rush Lee, Jonathan Callan, Andrew Hayes
Here are a few resources to look at…
San Francisco Center for the Book          http://sfcb.org/blog/
Guy Laramee          http://www.guylaramee.com
Brian Dettmer        http://briandettmer.com