Whether called dots or points, you can't get much more basic. In our book, Design: A Beginner's Handbook, we start with dots – an easy way to guide the reader into the elements and principles of design. Some books skip dots altogether. What a shame. Because a dot is a miraculous thing.
So, let's prove how great the humble dot can be by looking at a few images from our Dot Pinterest board.
Christian Faur is a contemporary artist who has taken the technique of Pointillism to a new level. Developed in 1886 by Georges Seurat, Pointillism involves the careful placement of small dots of color so that they mix optically to form an image. Instead of paint Faur makes his own crayons which he arranges in wooden boxes. Each crayon tip is a point of color that becomes part of a larger image.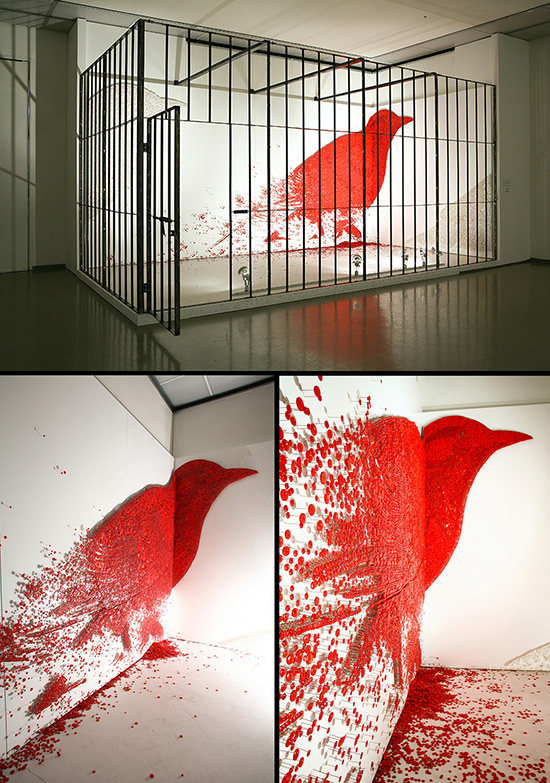 Ran Hwang in her installation "Dreaming of Joy" uses thousands of buttons to create the shape of a large bird. The bird is formed by playing with the density and spacing of the buttons. Each button, or should I say "dot", has been pinned to the wall by hand, a labor-intensive technique.
While Faur and Hwang use materials with a strong physical presence that resonate with cultural associations, Jim Campbell employs points of digital light. He uses grids of L.E.D.s to make images and videos. The images are so low resolution that they are almost abstract, and difficult to perceive.
Suh Do-Ho in his installation "Who am we?" has also used dots that are barely perceivable from a distance. Tiny faces of thousands of teenagers, taken from photograph's in Do-Ho's high school yearbooks, have been turned into wallpaper. He has papered the walls, which from a distance appear to be blank. As the viewer moves closer they begin to see a textured pattern of dots, and then, recognizable faces.
Where Do-Ho uses dots to make textures, multiple dots can be used to easily create the illusion of depth. In her installation, "Atomic: Full of Love, Full of Wonder," Nike Savvas has used bouncy balls as part of a color display that plays with two-dimensional illusions in a real three-dimensional space. The entire piece is moved by a fan, adding another level of sensory experience.
Now, tell me, how could anyone overlook the design element The Dot?