Where do ideas come from? Isn't this the question all artists want answered?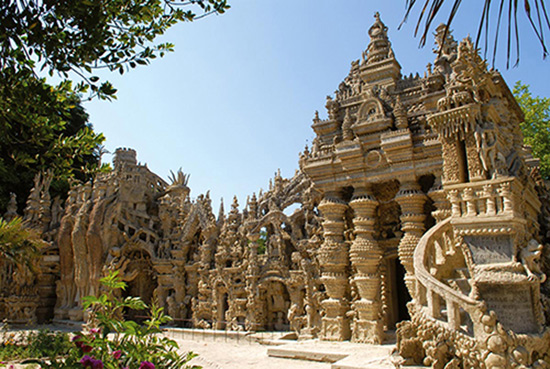 For the Postman Cheval inspiration appeared one day in 1877 when he tripped on a stone as he made his daily mail deliveries.
"I was walking very fast when my foot caught on something that sent me stumbling a few meters away, I wanted to know the cause. In a dream I had built a palace, a castle or caves, I cannot express it well… I told no one about it for fear of being ridiculed and I felt ridiculous myself. Then fifteen years later, when I had almost forgotten my dream, when I wasn't thinking of it at all, my foot reminded me of it. My foot tripped on a stone that almost made me fall. I wanted to know what it was… It was a stone of such a strange shape that I put it in my pocket to admire it at my ease. The next day, I went back to the same place. I found more stones, even more beautiful, I gathered them together on the spot and was overcome with delight… It's a sandstone shaped by water and hardened by the power of time. It becomes as hard as pebbles. It represents a sculpture so strange that it is impossible for man to imitate, it represents any kind of animal, any kind of caricature…I said to myself: since Nature is willing to do the sculpture, I will do the masonry and the architecture."
Cheval spent the next 33 years of his life building Le Palais Idéal, an 85 foot long, 30 foot high fantasy palace that includes gardens, a small replica of a swiss chalet, another of an hindu temple, a medieval castle, all manner of fanciful animals, mythological figures. A postman by trade, Cheval worked as a baker when he was young and his palace has always reminded me of a giant sugary confection – good enough to eat.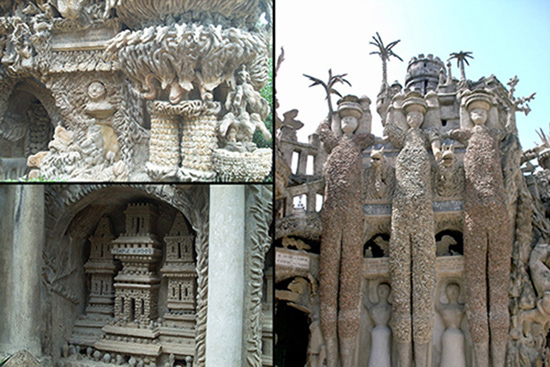 As Cheval and his palace prove, ideas are everywhere. All you need to do is pay attention to the world that surrounds you.