What is a portrait? Is it just a faithful rendering of a person. And if so, in the age of cellphone cameras, is there a need for anything more?
Why create a portrait in the first place? Is it to leave behind an image that will outlast one's life? Is it part of an important historical record? A commemoration? A form of communication? And what does it capture? A real likeness or an essence? A possible persona that differs from reality? Is it a reflection of the person portrayed or of the maker of the image?
The history of portraiture is vast. Today let's look at a few contemporary examples by the artist Chuck Close.
Chuck Close is a painter who uses portraiture to explore the possibilities of painting and representation, and its relationship to photography. Working from photographs, Close makes large scale portraits that are based on head shot views of his subjects. I thought I'd explore the similarities and differences in three portraits by Close.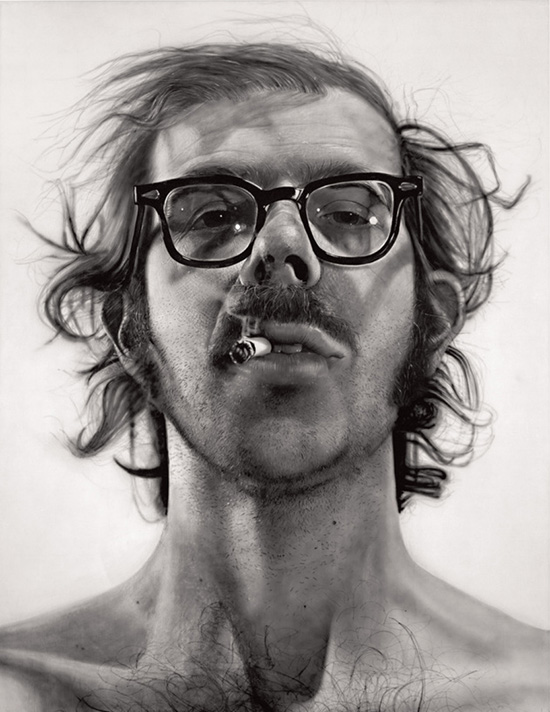 "Big Self-Portrait" at almost 9 feet by 7 feet is indeed huge. The scale contributes to a sense of arrogance and disdain in the captured pose. This is a young man's portrait. Working from a small black and white photo Close has used acrylic paint to render an enormous hyper-realistic image. Like a photograph with a shallow depth of field there is blurring in the areas in front and behind the focal point.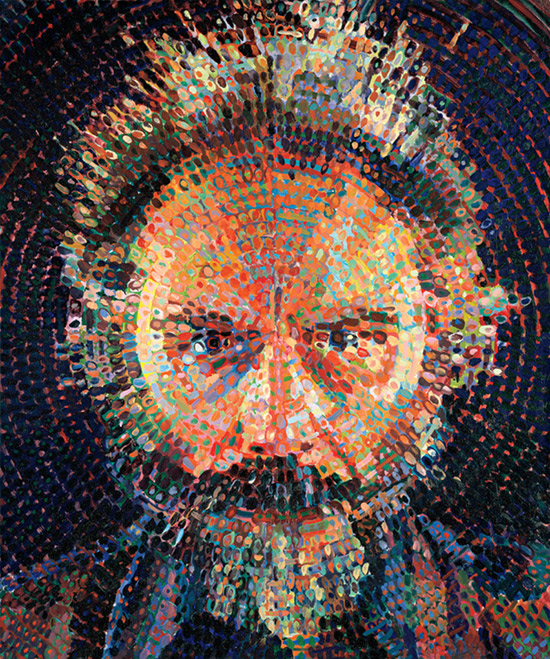 Compare this painting to the oil painting above of the artist Lucas Samaras. The painting moves away from the extreme realism seen in Close's self-portrait, concerning itself as much with the formal aspects of paint application and design as with showing a faithful rendition of Samaras. At the same time, it captures the essence of Lucas's own self-portraiture work in which he manipulated the wet emulsion found in Polaroid Instamatic photos to make warped and eccentric images of himself.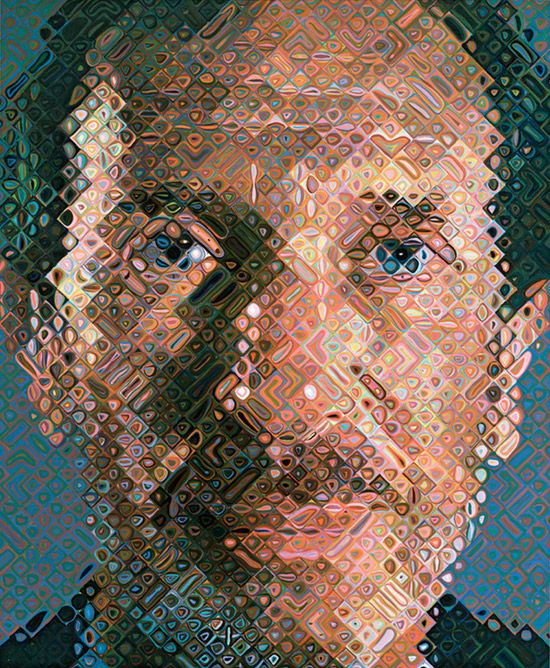 The last portrait, "Arne," is part of an exploration of paint application and design. Visible from a distance as a portrait, from up close the image dissolves into an abstract design based on a grid of color, shapes and dots. Unlike the other two portraits where some important aspect of the person is shown, in this piece "Arne" could be replaced by almost anyone – who he is does not appear essential to the painting.
Over the next few weeks I'll look at more artists working with portraits.