Here are two artists known for their paintings of lines and stripes arranged in simple geometric compositions. At first you might think that their paintings would look very similar but this is not the case. One artist makes compositions that seem delicate and light weight. The other artist makes paintings that seem dense and massive. A lesson to be learned from comparing the work of these artists is that the simplest of design elements can be used to convey a complex and nuanced range of effects.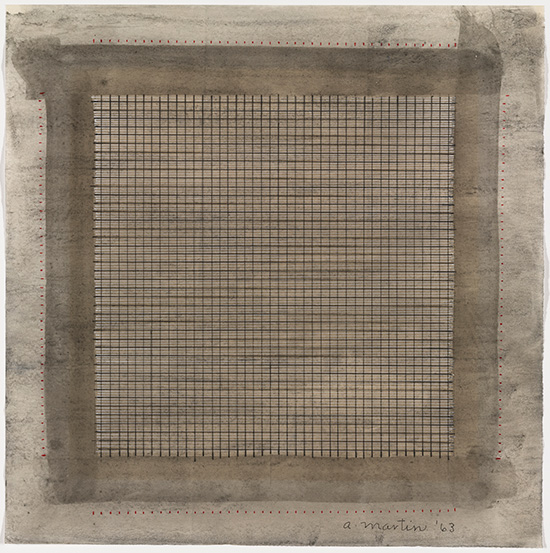 Agnes Martin was born in Canada but spent most of her life in the United States. She spent her early career in New York City where she became a successful exhibiting artist and close friend with major figures of the Abstract Expressionist movement. In the late 1960s she packed up her studio and moved to New Mexico where she lived the rest of her life – working in solitude until her death in 2004 at the age of 92.
Throughout her career Martin maintained that she was not the active creator of her artwork but, rather, she was simply a matrix where inspiration and process came together. She rejected the notion that art should illustrate ideas. Instead, she cleared her mind of ideas and let pure inspiration and intuition dictate the creative process from beginning to end. As a result, the delicate surfaces she created often seem to be the fragile recordings of an almost trance-like experience. She loved working with grids and parallel straight lines because they are absolutely neutral, without any baggage from the outside world.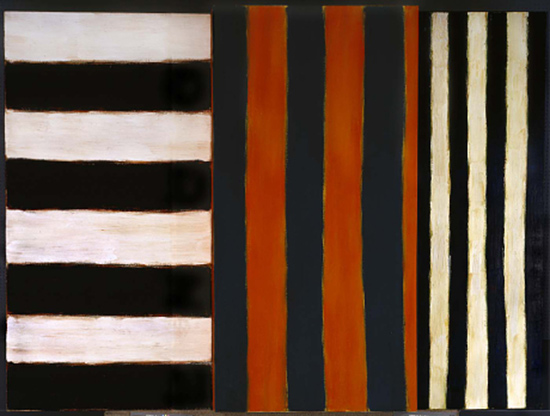 Sean Scully was born in Ireland, educated in England and became an American citizen in 1983. Twice nominated for the prestigious Turner Prize, Scully has an international reputation as one of the most important "pure" painters working today.
Scully shares some of Agnes Martin's attitudes about making art – that the process is intuitive and that simple mathematical compositions bring clarity and authenticity to the finished work. His paintings differ from Martin's in that they are built with multiple layers of forcefully applied paint. There is nothing fragile about his work. Scully's attitude about painting is grounded in the real world. His compositions are simple and his process is straightforward. The visual language he uses reflects the contemporary world we live in with it's love of numerical order and its layers of infrastructure.