In today's blogpost we discuss an artwork where the material used by the artist is absolutely essential and is as significant as the final image.
Kara Walker is a contemporary African-American artist known for her provocative image and text based installations that comment on black lives from pre-Civil War America to today. Among her many awards she is the recipient of a MacArthur Foundation "Genius Grant." In 2014 Walker created a monumental sculptural installation at a decommissioned Domino Sugar factory in Brooklyn, New York. The installation is an homage to the many roles played by black women throughout their history in the New World. It also refers to the labor of slaves who worked in Caribbean cane fields to produce a luxury product for their masters. The title of the piece describes the work's multifaceted references. It is called:
A Subtlety or the "Marvelous Sugar Baby": an Homage to the unpaid and overworked Artisans who have refined our Sweet tastes from the cane fields to the Kitchens of the New World on the Occasion of the demolition of the Domino Sugar Refining Plant
The installation's main feature is a 35 foot (10.6 m) tall sugar coated form of a black woman in a sphinx-like pose. The figure has stereotypical features and is wearing a bandana headscarf reminiscent of the famous Aunt Jemima food logo. Around this Sugar Baby are smaller dark figures of young black boys holding empty baskets or bunches of bananas. These figures are enlarged versions of ceramic souvenir figurines produced in China and still popular today.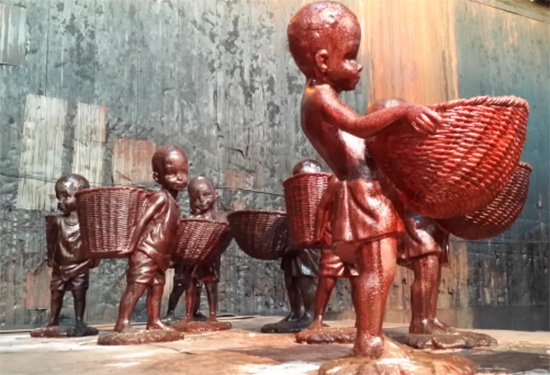 Nearly everything about this installation is loaded with deeper meanings as well as multiple cultural references…and sugar is at the heart of each of them. The abandoned factory housing the installation once produced nearly half of all the sugar used in the United States. That sugar was originally a rare and exclusive product for only the wealthy, but now it is plentiful and fuels a health crises of epic proportion among poor people. The scale of the Sugar Baby and the immense size of the factory space surrounding it suggest the corporate and political power of the sugar companies. The voluptuous nude female figure with headscarf, in its crouching sphinx-like pose, makes references to the enduring role of black women as sex objects, nurturers and caretakers. How many ways can you imagine the word "sugar" being used in each of those contexts? Even the dark brown color of the young boys surrounding the figure refers to burnt sugar and molasses.
This is a work of art where conceptual content and physical materials are one in the same.
You can learn more about A Subtlety here…