Those of you who've read Chapter 5 of our book Design: A Beginner's Handbook know that trompe l'oeil is a type of visual texture that involves extreme realism. In fact, the term trompe l'oeil translates as "to fool the eye."
Artists Vera Lehndorff and Holger Trulzsch are famous for their series of photographs, "Oxidation." Vera, an ex-super model, painted her body with the assistance of Holger so that she was camouflaged in decaying urban settings. As an internationally famous model she was subject to the gaze of many, but here her body disappears. These photographs defy that gaze. Holger has stated that "commercial images are based on seduction in order to create an unnecessary desire for consumers. Art is about complex language systems and not just about pretty images."
To read more about Vera Lehndorff and Holger Trulzsch…
http://articles.chicagotribune.com/1987-01-30/entertainment/8701080546_1_lehndorff-paint-exhibit
http://www.martagnyp.com/interviews/veralehndorffholgertruelzsch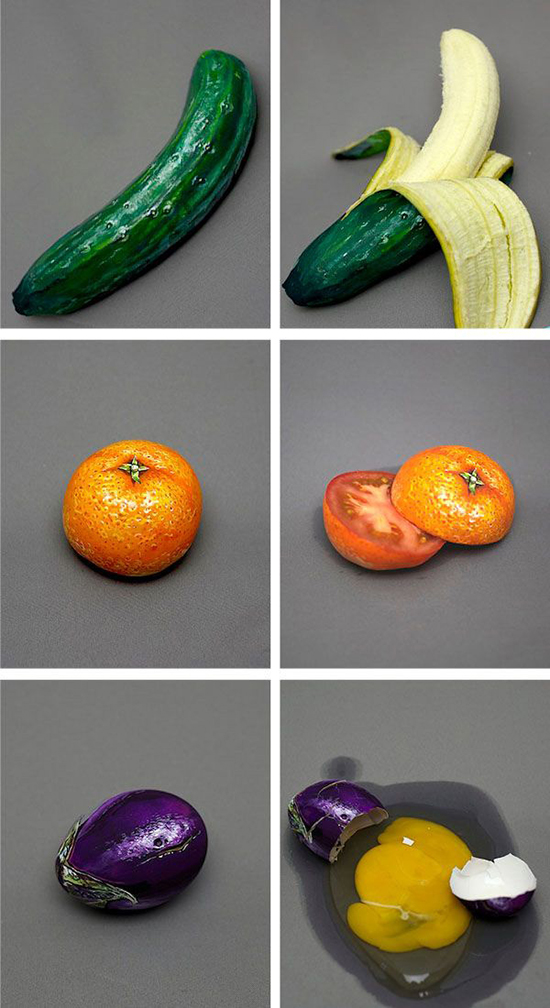 Hikaru Cho also uses trompe l'oeil in her work. In the photograph above she has painted a banana to look like a cucumber, a tomato to look like an orange, and an egg to look like an eggplant.
So, here is a design exercise for you to try that is a simple version of what Cho has done. This exercise will help you develop your observation skills, as well as aid in an understanding of the design elements of value and color.
You'll need a set of acrylic paints. You can usually find a student grade set for a reasonable price at an art supply store. Get two apples.Try to find apples that display a range of colors and values i.e. avoid a perfectly uniform green apple. Paint one of the apples white – either with gesso or white paint. Now, carefully look at the apple you have not painted. You want to paint the white apple so that it is identical to your unpainted apple.
We encourage you to post your work to our Facebook page.