In our last blog post we began a series about sources for art and design instruction. Let's step aside for a moment and look at art that is created by a specific group of people who have not had an education in the arts. Yes, it may seem odd that as someone who teaches art I am in love with the work of untrained artists.
The artist and curator Jean Dubuffet came up with the term art brut to describe work created outside of mainstream culture by self-taught artists. The phrase translates to raw art. This is how he described art brut, "We understand by this term works produced by persons unscathed by artistic culture, where mimicry plays little or no part (contrary to the activities of intellectuals). These artists derive everything…from their own depths, and not from the conventions of classical or fashionable art."
Outsider, naive, visionary, or self-taught art are more general terms used to describe work made by artists who are not only untrained but who also possess a strong personal vision that sets them at the cultural margins. There's a very good explanation of each phrase online at Raw Vision Magazine.
In past posts I've covered the work of two self-taught artists – Simon Rodia (Watts Towers) and the Postman Cheval (the Ideal Palace). Today I want to show you the work of a few more self-taught artists. In future posts I'll go into more depth about each of them, and I'll cover more outsider, naive and visionary artists.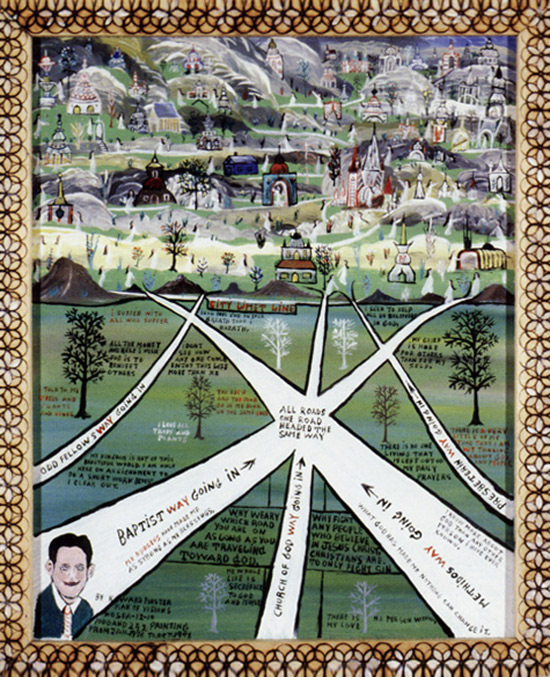 Howard Finster (1916-2001) was an artist and minister who claimed to have had his first vision at the age of 3. These visions directed him to spread the gospel, which he did by building large sculptural environments. God also told him to make 5,000 paintings – he eventually created 46,000 – each one of them numbered to prove he'd reached the required number.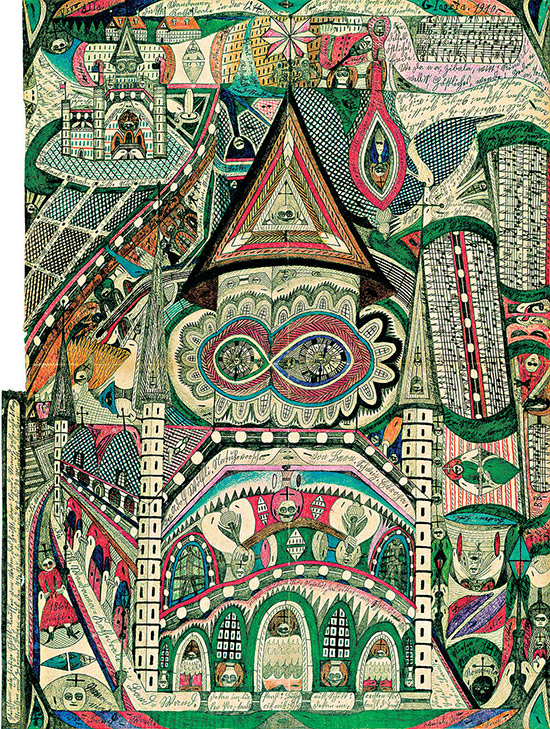 Adolf Wölfli spent the last 35 years of his life in a Swiss psychiatric hospital where he produced a 25,000 page illustrated autobiographical manuscript. The five volumes piece together text, illustrations, musical compositions and collages to form a new imaginary history of his life and utopian future.
For 25 years, starting at age 60, "Grandma" Tressa Prisbrey constructed her Bottle Village. Originally built both to house her large pencil collection (17,000 pencils) and to form a wall to protect her from the smell of a nearby turkey farm, her village became a magical place of shrines, wishing wells, fountains, and obscure collections.
Born in Mexico, Martin Ramirez moved to the U.S. to seek work, but ended up homeless and on the streets. He was committed to a psychiatric hospital as a catatonic schizophrenic. He rarely talked and spent 32 years collecting bits of found paper, using spit to join the bits into drawing surfaces, some as large as twelve feet across.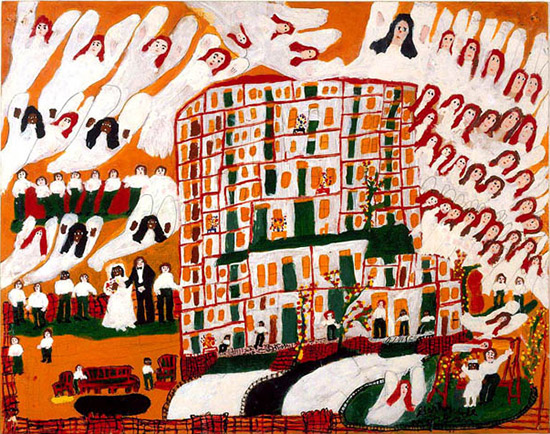 Gertrude Morgan became Sister Gertrude Morgan after a heavenly revelation. The house of worship she established also served as an art and music studio. Her paintings promoted her preaching. Of the work she said, "He moves my hand. Do you think I would ever know how to do a picture like this by myself?"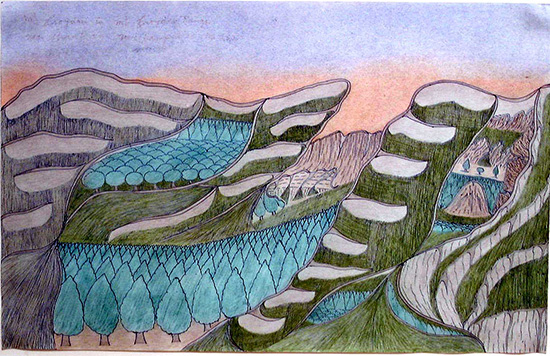 At the age of 76 Joseph Yoakum started recording his memories through landscape paintings. Soon, he was painting imaginary landscapes of places he had never visited. Over a ten year period he made over 2,000 drawings.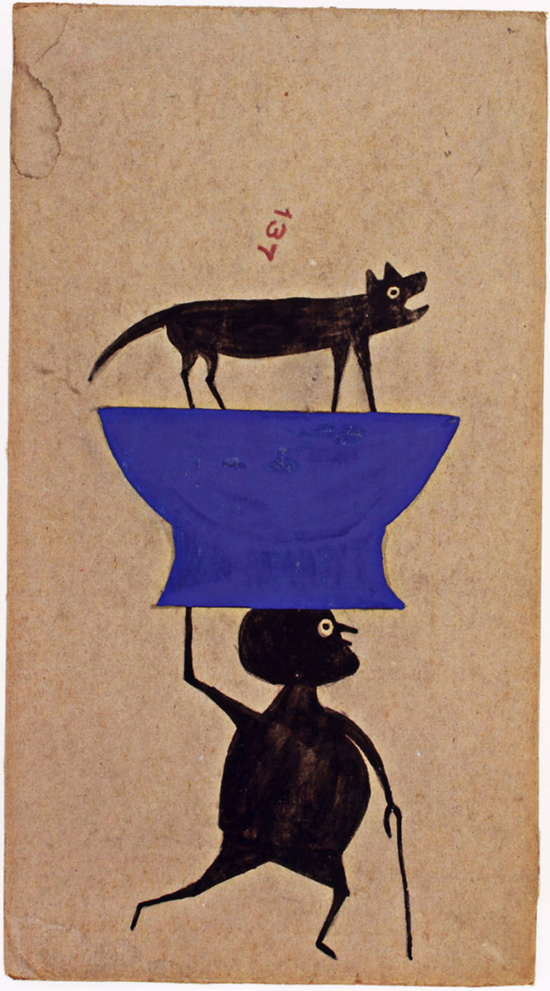 An ex-slave, Bill Traylor lived from 1856 to 1947. After the Civil War he stayed on the plantation as a sharecropper. At the age of 85 he moved to Montgomery, Alabama where he lived on the street and began to draw. Using scraps of cardboard he produced 1500 works of art in a short three year period. He was a masterful modern artist whose work rivals that of mainstream artists of the time, raising the question of whether to separate these self-taught artists from mainstream art categories.
Read an article in the Huffington Post about "Outsider" Art here.