Maps, maps, and more maps. Road maps, subway station maps, GPS maps, globes in classrooms, store maps to the lingerie department, celestial star maps, maps to the homes of the stars, and yes, artist's maps.
If you need a reminder – just what is a map? – then follow these links to the last two posts about maps. Post 1. Post 2.
In looking at maps made by artists I've identified two trends:
Artists either repurpose actual maps or use traditional visual mapping strategies in their work i.e. there are recognizable map images in the art.
Artists work with the conceptual framework of mapping but the visual form of the work does not conform to our idea of a map.
Today I want to Look at work in the first category.
Maps on mattresses, what do they chart? Guillermo Kuitca says that he uses maps to get lost rather than to orient himself. Kuitca's work Le Sacre, seen above, has been shown in various configurations – sometimes the mattresses are wall mounted, other times displayed on the floor. Kuitca  believes that the "map-on-mattress works represent a meeting point of private and public experiences. However it is now that I also see this large platform of beds as the surface on which a 'Rite' or 'Sacre' takes place."
Joyce Kozloff has been working with map images for twenty years as part of her exploration of culture, history and politics. This piece, titled Targets, consists of a three-dimensional globe with 24 sections, each showing an aerial map of a place that since World War II has been bombed by the United States.
Flying Carpet by Seyed Alavi is a permanent installation at the Sacramento, California International Airport. It's an aerial view of the Sacramento River and the surrounding counties. Alavi comments about the piece that "In addition to recalling the experience of flight and flying, this piece, by depicting the larger geographical area, also helps to reinforce a sense of belonging and/or connection for the traveler. In this way, the carpet can also be read and experienced as a 'welcome mat' for visitors arriving in Sacramento."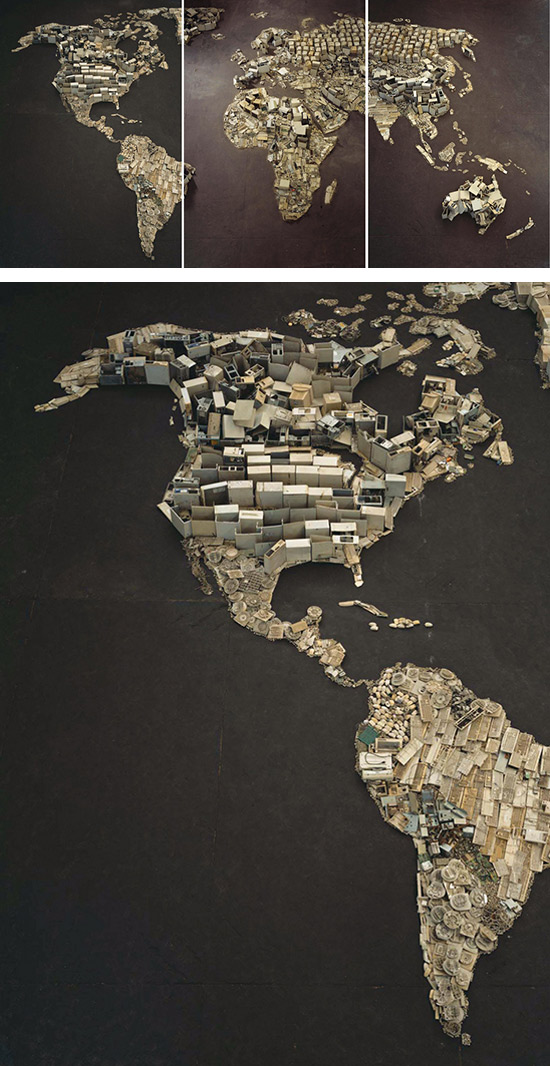 In 2008 artist Vik Muniz created a photographic series called Pictures of Junk. This global map, WWW (World Map) made from trash is part of that series. Muniz began as a sculptor but eventually grew more interested in the photographic documentation of the work. In this piece he "drew" the map with junk, laying it out in a cavernous studio and then photographing it from above.
Working with maps and a mat knife Nikki Rosato cuts away all the land masses, leaving only the roads and rivers. She then reassembles these into two and three-dimensional portraits. According to Rosato, "By making portraits in this way, the map tactually becomes a delicate skin-like structure. The map serves as a visual system mimicking skin or veins, etc, and it is a system that shapes identity. The map is a memory."
Matthew Cusick uses an obsessive and time-consuming process that involves cutting maps into small pieces that are then pasted back together into new painterly compositions. Of the work he says "I discovered that fragments of maps have all the properties of a brushstroke: nuance, density, line, movement, and color. Their palette is deliberate and symbolic, acting as a cognitive mechanism to help us internalize the external. And furthermore, since each map fragment is an index of a specific place and time, I found I could combine fragments from different maps and construct geographical timelines within my paintings."
Working with found maps and text Chris Kenny attaches flat images to the end of pins to make floating three-dimensional surfaces. He says of his work that he "replaces the cartographer's logic with an absurd imaginative system. The roads float and interact in unlikely combinations that allow one's mind to ricochet back and forth between disparate locations and associations."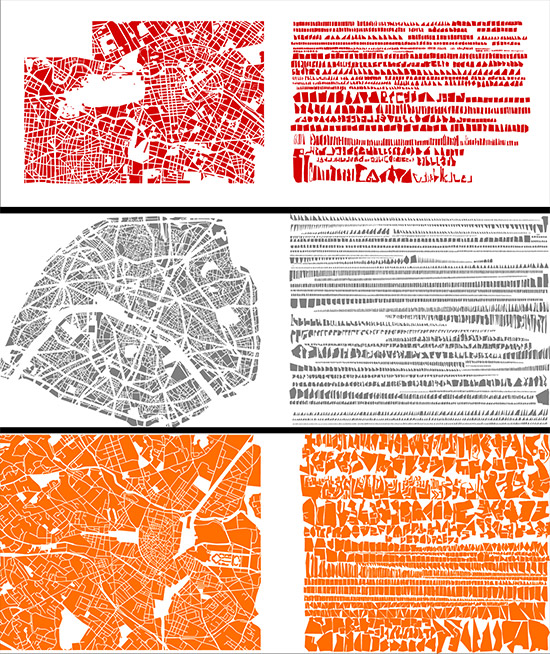 Armelle Caron makes maps of cities and then carefully takes them apart, the pieces becoming abstract shapes without specific meaning. She exhibits the work in pairs – the original map next to one with the blocks reassembled in orderly rows.
In the top image, World Pinned, Jenny Brial finds a world that is no longer available for exploration. All sites have been visited, marked by an obsessive traveler. In Assembly Map of La Motte-Servolex Brial divides a city map into pieces that can be moved and rearranged to create a new territory that is yet to be discovered.
Just how many dating sites does a person need? The conceptual artist/composer R. Luke Dubois joined 21 to complete his project A More Perfect Union. According to the New York Times he joined "…as a straight man, gay man, straight woman and gay woman in every ZIP code in America, downloaded 19 million profiles, and algorithmically determined the most common word in each location, which he inserted in place of the city names on his maps. New York is "Now," Seattle is "Heartbreak," Atlanta is "God." Upper Peninsula of Michigan is dotted with "Masochist," "Depression," "Futile," "Rustic," "Fairytale."
Next week – one last post about maps, I promise.