Karl Blossfeldt was an early twentieth century art and design educator who lived in Germany. At Berlin's Academy of Art Blossfeldt taught specialized classes in drawing and relief sculpture – sculpture for architectural decoration and ornamentation. At the time floral motifs were common in architecture as well as in items such as gates, fences and railings.
To help his students Blossfedt put together a collection of plant specimens and photographs of specimens.
Over the years Blossfeldt's collection grew and what started as a modest resource library for his students ended up being an impressive collection of photographic images. He printed more than 1600 photos but it is estimated that he took over 6000 images.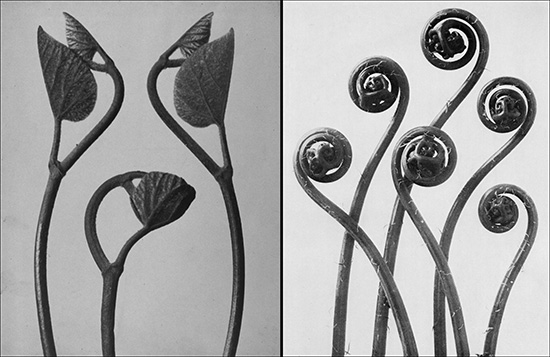 Blossfeldt looked to common, readily available, flora for these teaching aids. He never bought flowers or plants from florists or nurseries. He refused to use plants from distant lands. Instead he picked wildflowers by the side of the road or weeds growing along local railroad tracks.
In preparing and photographing his specimens, Blossfeldt's primary goal was to reveal the essential form of each plant. Like many other artists at the time he felt that nature was the ultimate source of aesthetic form and the best resource for artists searching for interesting and beautiful shapes.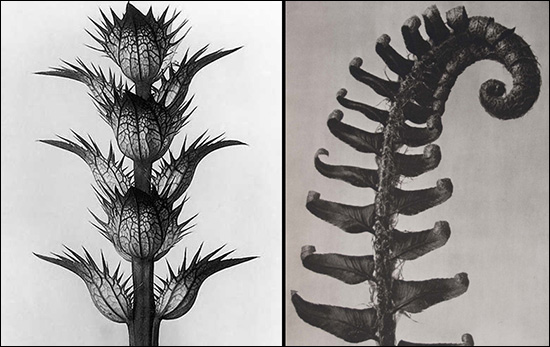 In order to clearly reveal the essence of their form Blossfeldt removed extraneous foliage, roots and stems from his plant specimens. He even used tweezers and razors to subtly tweak and clean up things such as blossoms, buds and seed pods. When finished, the ideal version of the specimen was fixed to a neutral surface and photographed.
Over the years, as Blossfeldt took more and more photographs for his collection, he became an expert photographer. He taught himself techniques such as lighting the specimens to clearly reveal their three-dimensional form and painting on his glass plate negatives to eliminate distracting shadows. He even modified his bulky studio camera so that it could take detailed images enlarged as much as 30X.
In 1928, when he was 63, Blossfeldt sold a portfolio of photographic prints to his school. The influential gallery owner Karl Nierendorf saw the prints and arranged for an exhibition of Blossfeldt's photos at his gallery. He also arranged for a larger collection of Blossfeldt's photos to be published in book form. That volume, Art Forms in Nature, quickly became an international best seller and was soon published in six languages.
When recognition finally came Blossfeldt's way it was for a totally unexpected reason – one he had never pursued. Blossfeldt developed his collection in order to help students create romantic floral-based architectural ornaments. By 1928 this skill was already long out of fashion. What his new audience responded to were the photographs themselves. And in those photographs they saw stark images captured in an objective documentary style.