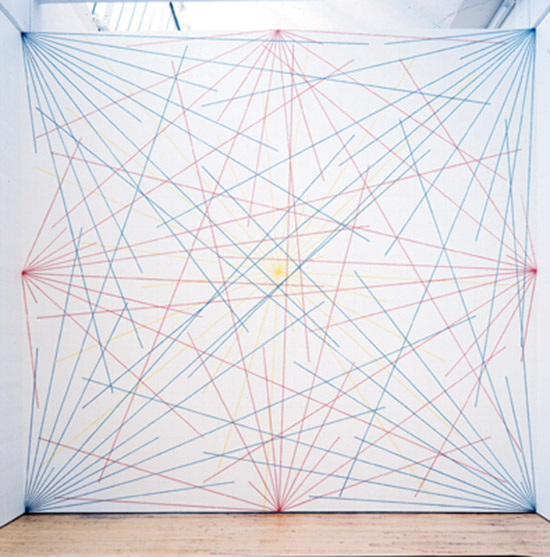 Sol LeWitt, crayon on wall
I recently came across a Sol LeWitt crayon wall drawing. It got me thinking about art materials and the absurd hierarchy that existed between "art" and "craft" when I started making work. Draw with paint or pencil and the work was art but use thread or yarn and the work had less value.
For the most part, things have changed. I thought I'd devote two posts to artists who work with thread. Some draw with thread, others create luminous fields of color, while others alter our spacial perceptions.
Jeongmoon Choi
Jeongmoon Choi combines UV light with thread in installations that play with perception. Walking through one of her projects is akin to entering a neon colored video game. Choi's work locates itself somewhere between architecture and drawing, allowing the viewer to physically enter an illusionary thread-drawn space.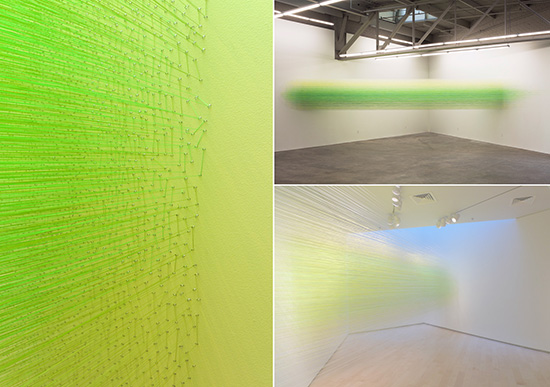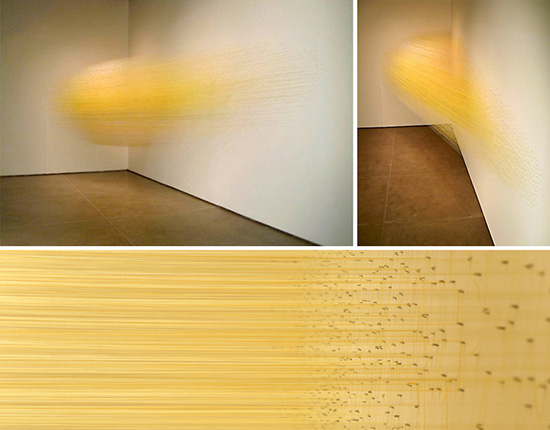 Anne Lindberg
If Choi works in the area between architecture and drawing, then it can be said that Anne Lindberg inhabits the space between architecture and sculpture. In describing her work Lindberg says, "Systemic and non-representational, these works are subtle, rhythmic, abstract, and immersive. I find beauty and disturbance through shifts in tool, layering and material to create passages of tone, density, speed, path and frequency within a system. In recent room-sized installations, I discovered an optical and spatial phenomenon that excites me as the work spans the outer reaches of our peripheral vision. The work references physiological systems – such as heartbeat, respiration, neural paths, equilibrium – and psychological states.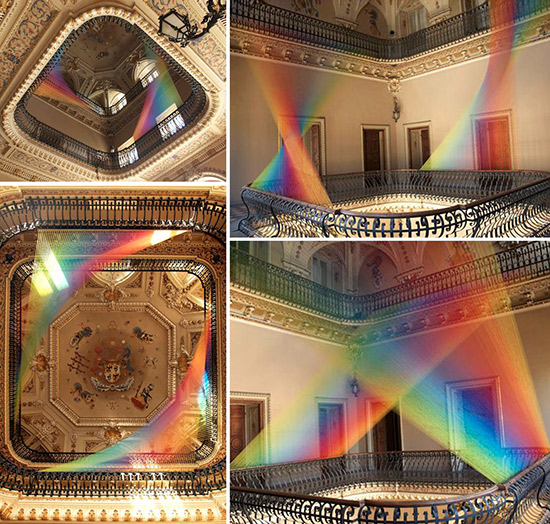 Gabriel Dawe
Working with a rainbow palette of sewing thread Gabriel Dawe creates large scale sculptural installations that can be seen as a portrait of light. At the same time Dawe states that the "work is centered in the exploration of textiles, aiming to examine the complicated construction of gender and identity in his native Mexico and attempting to subvert the notions of masculinity and machismo prevalent in the present day."
Emil Lukas
The luminous thread paintings by Emil Lukas look remarkably like the contemplative oil paintings by Mark Rothko. The process employed by Lukas involves driving nails into the edge of wooden frames and then laboriously winding layer upon layer of polyester thread around the nails. The result is a field of color that appears to shift,vibrate and glow with an inner light.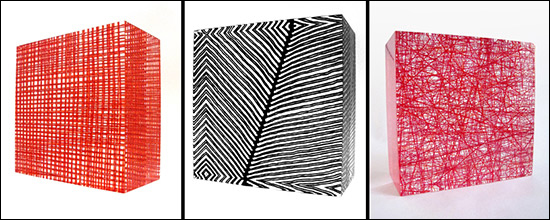 Laura Thomas
Encased in a thick slab of resin the work of Laura Thomas is like an ancient relic unearthed  and preserved. Trained as a designer and textile artist Thomas was fascinated by the unwoven threads on her loom. In a process of experimentation she found a way to "freeze" the threads in this unwoven state as a celebration of their linear beauty.