Last week I wrote about five artists who work with thread, many of them using wrapping techniques in their work. This week I have five more artists for you, several of whom employ sewing and embroidery in unexpected ways.
Devorah Sperber
Is that the Mona Lisa? Artist Devorah Sperber uses thousands of spools of colored thread to reproduce famous art works in an upside-down format. These pixelated images are barely recognizable until viewed through an accompanying spherical optical device. The sphere inverts the image and focuses the light, turning Sperber's rows of spools into photorealistic recreations. There is a type of alchemy in the work, and with it a sense of wonder as the physics of optical perception is revealed.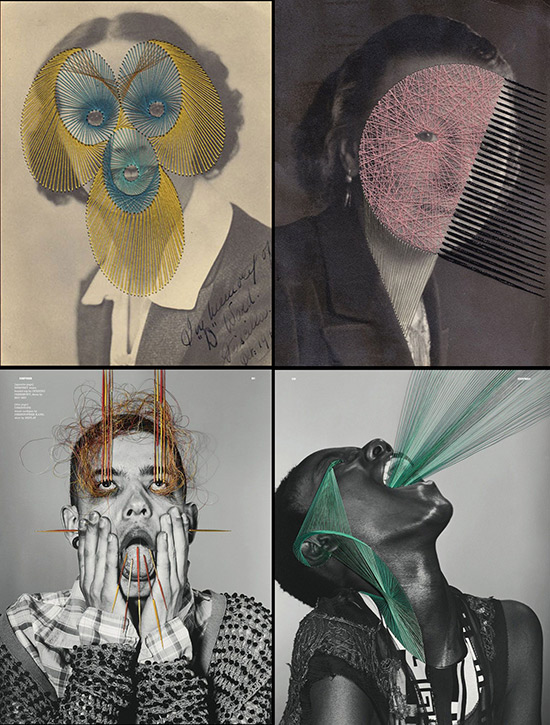 Maurizio Anzeri
A collector of old photographs, Maurizio Anzeri embroiders directly onto his found treasures. The elaborate stitching is both decorative and filled with psychological connotations. Anzeri stitches a new history and story into the photograph, as he says, he's creating "other possible evolutionary dimensions for the people pictured." In the photos there is a constant tug between a longing for the past and the jarring reality of the modern world.

Cayce Zavaglia
Cayce Zavaglia, was trained as a painter but abandoned her paint for the non-toxic materials used in embroidery. Working with cotton and silk thread, along with crewel embroidery wool, she makes intimately scaled photorealistic portraits of friends, family and fellow artists. Recently, she discovered that the reverse (verso) side of the embroidery, with all its loose threads, knots and chaotic crossing of lines, was worthy of attention. She has begun to exhibit the small embroideries with paintings of their reverse side, seeing the pair as a portrait of the public and private self. (Click here to see her verso paintings.)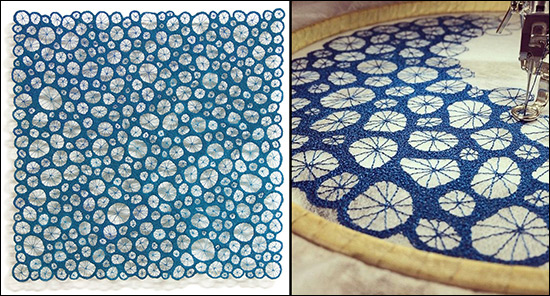 Meredith Woolnough
While Anzeri and Zavaglia use hand sewing in their work Meredith Woolnough employs a sewing machine in her nature driven embroideries. She sews onto fabric that can be dissolved once the embroidery is complete, enabling her to mimic the intricate net-like veining structures found in corals, leaves and cells.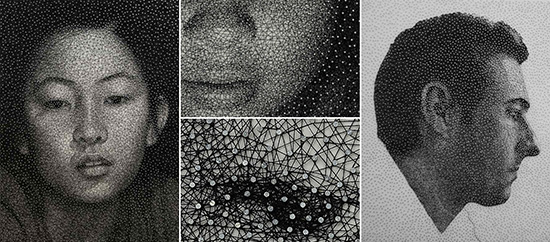 Kumi Yamashita
Kumi Yamashita is concerned with light and shadow. She has worked with thread, plastics, wood, metal and light. The pieces shown here are part of her Constellations Series, which gets its name from the connect-the-dots act of finding mythological figures in the night sky. Yamashita connects the dots by nailing thousands of tiny brads into a wooden panel. The brads are then wrapped with a single unbroken thread. By varying the density of the wrappings she can create the illusion of light and shadow and its accompanying sense of three-dimensional modeling.