Today's exercise will help you fine tune your powers of observation by finding what I call visual analogies. If you're reading our book Design: A Beginner's Handbook pay particular attention to Chapter 2 (Line) and Chapter 3 (Shape). For those of you who haven't studied design yet this is a great introductory exercise.
Anyone who is reading this blog is obviously familiar with letter forms, or should I say, the standard alphabet. Probably by the age of four or five you could put letters together to make words. But have you ever really looked at the form of those letters? What type of lines or negative and positive shapes are apparent in something as simple as the letter a?
Kjell Sndved, letters G, H found in butterfly wings
So, let's look closely. Use your camera to photograph found objects that look like the letters of the alphabet. Complete the entire alphabet A to Z. For an extra challenge find both upper and lower case versions of each letter. Nature is a great source for letter forms – tree branches, pods, flowers, shells, the list is endless. And don't forget the man-made environment – machinery, buildings, even litter.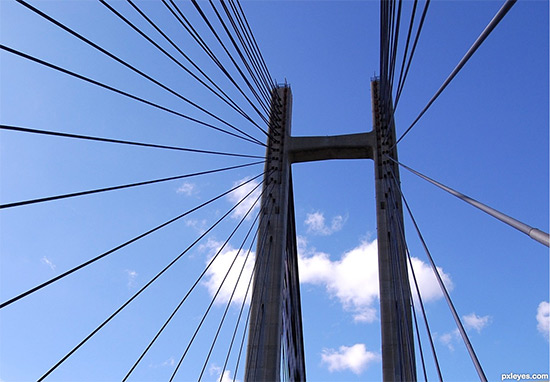 Letter H found in a bridge structure, photo by artifakts
If it's a beautiful day where you live then get outside and start taking photos (or brave the cold). If it's windy and rainy like it is here in Northern California then explore your home or workplace, or take a trip to the mall.
Once you've found the entire alphabet you'll want to find a way to display it. Brainstorm and sketch possibilities. Here are a few that come to mind but there are many more: As a poster with all the letters represented; individual flash cards like those used in elementary school; cut out and mounted onto wood or heavy cardboard; cut-outs or cards that sit on a specially made display shelf. This part of the exercise can be done using printouts of your photos or digitally using image processing software such as Photoshop.
There are lots of examples of this exercise online but for it to be an effective learning experience I suggest that you wait until after you've completed the work to look at other solutions.
Please share your results with us by posting to our Facebook page.