When we started this blog a year ago we promised to look at design from a wide variety of angles and wherever we found it….and we've done just that. We have, for example, posted discussions about architecture, earthworks, photography, outsider art, environmental art, urban planning, installation art, painting, sculpture, graphic design, and drawing. We have featured a diverse mix of artists from the seventeenth century to our contemporary world…and from many different countries.
In addition to this wide range of artists and art forms we have also posted lists of resources, suggestions for how to pursue an education or career in art, and exercises to help you become more adept at seeing and considering the design elements you find in the world around you.
Looking back over the past twelve months, here are links to just a few of those posts. If you're new to the blog they'll give you a hint of what we are all about. If you're a long time follower, maybe they will jog your memory in a fond way. These links are in no particular order and aren't presented here as the best or most popular. They are merely samples of what we've been up to. We invite you to click on the "Categories" and "Archive" listings in the sidebar to revisit the other blogposts from this past year. None of them are time-sensitive. They're all just as relevant today as they were when we first shared them.
Design Exercise: All Things Red. This is one of our posts that asks the reader to participate in an exercise. In this case you're asked to find, collect and display items that are red.
Painting: Composing With Light. Three separate painters spanning over 300 years address the issue of light and dark as a compositional tool.
From Train Toilets to Laundromats: The Inventive Mind. One of many profiles of artists we have featured in our blog posts. Here photographer Steven Pippen uses totally unexpected spaces as his camera and darkroom.
A Visit to an Exhibition: Mildred Howard at the Richmond Art Center. The work of San Francisco Bay Area artist Mildred Howard was featured in a retrospective exhibition and we went to see it.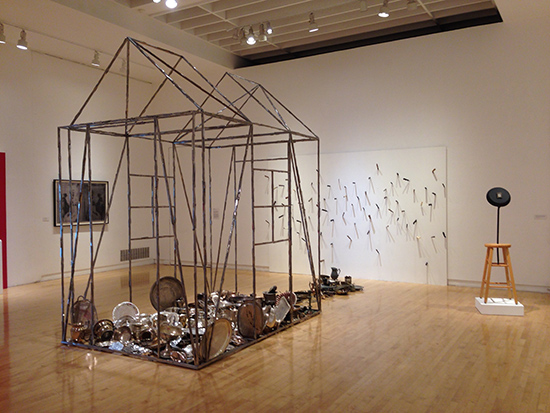 How To Exhibit Your Art: Parts 1 – 5. In this five part series of posts we discussed possibilities and strategies for artists seeking to get their work exhibited.
Resources: Free Images – Photos, Maps, Illustrations. One of several posts from this past year that focused on web-based resources for artists.
In the coming year we will have more posts exploring design in the world. Please join us…and feel free to comment on what you see.