A few weeks ago I read a blog post by Inge Oosterhoff that caught my attention. Oosterhoff is a Dutch writer with a background in fashion design and American Studies. She is currently an editorial contributor to the Parisian-based blog Messy Nessy Chic.
Oosterhoff's post is about the Dutch company Vlisco that has manufactured printed fabrics since 1846. Shortly after the company was founded they produced an inexpensive knock-off version of batik-dyed fabric intended for the Indonesian market. As the cargo ships carrying the newly designed and printed fabric traveled from Holland to the Dutch East Indies they made several stops along the West African coast and traded some of the cloth for supplies.
In an ironic twist-of-fate the fabric never caught on in Indonesia but it was wildly popular throughout West Africa where it has become a mainstay of fashion. In West Africa the images and patterns in many of Vlisco's fabric designs have taken on a significance far greater than mere decoration. They have moved from simple product to cultural statement. Let me explain…
When a newly-designed production run of fabric arrives fresh from the Dutch factory, it is identified only by an inventory number. The retail sellers and customers in Africa (mostly women) then decide what to name each pattern. They also create stories that explain why specific objects are depicted in each design and describe the relationships among those objects. Some prints have received names and stories that describe wealth and status. Some have names and stories that talk about women's equality, power and the importance of education. Other designs reference political and current events. Here are just three examples…
"The Happy Family design stands for family values, and represents the archetypical African family. At the centre is the maternal figure, the chicken, surrounded by her chicks and future chicks, i.e. the eggs. The father, the rooster, is nothing but trouble. That is why only his head is shown. This clearly indicates that the woman who wears this plays a pivotal role in the family." Excerpt from Vlisco catalog.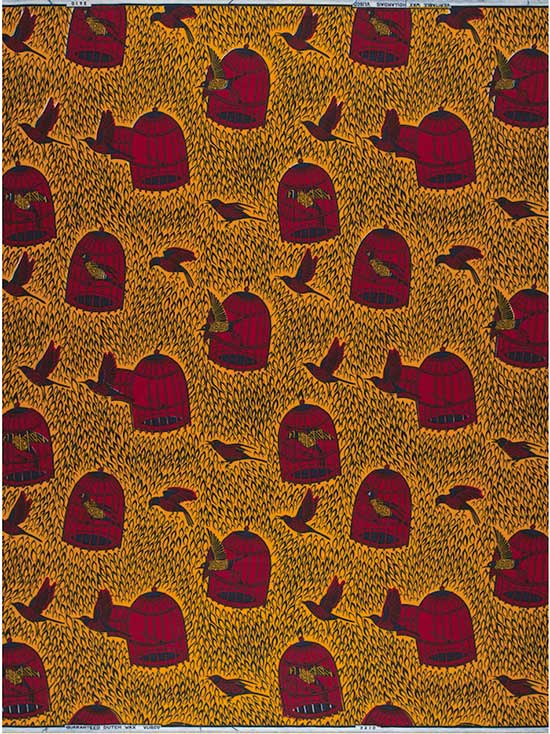 "The name 'Si tu sors, je sors' translates as 'If you go, I go', meaning if you are unfaithful to me I'm not going to restrain myself either. With these words the newlywed wife warns her husband about future escapades. In Togo, the pattern is always bought by the woman herself in order to spread the word." Excerpt from Vlisco catalog.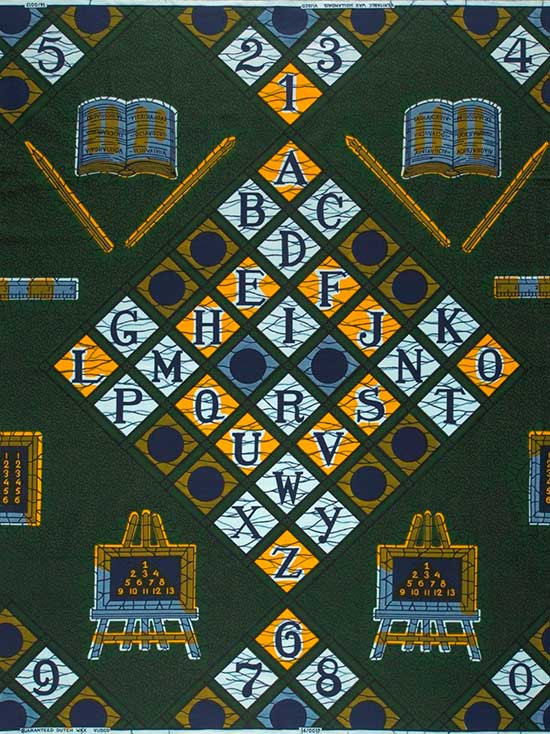 Titled 'Alphabet ABC' this pattern celebrates the value of education.
Throughout Design: A Beginner's Handbook we discuss the fact that design as well as the individual elements and principles of design don't exist as isolated, abstract items. They all have cultural resonance. Vlisco's story illustrates this point beautifully. It also describes how one culture has overlaid its references on designs created by others.
You can read Inge Oosterhoff's blogpost here at Messy Nessy Chic.
See more of these wonderful patterns and other products here at Vlisco's website.