Taxi Fabric is an art collective in Mumbai, India. It was started by four young designers looking for alternative forums in which to display and promote new design. Their creative solution has been to focus on the interiors of taxis.
Taxis in Mumbai, like most big cities, are plentiful. They are also often decorated by their drivers who want to stand out from the competition, attract new customers or just make a personal statement. Most of these traditional decorations are add-on embellishments near the driver while the seat covers as well as the inside roof and door panels remain bland and utilitarian. Taxi Fabric would like to change that. They are raising money through Kickstarter and connecting young artists and designers with willing taxi owner/drivers.
Here are few examples of this inventive effort…
This interior by Aditi Dash is titled Nocturnal. It celebrates the culture of 'night shift taxis' in Mumbai, a city that never sleeps. Dash says, "As an artist, I found it exciting to explore this aspect of the urban jungle, where creatures of the night come out to play. The design is my take on the different kinds of characters you come across in Mumbai in the night time – and my representation of the energy that I find in its people."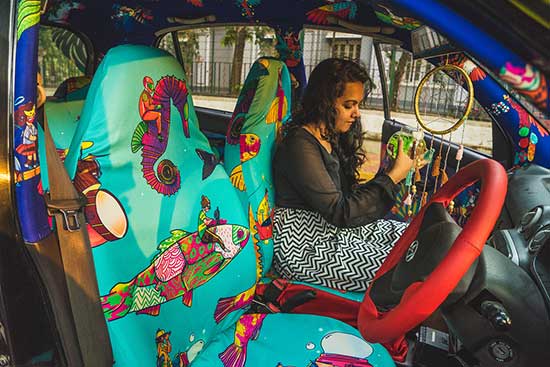 Animator turned illustrator/graphic designer, Parvati Pillai, designed this interior titled Dream Machine. Pillar says, "Mumbai is the city of dreams, and what better way to interpret it than by depicting a fantasy dream machine. It is the reason why we love Bollywood, long conversations in the rain and people that are determined to build beautiful lives for themselves. I hope that everyone who steps into this taxi feels the same emotions."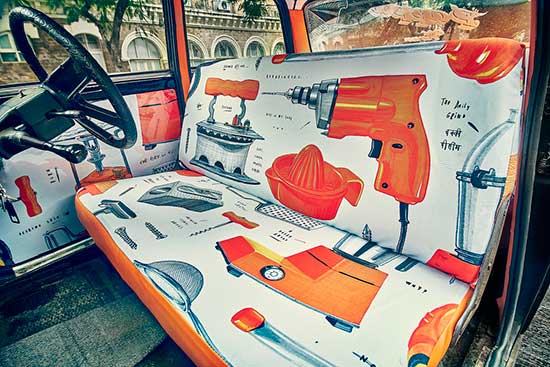 Titled City As Objects, this interior is by illustrator/artist Sameer Kulavoor. He says the piece "…compares the city with objects/tools of daily use… It's a tribute to the resilience of the people of Bombay. If one can make it here, he/she can make it anywhere in the world!"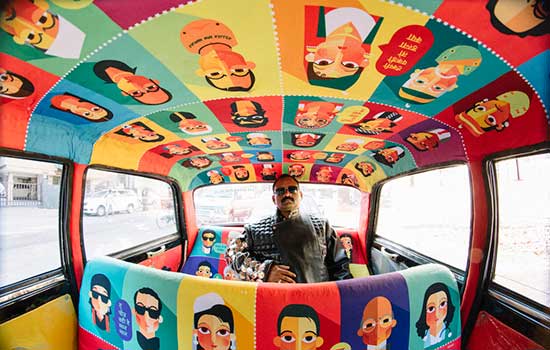 This interior by art director/designer Namrata Gosavi is inspired by an old comedy series that aired on Zee TV. It is titled The Good, The Bad and The Beautiful. Describing her design, Gosavi says, "I was born and brought up in this city. And I travel by taxi daily. I have been seeing this iconic vehicle since my childhood. And to design something iconic, Bollywood was the apt theme for this. Bollywood is very thematic in its own way. It has a particular format of 'hero', 'heroine' and 'villain'. So I decided to create this design by featuring iconic characters from Hindi films."
The efforts of Taxi Fabric are perfect examples of artists and designers engaged with the world around them…who try to make that world more interesting, more inclusive and more positive.
You can see additional examples of this project here at Taxi Fabric. On their website they also have several examples of taxi interiors designed to promote awareness of people with special needs.