I recently had a conversation with a San Francisco based graphic artist who asked me about the mid-twentieth century painter Tamara de Lempicka. If you're not familiar with Lempicka's name I'm not surprised. Her career spanned the years between 1920 to 1980 and she shared the professional spotlight with a whole raft of visual art giants including Picasso, Magritte, Pollack and Warhol. She was not well known to the general public but in the world of royalty and socialites Tamara de Lempicka was a star.
Lempicka was born Maria Górska in Warsaw, Poland. Her family was wealthy and young Maria attended boarding school in Switzerland. In 1916, at the age of 18, she married Tadeusz Lempicki and settled in the Russian city of St. Petersburg. After a serious run in with the Bolsheviks the Lempickis left Russia and moved to Paris.
It was in Paris during the early 1920s that Tamara de Lempicka studied art and became a painter. Her artistic style developed quickly and remained fairly constant for the rest of her career. Lempicka's style embraced the high contrast, geometric, shape-driven compositions characteristic of Art Deco design.
During the 1920s Lempicka was an active player in the Parisian art world, both professionally and socially. She was in high demand as a portrait painter for the wealthy and powerful. She was the confidant of famous artists, writers and musicians. And she had multiple romantic affairs with both men and women.
Lempicka and her husband divorced in 1928. She then married her long time lover, Baron Raoul Kuffner, and in 1939 they moved to the United States. In the U.S. Lempicka divided her time between Hollywood and New York City, painting portraits of movie moguls and the socially prominent.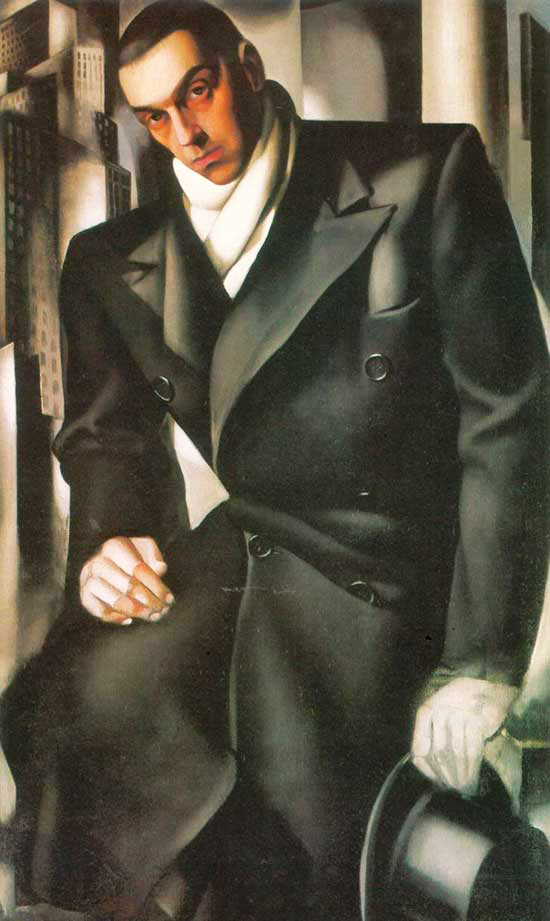 Lempicka's career flourished during the 1920s and 30s but fell off dramatically during the 1940s and 50s as Abstract Expressionism became dominant. She was a demanding and difficult personality during the height of her career and she became even more difficult after the spotlight turned away from her. By the time figurative painting became mainstream again, Lempicka had alienated most collectors and gallery owners who could help her.
When her husband died, Lempicka moved to Texas to live with her daughter and then to Cuernavaca, Mexico. She died in Mexico in 1980. Her body was cremated and her ashes were scattered on the volcano Popocatepetl.
Today Lempicka's paintings not only stand on their own merits but also serve as icons of Art Deco, the art and design movement that epitomized the spirit of urban high society in the years leading up to World War Two.
Here is Madonna's music video for her pop hit Vogue. The video attempts to capture some of the look and feel of Art Deco and Hollywood movies from the 20s and 30s. Madonna collects Lempicka's work and if you look carefully during the first few moments of the video you can catch glimpses of a few Lempicka paintings.