Industrial sanders. Discarded handbills torn from telephone poles. Hairdresser's permanent end papers. House paint from the local Home Depot. These are the tools and materials employed by the artist Mark Bradford in the creation of his large scale paintings.
Bradford has lived and worked most of his life in South Central Los Angeles. His mother owned a hair salon where he hung out and assisted her, eventually getting his own cosmetology license and continuing to style hair after his graduation from art school in the 1990s.
Cal Arts, where he went to school, was a center for conceptual art and Bradford had a difficult time finding a direction. He was drawn to painting but found no place for it in this milieu. It was only after he left school that he realized the answer was to be found in his daily surroundings.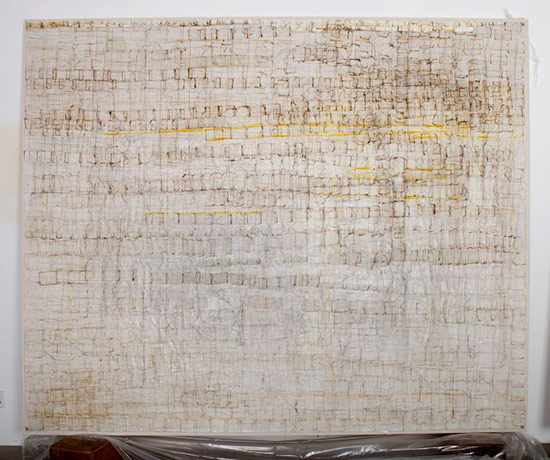 45R Spiced Cognac and 43G Spring Honey, shown above, are two of the early pieces Bradford completed after leaving school. They both use hair dye, hence the names of the works, and end papers – small rectangular sheets of thin tissue paper used to wrap curls when giving a perm. Their use was a revelation to Bradford. Not only were the physical and conceptual "materials" for his work readily available but they were part of a larger social fabric.
The stories told by customers inside the salon mingled with the life outside its doors – gangs, hip hop, the dispossessed, but all part of a vibrant community energy. All of this found its way into his work. Bradford discovered he could create abstract paintings that resonated with something larger, becoming a portrait of a place and time.
Bradford uses "loaded" materials in his abstract compositions. He has worked with the cheap handbills posted by businesses on city streets that scream WE BUY HOUSES, FREE CREDIT, WIN CHILD CUSTODY, along with torn billboards and other street detritus. Here is a description of Bradford's working methodology from the writer Calvin Tomkins: "He starts with a stretched canvas and builds up its surface with ten or fifteen layers of paper—white paper, colored paper, newsprint, reproductions, photographs, printed texts—fixing each layer with a coat of clear shellac. Sometimes he embeds lengths of string or caulking to form linear elements in the palimpsest. When the buildup reaches a certain density, he attacks it with power sanders and other tools, exposing earlier layers, flashes of color, and unexpected juxtapositions. Not until the first sanding does he begin to see where the painting is going. He works like an archeologist, rediscovering the past."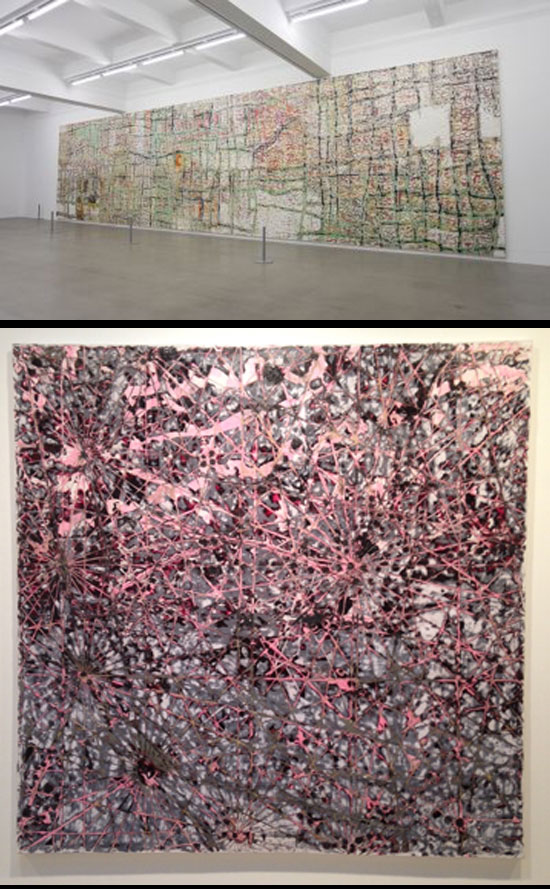 While Bradford's earlier work used layers of lattice like forms and broken grids that referenced city streets with their cacophony of sights and sounds, his newest work is grounded in his experiences in the 1980s – the era of AIDs and his life as a gay (negative) black man. These latest paintings look like cells seen under a microscope – sarcomas that consume the skin's surface. There is an overwhelming beauty in all this work and it's abstract form (almost) allows the viewer to overlook it's source.
Can the abstract be political? Does it need to be and what can it accomplish? These are questions often asked of artists who work abstractly but whose work draws from social and political sources. Bradford let's the work speak for itself but also takes concrete action to effect change. In 2009 he was awarded a $500,000 MacArthur Genius Award. Combining this with money from the philanthropist Eileen Norton and activist Allan DiCastro, the three partners established Art + Practice, "…an arts and education private operating foundation based in Leimert Park, Los Angeles. A+P's mandate is to create an educational platform that supports the acquisition of practical skills for foster youth and stresses the cultural importance of art within a larger social context." Partially housed in Bradford's mother's old hair salon, the three building complex has museum-quality exhibition space and classrooms, and includes The RightWay Foundation, which oversees the foundation's foster youth services, along with several other neighborhood cultural and social organizations.
Here is a great article about Bradford written by Calvin Tomkins and published in the New Yorker Magazine.