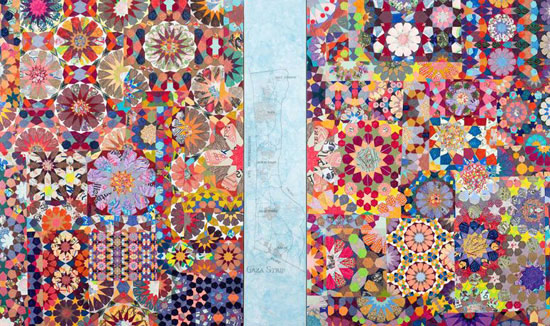 Joyce Kozloff
Last week I presented several quick exercises centered on the design principle of pattern. In this new exercise you'll make use of the patterns you created.
To begin, re-read last week's post and if you haven't done so already review chapters 7 (Color), 9 (Balance), 13 (Pattern) and 14 (Rhythm) in Design: A Beginner's Handbook. I also encourage you to look at our Pinterest Pattern board for ideas.
I want you to set up a still-life made of patterned forms. To complete this project you'll need several found objects of varying sizes and shapes. I suggest including both objects with planar surfaces (boxes etc.) and ones with curved surfaces. You'll be permanently altering these things so a trip to a thrift store or yard sale is in order. You'll also need a background surface which can be made from fabric, paper, cardboard etc.
I ask you to use all four types of the patterns you explored in last week's exercises. You can make new versions of these patterns or use the designs you've already made. The patterns can be used singly or combined into more complex designs. The entire surface of each object and of the backdrop should be covered with pattern. The patterns can be wild and exuberant or subtle and calm.
If you decide to work with paint you'll want to start by applying a solid base color to your surface with paint or gesso.
An alternate working method is decoupage. Either make photocopies of your painted exercises or use the originals (there is a chance that the paper may be too thick in the originals, in which case it will be hard to handle). If you worked digitally print out copies to use. Many decoupage artists use Modge Podge to attach paper or fabric to a surface – personally I prefer good old white Elmer's Glue, which I thin ever so slightly with water. Brush it on both sides or dip it into a pot of glue and push off the excess with your fingers.
For those of you who have advanced digital skills this exercise can be done using a 3D modeling program.
We'd love to see what you've done. Post your results on our Facebook page.