This last weekend in San Francisco was absolutely beautiful – warm and sunny, the perfect day for a walk by the bay. It was also a perfect day to get out and see some art that wasn't being shown in a perfect white box.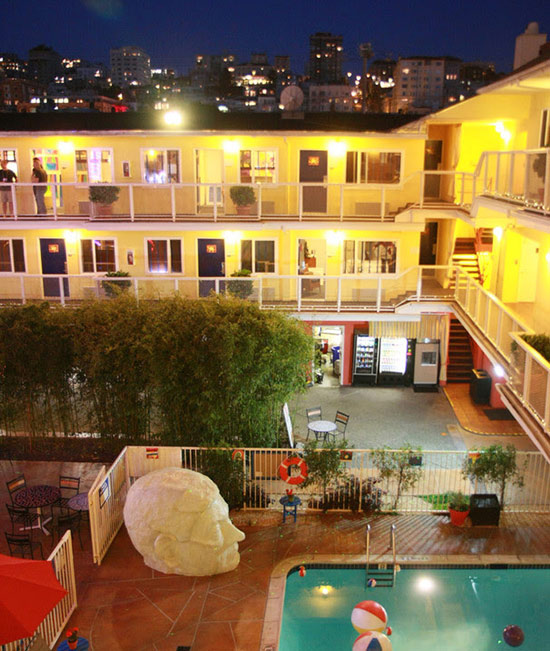 The theme for the weekend was artists taking control. Why wait to be discovered by an established gallery when you can make it happen now. This was the second year for both the Parking Lot Art Fair and the stARTup Art Fair, the latter held in the individual guest rooms of a tourist motel. Both are a response to the mainstream art fair, the San Francisco Art Market, that takes place nearby during the same time period.
The mission for both of these alternative exhibition sites is similar – give unrepresented artists an opportunity to show their work. Of the two, the stARTup fair is the more organized, using a team of "curators" to cull the artists. This year the parking lot fair did have a sign-up sheet that needed to be completed ahead of time and the use of the lot was approved (last year it was show up early and grab a parking space, and keep your fingers crossed that a park ranger wouldn't kick you out). One of the things that surprised us was that unlike a flea market in a parking lot, this parking lot was fully functioning. You had to be careful as you walked by the displays that you weren't hit by the stream of cars moving down the lanes.


We saw art in pickup trucks, art in U-Hauls, art in shipping containers, art between the painted lines. There was someone giving tarot readings, using a unique "art deck" of cards, another artist handing out free "fear prescriptions." There seemed to be a lot of what is called "social practice," but also plenty of more traditional painting and sculpture. The quality varied wildly but that didn't seem to be the point.
Why not become an organizer of an exhibition in your community? Look around. What spaces are available to you and how will viewers find the show? There are galleries in living rooms, in dumpsters, in vacant storefronts, in vending machines. Here's a link to some very unexpected galleries. Now, see what you can do.