Long time readers of this blog will remember a post titled Earthworks: Art and the Land. In it we talked about artists creating monumental abstract art works – often in remote locations of the American west. These works draw our attention to the scale, rhythms and textures of the land, water and sky around us. They do it, not by representing ideas or scenes in a painting or sculpture, but by direct engagement with the natural world.
This month Swiss artist Ugo Rondinone unveiled a new work that approaches the notion of earthworks from a slightly different angle.
Rondinone's installation is titled Seven Magic Mountains. It consists of seven stacks of large limestone boulders. There are 33 boulders in all weighing as much as 25 tons per rock. Each stack has four or five boulders and is nearly 30 feet tall. Each boulder is painted a different day-glo neon color.
The installation is located south of Las Vegas near the edge of Jean Dry Lake.
Seven Magic Mountains took five years to complete (including time for land use studies and permits). It will be on exhibit for the next two years. The project was supported by the Art Production Fund in New York and the Nevada Museum of Art in Reno. An additional $60,000 USD came from contributions to an online Kickstarter campaign.
This is a piece that creates a bridge between two different worlds. One world is primal, ancient, rough-cut and natural. The other world is flashy, transient and manmade. Let's look at both of them:
Location sets the tone for how we perceive things and Jean Dry Lake is an ancient land formation located at the base of a mountain range. It is where Michael Heizer – a major earthwork artist – created two of his earliest pieces. Across the lake bed from Seven Magic Mountains is Sloan Canyon that contains thousands of prehistoric and ancient petroglyphs – markings that partially inspired the original earthwork artists. The stacks of boulders that make up this work suggest meditative balanced rocks, stone cairns and even the monoliths of Stonehenge.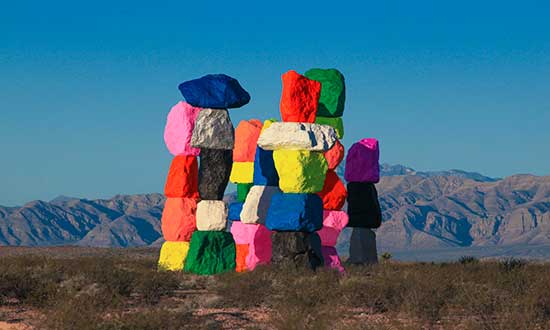 At the same time the bright fluorescent colors of Seven Magic Mountains bring to mind images of the 24 hour casinos and famous Las Vegas Strip just a few miles away. It is also easy to see these brightly colored stones as the tail lights/headlights of the constant stream of traffic on nearby Interstate 15 going back and forth between Las Vegas and Los Angeles. Unlike the stable geological time frame of the rocks and dry lake bed, the intense neon colors of this installation suggest a video game world filled with vibrancy and constant change.
In describing his work Rondinone says, "Seven Magic Mountains elicits continuities and solidarities between human and nature, artificial and natural, then and now."
You can learn more about Ugo Rondinone and Seven Magic Mountains here.