I have to admit that for most of my life I've been oblivious to the form of the text I use when I write. I love to read and I know that at the back of some books there'll be a brief note about the font used in the book. I always thought this odd – what did it have to do with what I'd just read? But gradually over the last few years I've found myself paying more attention, and realizing my ignorance.
It's time for an education and in future posts I'll write about what I'm learning about typography. But for today I thought I'd show you pieces created by a visual artist who uses collage to make abstract compositions from found text.
Cecil Touchon has worked with the text he finds in spam email, book pages, billboards and posters. He employs a technique where he heavily burnishes the surface of the page as he works, giving an irregular painterly feel to the art. Of central importance in his work is the relationship between positive and negative shapes. For those of you who have a copy of our book Design: A Beginner's Handbook I encourage you to reread Chapter 3 (shape).
In speaking about his work Touchon emphasizes the fact that the fonts he uses have been beautifully designed by typographers and that he takes advantage of these well designed forms in his investigations.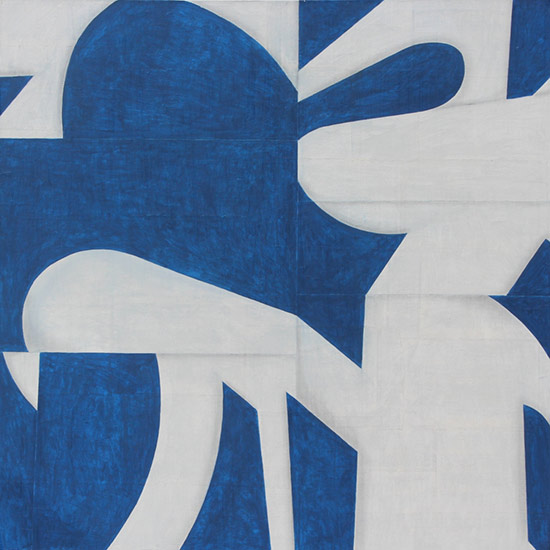 I think he says it best in this interview: "In my current body of work, that you might call typographic abstractions, I take lettering, usually from billboards or posters, and chop up the lettering and rearrange it into completely new forms where I'm exploring the negative space of the letter – the shapes that the negative space makes from the lettering shapes. What it has allowed me to do is to explore form in a way that is already preexisting, where all the letters have been carefully designed by typographers. And all the forms are very beautiful in type and if you take them apart and you rearrange them into a new form you still have all the beauty of the type but you're no longer tied to any kind of literal meaning. And so the way I think of that is I'm releasing the forms from their task of being the bearers of meaning. The meaning becomes something completely different. It's no longer a commercial message…it's like I'm freeing the letters from their work."
I must sound like a broken record in these posts but here I go again – look around you at all the possibilities, ideas are everywhere. Touchon has noticed what many of us fail to see.
Here are more of his images, pay particular attention to the way he plays with shape and line, all from letterforms.