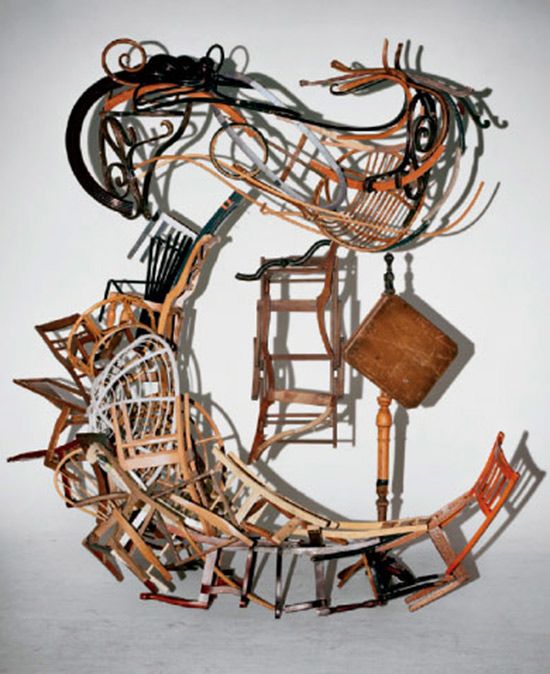 I recently came across this calligraphic letter "T" by Marc Andre Robinson. Rather than apply pen to paper Robinson has deconstructed a large assortment of chairs, using their inherent linear elements as the strokes that form the letter. What a great idea. It got me thinking about a design exercise using found chairs.
left: Yvonne Fehling and Jennie Peiz; right: Giancarlo Neri
Little did I know how many artists work with the simple chair in such exciting ways. There are artists who have built monumental chairs that would require a crane to reach the seat, and others who've used fine woodworking skills to play with form and function.
For this assignment I'd like you to work with a found chair(s). Regardless of your level of skill you should be able to investigate the elements and principles of design by altering this everyday object. If you haven't done so already, I suggest you read Design: A Beginner's Handbook before starting to work.
left: Danny Olda; right: Hans Gottsacker
I encourage you to initially focus on a small number of specific design elements and principles. This will provide you with a departure point for your investigations. Danny Olda (above image) has used the element of color and the principles of balance and the grid, while Hans Gottsacke has chosen to manipulate the principle of proportion, as seen in the overly elongated chair back.
clockwise from top left: Helmut Palla; Gunilla Klingberg; Jamie Threadwell; Helmut Palla; Martino Gamper
In the five examples seen above the artists have made simple changes to the basic form of the chair. These changes make you look more closely at what constitutes a chair – what is essential and what need does it serve?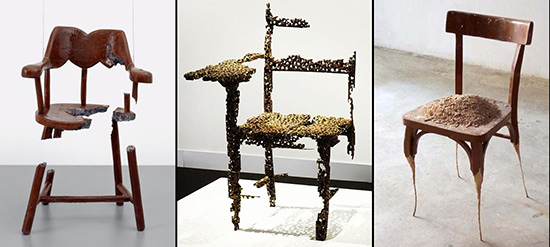 left: Urs Fischer; center: Tom Friedman; right: Jamie Pitarch
Fischer, Friedman and Pitarch have each used a subtractive method to change the nature of the chair. Fischer has removed essential parts; Friedman has obsessively drilled into the chair, acting like a crazed termite to undermine its structure; Pitarch's chair perches precariously on its shaved legs, a pile of shavings resting on the seat as a testament to the removal of the wood.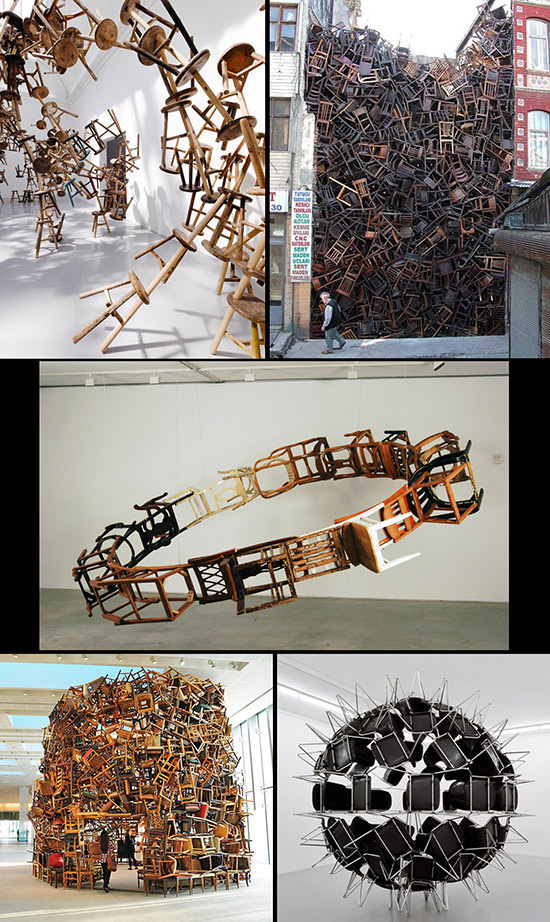 top left: Ai Weiwei; top right: Doris Salcedo; center: Marc Andre Robinson; bottom left: Tadashi Kawamata; bottom right: Michel de Broin
Another option for your investigations is to use your chair as an element in a larger form. Scale, line, and movement are some of the elements and principles employed in the installations seen here.
top: Jamie Threadwell; bottom left: Helmut Palla; right: Margaret Wharton
These artists have transformed the chairs by revealing the anthropomorphic qualities of the forms. The chairs by Threadwell and Palla use what I call "an economy of means," i.e. very minimal and basic changes, to humanize the chairs. Margaret Wharton (on the right) has carefully disassembled and sawed the chair into multiple parts to create the pleated dress.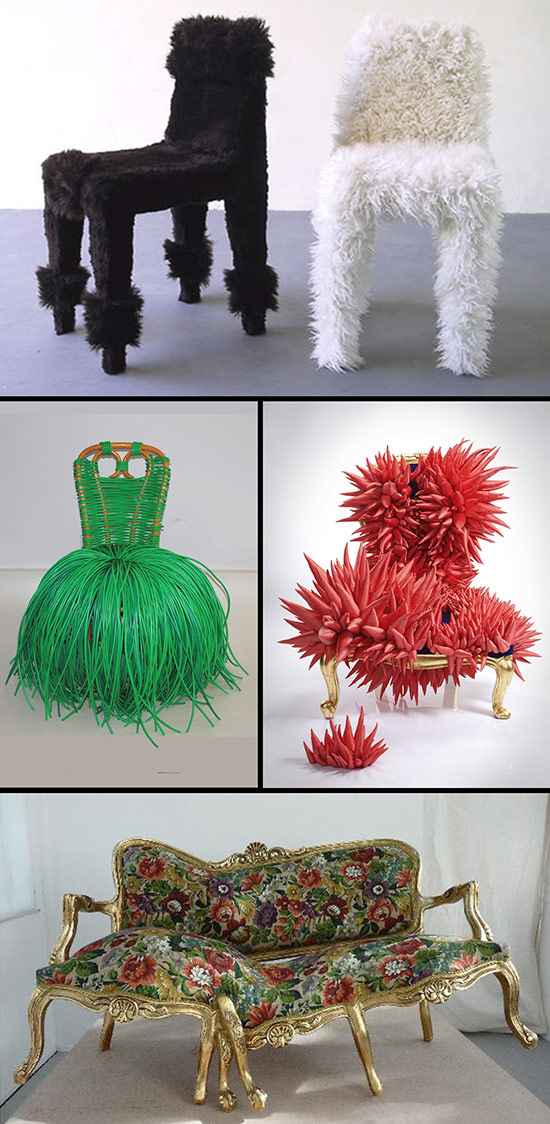 top: Niels van Eijk and Miriam van der Lubbe; center left: Joel D'Orazio; center right: Margarita Sampson; bottom: Nina Saunders
Fabrics and thread have traditionally been combined with wooden and metal frames in the making of furniture. Why not explore the design element of texture in your altered chair. As you can see in the examples above, working with a traditional process can take you to unexpected places.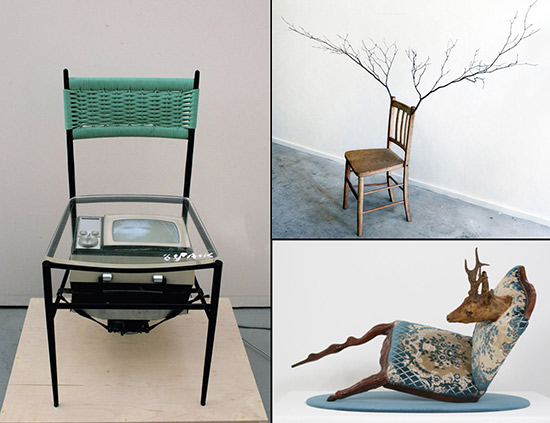 left: Nam June Paik; top right: Kado Bunpei; bottom right: Nina Saunders
I've grouped the above three chairs into nature and culture. On the left is the video chair by Nam June Paik. Juxtaposed to it are these two chairs that include branches and a taxidermy deer's head. Maybe you can tell a story by altering more than one chair as part of a larger theme.
As always, we'd love to see what you've made. Send images to us at Facebook.