The future is here. You might not guess it from looking at these mediocre buildings, but the revolution has arrived. Imagine being able to construct a building from scratch in a matter of weeks, or as some claim, in a single day.
Last October we ran a series of three posts that investigated advances in three-dimensional computer technology, looking at milling, laser sintering, and 3D printing. Well, the buildings shown above were 3D printed by the Chinese company WinSun.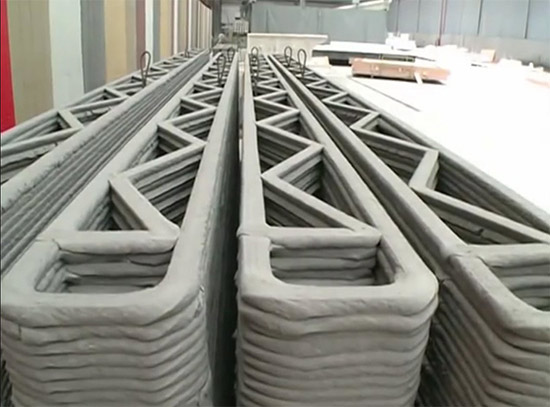 The process involves creating a 3D computer model which is then sent to the printer. The forms are built up layer by layer. The technology for printing entire buildings is new and so each company has its unique formula for the "printing inks" used. Some employ cement and resin, others salts and resins, still others working with construction and industrial debris ground up and mixed with cement and hardening agents. Over time, these materials may become standardized.
There are many potential advantages to this new technology but one of the exciting ones has to do with the reuse of industrial waste, and the fact that no new waste is created in the making of the structure.
The buildings constructed in China were printed in a factory using an array of printers and then assembled on site but there are large printers that may eventually have the ability to make a building in a single piece on location. (The printer shown above can print up to 36ft x 36ft x 36ft.)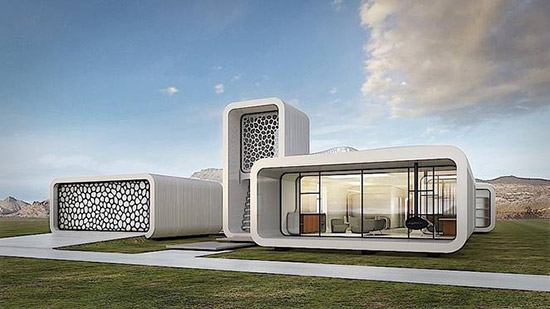 If the buildings printed in China look like bad tract homes this 2000 square foot office in Dubai looks like something out of a space age fantasy. The structure, along with all interior surfaces and furniture, was 3D printed. It was constructed in less than a month. Designed by the international architecture firm Gensler, WinSun was involved in the actual fabrication and a 20 foot high, 120 foot long and 40 foot wide printer was employed. Unlike the boxy Chinese buildings which could just as easily have been built with conventional methods, the Dubai building's curvilinear forms lend themselves to computer technologies.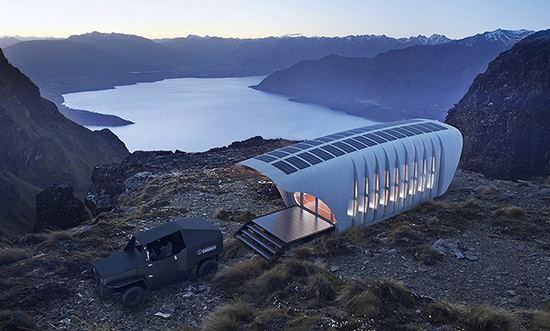 Skidmore, Owings and Merrill LLP, 3D printed building powered by 3D printed vehicle developed by ORNL
"Emerging Objects" uses smaller 3D printer farms
There are an infinite number of potential uses for this new technology, from quick and cheap housing for refugees, to mobile operational centers, to extraterrestrial structures. One imagined ink formulation even uses lunar dust. What will our cities look like in the near future and where will they arise?
For those of you who'd like more information about the 3D printing of buildings you may find this wikipedia article useful.