Yesterday we went to see the new San Francisco Museum of Modern Art. The museum was closed for several years while a giant addition was created by a young star-powered architecture firm. There is a lot to talk about but that's not the subject of today's post. Rather, what interests me is who benefits from these sparkling new buildings? Is custom-designed unique architecture only for the rich?
Someone who answered that question was Samuel Mockbee, an architect who believed that "Everyone, rich or poor, deserves a shelter for the soul." The best way to describe his ideas is to provide a few direct quotes:
"Architecture is a social art…And as a social art, it is our social responsibility to make sure that we are delivering architecture that meets not only functional and creature comforts, but also spiritual comfort."
"As an artist or an architect, I have the opportunity to address wrongs and try to correct them."
"All architects expect and hope that their work will act as a servant in some sense for humanity–to make a better world.  This is a search we should always be undertaking…architects should always be in position to nudge and cajole and inspire."
"It's not about your greatness as an architect, but your compassion."
"I tell my students, it's got to be warm, dry, and nobel."
Chapel made from tires and dirt by students of the Rural Studio
Born and raised in Mississippi Mockbee was strongly influenced by the Civil Rights movement. As a beginning architect he co-founded a successful regional firm which he eventually left to teach in Alabama at Auburn University. It was at Auburn that he fully developed his ideas about the role of architecture, while also creating an educational model for "citizen architects."
Before and after, Bryant House, The Rural Studio
In 1993 Mockbee co-founded the Rural Studio. Run by Auburn University the Rural studio is located 150 miles from the campus in poverty-stricken Hale County. Rather than have students build small projects in class that would be destroyed at the end of the semester Mockbee devised a program that had students designing and building homes and public buildings for people living in extreme poverty. Students would live for a semester in the community, meeting with local residents to find out their needs and desires. As part of Mockbee's vision it was essential that there was a dialogue between equal partners – the architect wouldn't tell the community what it needed, but instead listen carefully and find creative, inexpensive solutions.
The Lucy House incorporates stacked resin impregnated carpet tiles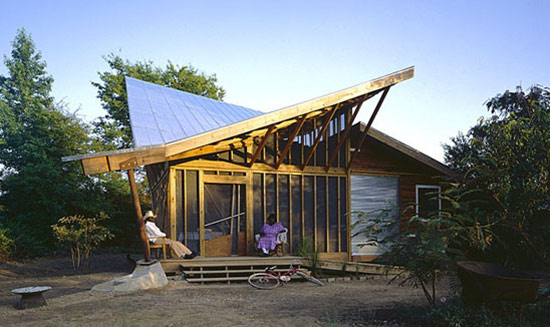 The Butterfly House
What is striking in the buildings created by Mockbee and the Rural Studio is the way that an international aesthetic is combined with vernacular forms. These look like homes for the well-to-do but they are actually made on exceedingly limited budgets. Recycled materials such as hay bales, stacked carpet squares, old car windshields, tires, bottles, etc. are employed to great effect. These are not cheaply made tract homes, but rather, homes that allow for a sense of pride and spiritual uplift. It should be noted that the houses are given to families at no cost. Before receiving these new homes many people lived in substandard housing that lacked things as basic as running water and electricity.
Hero Knowledge Cafe, built by Mockbee and the Rural Studio
Mockbee died of leukemia in 2001 but the Rural Studio and its social justice model for architectural education continues. Over the years the program has evolved, moving toward larger community based projects that take longer to complete but the "philosophy that everyone, both rich or poor, deserves the benefit of good design" remains the core belief system of the program.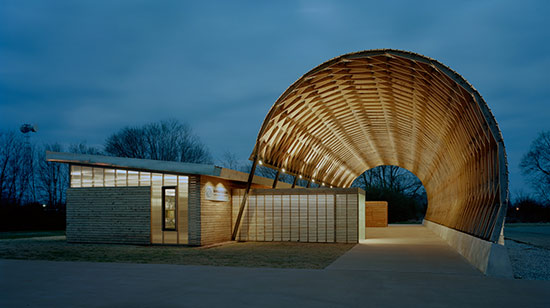 Akron Boys and Girls Club, the Rural Studio