In a previous blog post about earthworks we discussed a project titled The Valley Curtain by artists Christo and Jeanne-Claude. The Valley Curtain was one of their first large scale projects to be located in a natural setting. For sixteen days this Summer their latest monumental outdoor art work is on display at Lake Iseo in Northern Italy.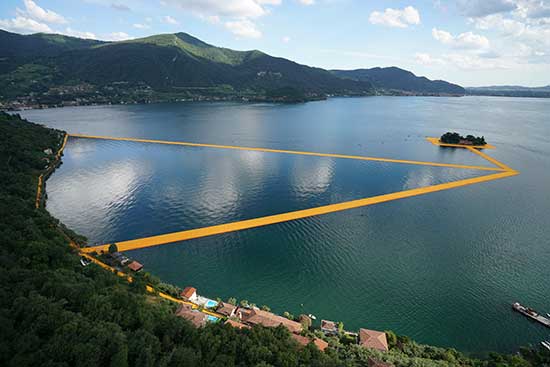 This new project is titled The Floating Piers. It consists of a modular floating dock system made from 220,000 interlocking high density polyethylene cubes. The interlocked cubes are covered with felt and that combination is then covered by yellow-orange fabric. In addition to the piers, 2.5 kilometers (nearly 2 miles) of pedestrian walkways in adjacent towns are also covered in the same fabric. In total the project uses 100,000 square meters (328,000 sq. ft.) of fabric.
The floating walkway connects three towns on different shores of the lake and completely surrounds a small island.
The piers are 16 meters (52 ft.) wide with sloping sides. They hug the surface of the lake, extending only 35 centimeters (14 inches) above the water.
The piers are anchored in place but float on the surface of the lake, rising and falling with wave after wave and the movements of the people walking on them.
In a press release Christo says, "Those who experience The Floating Piers will feel like they are walking on water – or perhaps the back of a whale."
Responding to light at different times of the day as well as reflections off the water, the color of the fabric changes from red to pale yellow.
The installation is designed to be experienced from both lake level and from the surrounding mountains.
Christo and Jeanne-Claude have collaborated on art works since the early 1960s. Nearly all of their projects have used fabric as a primary material and some form of wrapping as their process. Over the years they have, for example, completely wrapped and tied large public buildings and bridges. They unfurled a curtain across the mouth of a canyon in Colorado and they created a 40 kilometer (24 mile) long cloth fence running across the Northern California countryside and into the Pacific Ocean.
In 2005 they placed 7,503 orange colored fabric "gates" along the many pathways in New York City's Central Park.
Shortly after completing The Gates, Jeanne-Claude died.
The Floating Piers is their first large scale installation since then. Although Christo oversaw the installation on his own, the project has been in various stages of collaboration between the two since 1970.
On a side note… Students often ask me how artists get and manage the money that goes into these large scale, temporary projects.
Christo and Jeanne-Claude have a relatively unique approach for funding their work. They completely finance their projects (that usually cost millions of dollars) by selling drawings and collages of the proposed and imagined piece while it is being developed.
They have been adamant for their entire collaborative career that they want the liberty to take their art in any direction they choose. In order to stay totally free of influence from others Christo and Jeanne-Claude do not seek grants to fund their projects nor do they accept money from the sale of books, posters or other promotional materials.
They also do not accept volunteer labor. All the fabrication and installation is done by paid contractors and paid workers.
Christo and Jeanne-Claude have always maintained that they make art for the beauty and joy it brings to them and others. In order to insure that many people get to experience the work in person they do not charge fees for visiting any of their projects.
At the conclusion of each installation's viewing period the work is disassembled and the materials recycled. The only thing that remains are photos, videos and memories.
All photographs in this post are by Wolfgang Volz.