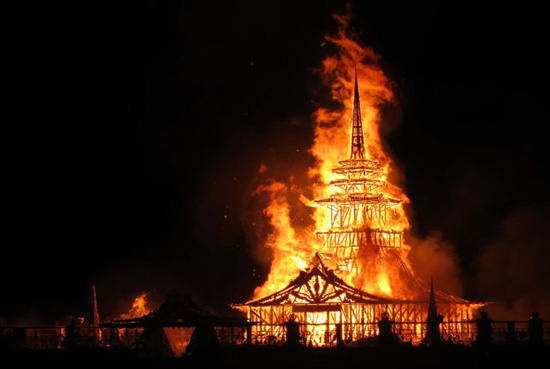 We're back after our summer break. Here in the San Francisco Bay Area the end of summer is marked by an exodus out of the city and into the Nevada desert for Burning Man. What could be a more appropriate blog topic to start this new season than a discussion of David Best and his temples that are ritualistically burnt at the end of the event.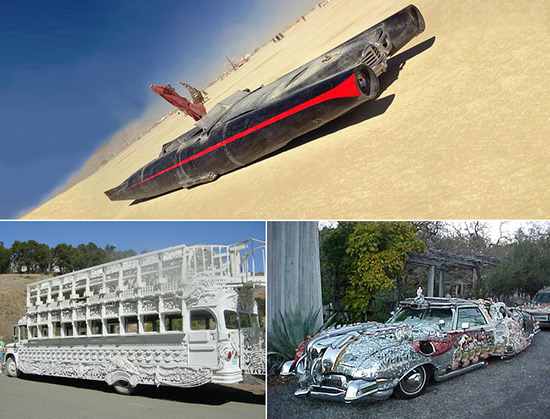 David Best began his career as a sculptor who designed what have become known as art cars. In 2000 he designed and built his first temple at Burning Man. Called "The Temple of the Mind," it was dedicated to a close friend who died in an accident shortly before the temple was completed. It's erection and burning provided a healing site to mourn this loss.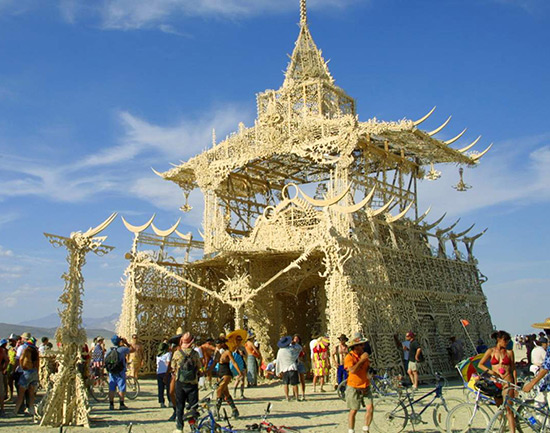 Since that time Best and his crew of volunteers have constructed numerous temples, not only for Burning Man, but as sacred sites in cities across the world – Londonderry (Ireland), San Francisco, Detroit. Places of remembrance, they are built from scrap lumber, much of it CNC milled into intricate shapes and patterns. The temples include messages and mementos left behind by visitors. You could say that the temples are a collaboration and that they aren't fully completed until these prayers and memories for those who have been lost have been added to the structure. Best explains it this way, "When we finish the temple and turn it over to the community it is an empty building. They bring their mothers, they bring their brothers, they bring their best friends, their weddings and their celebrations to it. And then it becomes something. It has no life until the community brings that life to it."
The temples built for Burning Man have some stringent requirements. They must be able to survive strong dust storms that arrive in the desert. In addition, all materials must be trucked into this remote location, and then removed when the event ends. Best has used as many as seven 40 foot long truck trailers to bring in supplies. He works with a large vetted crew of volunteers (100 or more individuals) to build the temple on site over several weeks before Burning Man opens.
Some of you reading this blog may be beginning art students, perhaps taking your first foundation art class. We encourage you to look at Best's work through the filter of the elements and principles of design (see our book Design: A Beginner's Handbook for more information). Notice how he uses line to create pattern and shape. Look at how the scale of the desert interacts with the scale of the temples. Texture is found in the intricate patterning, and balance throughout the form. The collaborative nature of the work and the ritualistic burning are manifestations of the principles of time and motion. With little effort you can see all of the elements and principles of design at play in his work.
As you learn to use the elements and principles of design remember that they are a tool used to achieve a larger goal. To quote David Best, "There are certain things that a temple has to do in order to give you the freedom to release the demons that you have. It has to have a certain type of beauty.  It has to be so beautiful, and now we are talking about the philosophy of art. It has to be so beautiful that you are about to give up the thing that has been haunting you most of your life."