We've just returned from a very brief trip to Los Angeles. Our goal was to spend all our time viewing art, and in this we succeeded. Over the next few weeks we'll be profiling some of what we saw. Today is just a quick overview.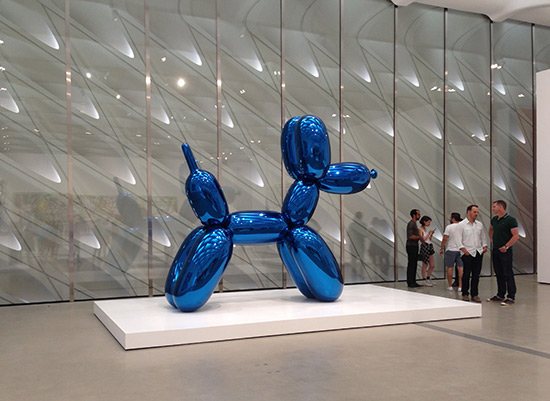 Jeff Koons at The Broad Museum
Los Angeles is a city of cars and massive traffic jams but we still managed to travel from the commercial galleries at Bergamot Station near the beach to the museums located miles away in downtown L.A.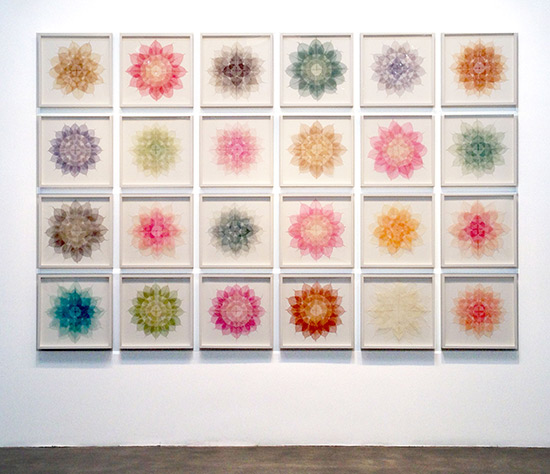 Miya Ando at Bergamot Station
Our first day was spent at Bergamot Station. Los Angeles has always had important galleries but they've been spread throughout the city. Unlike New York City where you can see ten or more galleries in a single block it's always been drive, and then drive some more, and maybe you'll see two or three art venues. That has changed, and Bergamot Station which opened in 1994 and contains numerous commercial galleries, has remained an important centralized location in which to see art.
Chris Burden At MOCA
In 1986 the Museum of Contemporary Art (MOCA) opened in downtown Los Angeles. Designed by Arata Isozaki it was a greatly needed cultural addition, complementing the nearby Dorothy Chandler Music Pavilion.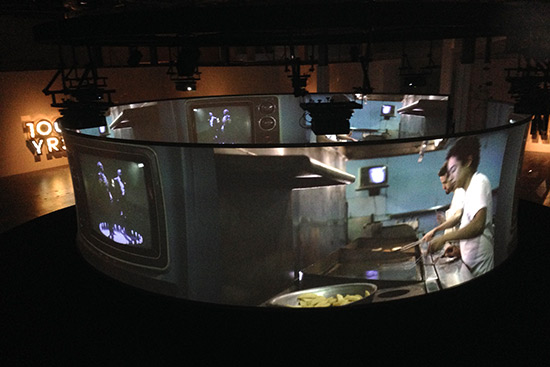 Doug Aitken at MOCA Geffen
While MOCA was being built the Museum utilized a former police car warehouse (converted by the architect Frank Gehry) as the site for exhibitions. It was called the Temporary Contemporary. Once MOCA opened the museum realized that the Temporary, now called the Geffen Contemporary, was a perfect space for large scale exhibitions, especially ones involving installation and new media art. Instead of one museum they ended up with two.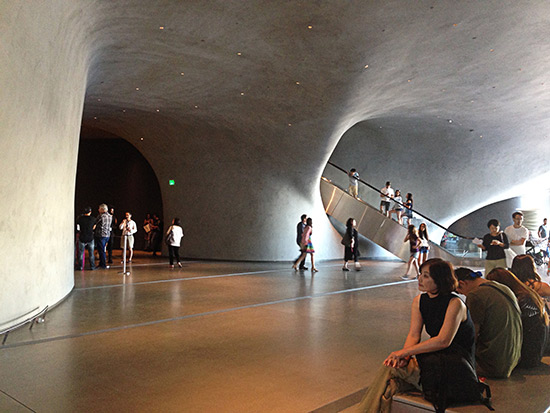 The Broad Museum
The original impetus for our trip was the desire to see the new Broad Museum, which is located directly across the street from MOCA. It opened exactly one year ago but it's still nearly impossible to get tickets, although you can try standby. The museum houses the private collection of Eli Broad  and the Broad Art Foundation. In a future post I'll talk about the role of museums and donors and the conflicts that can arise between them.
The Disney Concert Hall by architect Frank Gehry
I grew up in Los Angeles and in those years downtown wasn't the place to look for art. That has changed and in the last few years downtown has become a vibrant artistic center. From MOCA and the Broad it's just a step across the street to the Disney Concert Hall designed by Frank Gehry (who also designed the Geffen Contemporary).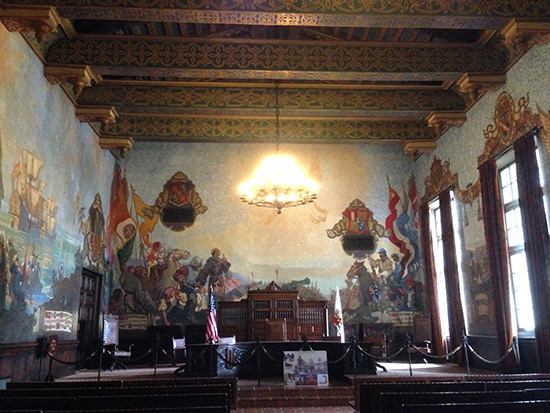 The Santa Barbara Courthouse
On our way back to Northern California we drove through the town of Santa Barbara where we wandered through the beautiful Spanish Colonial Revival Style Courthouse building. This is actually a functioning courthouse and it is easy to forget this when viewing the elaborate mosaics and massive murals that line every corridor and public room.
We're home now and savoring all the things we saw. Next week we'll discuss an exhibition we saw at Bergamot Station.