Not all of our recent visit to Los Angeles was spent in museums and galleries. We also went to the beachside community of Santa Monica where we explored an example of visionary urban planning, landscape architecture, and public art (all combined in one spot).
The spot I'm referring to is the brand new Tongva Park – named in honor of the original people who lived in the area.
The new park is between City Hall and the southern end of Palisades Park that overlooks the enormous Santa Monica beach with its world famous Pier. This inventive new space is built on the site of an old, ground-level plaza and cement parking lot that covered approximately seven acres.
The park and an adjacent square have reclaimed valuable and highly visible real estate that has been used for decades in a utilitarian and generally predictable way. It is now the worthy gateway to one of Southern California's treasure spots.
Tongva Park was designed by James Corner Field Operations. They are the same group who designed New York City's popular High Line Park – a pedestrian parkway built on a transformed elevated railroad track running through Manhattan's Chelsea district. Long-time readers of this blog will recall that Field Operations was also selected to design the Presidio Parklands in San Francisco.
Although this new park was officially opened to the public in 2013, the process of designing and creating it started in early 2010 when the city selected James Corner Field Operations.
Over the next three years Field Operations and the city conducted five workshops and many presentations where citizens and Santa Monica officials could keep tabs on the design process as well as provide feedback. The evolving process was reviewed by multiple agencies including the City Council, Planning Commission, Landmarks Commission, Architectural Review Board, and the Urban Forest Task Force. Every stage in the process was also covered by the media.
The resulting park demonstrates how designers, politicians, bureaucrats, and the public can collaborate to create something truly special.
Tongva Park and the adjacent square in front of City Hall are designed around the concept of land being carved and shaped by several interlacing streams. The term used by the design team to describe this terrain is "Arroyo Wash" and it is a perfectly descriptive term. When you are walking through the park it seems as though you are following the graceful curves of several stream beds as they repeatedly converge and separate.
The main pathways slope gently downward to slightly below street level and the excavated soil has been mounded to make four separate hills distributed throughout the park.  When you are in this public space you are often tucked into the terrain and feel as though you are miles away from the bustle of nearby city streets.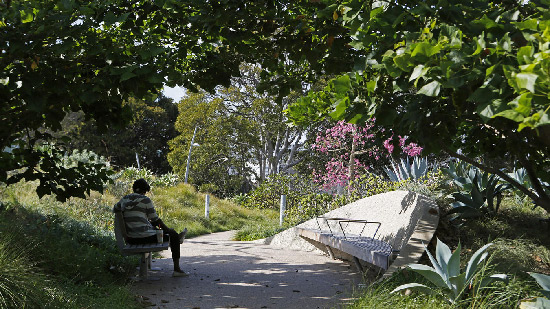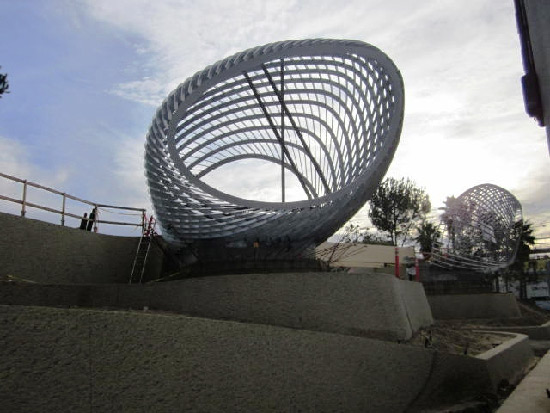 There are sitting areas with clusters of benches. There is a peaceful waterfall and a children's play area. There are also fabricated observation overlooks where you can see out over large areas of the park and beyond.
There are groves of trees, small meadows and hillsides with ornamental grasses, as well as embankments covered with flowering drought-tolerant plants. The new park contains more than 300 trees representing 21 different species. There are also more than 30,000 plants – some native to the area but many from similar climates around the world.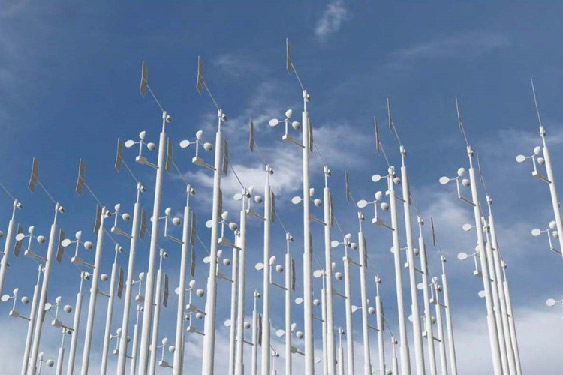 One of the highlight features of the park is a work of public art. Weather Field is a site specific sculpture by Iñigo Manglano-Ovalle consisting of 49 stainless steel poles arranged in a grid. Each pole is topped with a weather vane and wind speed detector. The cluster of poles measures not only the prevailing weather pattern but the micro-climate turbulence caused by groups of park visitors.
Tongva Park is now on my "must revisit" list whenever I come to Santa Monica.
Learn more about Tongva Park here.