I'm still thinking about our recent trip to Los Angeles. We visited a dozen private galleries, the Geffen Contemporary, the Museum of Contemporary Art (MOCA), and the Broad Museum. It got me thinking about the different missions of those entities and how that influences what is exhibited.
photo:Benny Chan
Today I thought I'd look at the Broad Museum, a private exhibition space that showcases the collection of Eli and Edythe Broad. Eli Broad is a multi-millionaire who has influenced the cultural scene in Los Angeles for decades. He was instrumental in the founding of MOCA, which he left after disagreements and then years later rescued when the museum was beset with severe financial problems. Broad was involved with the Hammer Museum in west L.A., helping after the museum's namesake founder died without providing an adequate endowment. His solution to the funding deficit was wrought with controversy. He then turned his attention to the Los Angeles County Museum of Art (LACMA), endowing a building that bears his name. Originally this space was used to exhibit selections from his collection but after disputes Broad pulled the collection and built his own museum downtown.
Broad's involvement in Los Angeles is complex and beyond the scope of this post but I'd like to recommend these two excellent articles, one written by Mike Boehm and published in the Los Angeles Times, and the other by Connie Bruck, written for the New Yorker.
The one constant in Broad's disagreements with various cultural institutions has been his demand for extensive decision-making authority, bypassing the usual structure that includes the opinions of museum financial officers, directors and curators. So, here is the simple difference between a public and private institution – if it's your museum you can do whatever you want.
Most museum professionals would prefer that the wealthy channel their funds into established museums (please note that many museums are non-profit but not necessarily public). I admit that as an artist I've been very uninformed about the machinations behind museum funding. In fact, it was only recently when I read several reviews of the new San Francisco Museum of Modern Art by the critic (and former museum curator and director) Charles Desmaris, that I became aware of the issues connected to donor influence on museum decisions. Here is a very brief excerpt from one of his reviews (click here to read the entire fascinating article).
"What we see in art museums is the art of the rich.
One of the main reasons we visit museums is to engage directly with works that are rare, fragile and generally unavailable outside secure institutional walls. Especially in the U.S., where museums depend heavily upon donations, these valuable works come from wealthy contributors. Without their generosity, our cultural heritage would be closeted away, and our communities greatly impoverished.
Yet museum audiences expect their visit to be at least in part an educational experience, and virtually all museums see interpretation and education as key aspects of their mission. Curators and museum educators are charged with meeting that need, and we have a right to assume that the choices they make are based, above all, upon their training and experience. (And let's be honest: Another part of their job is to shelter us, if need be, from the arrogance of the successful and the wellborn.)"
As a general viewer it is easy to overlook the influences behind museum collection and exhibition decisions. It's essential to remember that the Broad Museum reflects the interests of a single couple, Eli and Edythe Broad. Some of the conflicts that arose between Eli Broad and museums such as MOCA and LACMA had to do with what was collected and what was shown. At one museum, when the director proposed an exhibition not to his liking Broad acknowledged the director's authority to select work but pulled his contribution to the funding, which caused the show to fall through.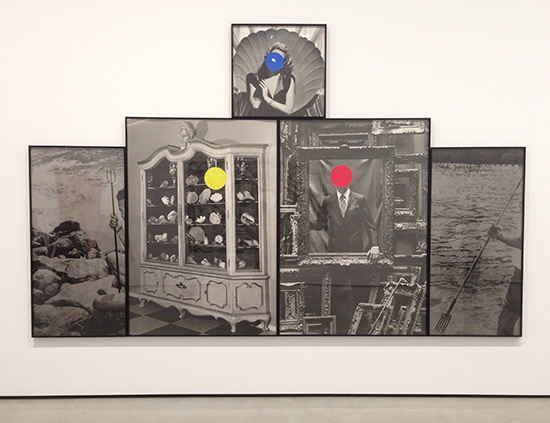 John Baldessari
Broad should be given a lot of credit for his contributions to the arts in Los Angeles. His new museum is filled with the work of blue-chip artists, many of whom he and Edythe began collecting in the 1980s when the artists were still relatively unknown. I enjoyed what I saw during my visit, but taken as a whole, the exhibition seemed fairly predictable, and in many ways conservative. The museum does have a very large endowment and it will be interesting to see how the collection expands with new acquisitions.
El Anatsui
Next time you go to a museum I'd suggest you think about what you are seeing and how it is part of a much larger dialogue between public and private needs and desires. Economics, social standing, political power, individual personalities, all of these are part of a behind the scenes struggle that influences what we see and what we value.