During our trip to Los Angeles my blogging partner and I managed to work in a visit to the Museum of Contemporary Art (MOCA). The exhibition we saw featured artworks from their permanent collection. This is always a treat because MOCA has an excellent, and fairly extensive collection of work by artists we don't often see in San Francisco. Plus, the work is inevitably interesting and thought-provoking.
Let me share two pieces with you to give you a sense of the MOCA permanent collection and what we saw in this exhibition. The two pieces are Shore by Pierre Huyghe and Little Light by Jac Leirner.
Pierre Huyghe

Jac Leirner
Both artworks are large and have extreme proportions. Both are technically obsessive. Both of them are also somewhat flexible in their dimensions. In other words they are created on site and can be modified to fit their current environment. Shore is more than 22 feet (7 meters) long. Little Light is approximately 50 feet (16 meters) long.
Pierre Huyghe, who made Shore, is a French artist known for his installations, events and videos. For much of his artwork he creates imagined and suggested environments. Huyghe's environments, events and videos are usually primal and mysterious. He wants to hint at a narrative and site rather than create a specific story set in a particular place. Time, memory, and our interaction with the natural world are themes he works with in many of his artworks.
Individual components of Huyghe's imagined settings are sometimes reused in different exhibitions. Shore is one of those elements. It has been a component in previous, more complex exhibitions, but here at MOCA it stands alone. In the image below you can see a previous version of Shore (on the back wall of the gallery) as it appeared in another installation.
At first glance Shore looks like it is painted on the wall or mounted on the wall. On closer examination, however, you see that it is actually sanded into the surface. The process of sanding has revealed multiple layers of paint from previous treatments of the gallery. Looking at Shore you can see that this gallery at MOCA has been painted either white or grey over the years.
The layers of paint that have been sanded off the wall lie on the floor in what looks like a small sandy beach. Slightly off center on this imitation beach is the fossil shell of a turtle.
In this piece Huyghe is exploring and comparing the passage of time in human, random and geological terms. The time consuming process of carefully sanding the wall (as a human endeavor) is quite evident. The patient collection of granular particles on the floor mimics the natural world's process for creating a sandy beach made of accumulated entropic material. And the fossilized remains of the turtle documents organic life becoming a timeless geological artifact.
On a formal level Shore is understated and poetic. It is visually at home in this gallery as a minimalist statement while it also suggests an expansive seascape and remote location.
Jac Leirner, who created Little Light, is a Brazilian artist who works with collections of found materials. She arranges these mundane objects by type or in combinations to make straightforward minimalist configurations.
She has, for example, arranged construction-grade spirit levels in a column marching up the gallery wall like rungs on a ladder. She has also threaded hundreds of collapsed cigarette packages on a steel cable and then let them drape as a graceful line on the gallery wall.  These primary form configurations made from multiple items de-emphasize the individual object's original function and showcases their formal visual/tactile qualities. The spirit levels become multicolored bars with complicated surfaces. The many cigarette packages become one long, soft looking, multi-colored line.
Little Light consists of an electrical plug inserted into a wall outlet, a huge amount of common electrical wiring threaded up and down (seemingly countless times) over two rows of closely spaced nails, and a socket containing a single small lightbulb.
All the components are extremely common and could be purchased at any hardware store. Here, however, they are transformed from their normal definitions into an imposing horizontal band that dominates an entire wall of the gallery. They become a bronze colored stripe that comments on the dimensions and proportions of that wall. They also describe a somewhat existential journey – through twists and turns – as the electricity travels from outlet to lightbulb and back again. Viewers can choose to follow the journey up close and see its convoluted, obsessive path or they can stand back and see the entirety of the venture.
Like Pierre Huyghe, Jac Leirner modifies individual works of art to fit a particular gallery. Little Light has been presented in a variety of ways that engage its surrounding environment. The images below show the piece in two different configurations.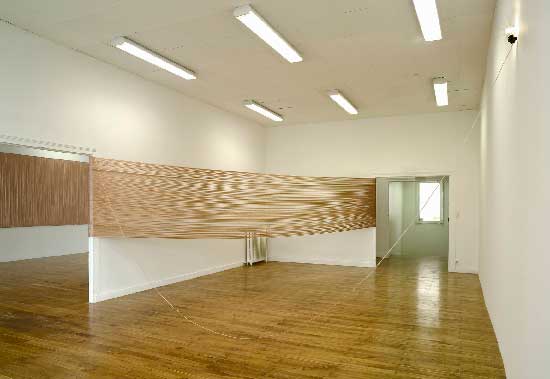 Shore and Little Light are merely two of the many interesting artworks MOCA has in its permanent collection. They also host exhibitions organized by other institutions as well as curate new shows featuring the work of national and international artists. If you are in Los Angeles, MOCA is an institution you should visit.