This last week has been a traumatic one for many of us living in the United States. A Trump presidency should have been impossible. I've had a hard time concentrating, in fact, it's been difficult to get out of bed. Each day there is a new story that is worse than the day before. Horrible stories of racist taunts and threats of violence, even in supposedly progressive San Francisco. None of us know how to move forward but many agree that sitting back and letting the country regress into the dark ages isn't an option.
You can imagine that it's been hard to think about coming up with a topic for this weekly blog. At first I thought I'd write about something of overwhelming beauty, just to remember that there are still things that are wonderful and moving in the world. As I struggled to find the perfect topic the name John Heartfield kept resurfacing and I realized that instead of beauty I'd write about an anti-aesthetic based in stinging social commentary.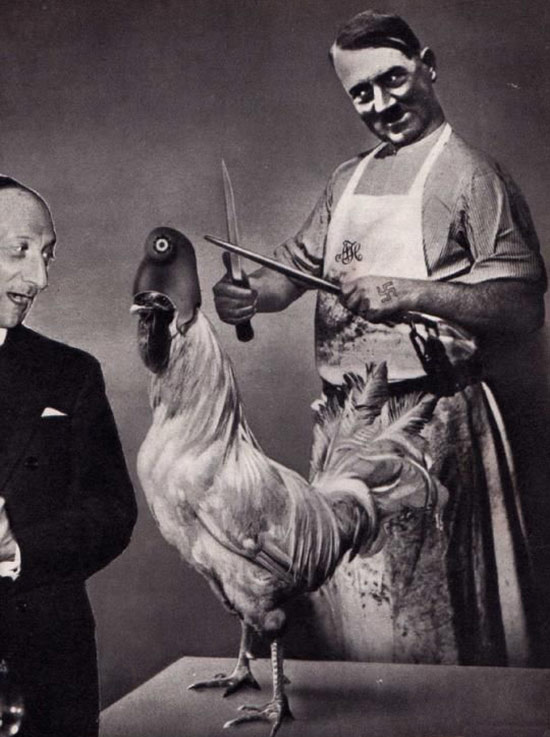 Don't Be Afraid, He's a Vegetarian
John Heartfield is known for the work he made during the German Weimar Republic (1919-1933) and the following period of Nazi rule. He recognized fascism early on, and at age 18, as a response to German nationalism after WWI, he changed his name from Helmut Herzfeld to the anglicized John Heartfield. Around this same time he joined the Communist Party (KPD) and became a founding member of the Berlin Dada Club.
During WWI Heartfield had become friends with the artist George Grosz and together they developed a collage-like method of combining photographic images to make a strong social comment. They sent the work in the form of postcards to soldiers at the front as a response to the censoring of real news. They wanted to upset and overturn the status quo. These postcards can be seen as the beginnings of what has become known as the art of photomontage.
Natural History of Germany: Metamorphosis
After the end of WWI Heartfield worked for his brother's leftist publishing house "Malik Verlag" as a graphic designer and later for the Communist weekly AIZ, where he designed hundred's of magazine covers (some of which are reproduced in this blog). In addition to this work he worked with the playwright Bertolt Brecht as a set designer. He also became known for the invention of the photographic wrapping book jacket that is now ubiquitous in publishing.
Heartfield, like all Dadaists, believed in an anti-aesthetic, in an anti-art, that put shock before beauty, and used disruption as a force for social change. He used mass-produced images that were easily recognizable to create a break between what was assumed and the truth hidden in the image.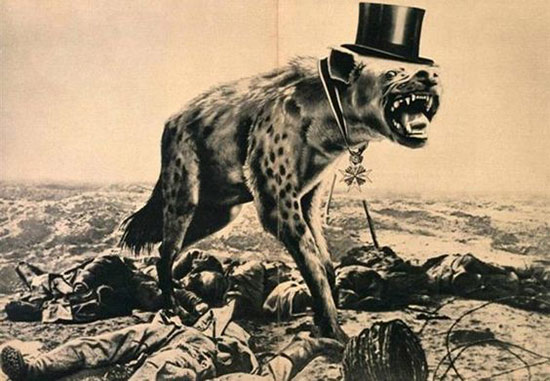 War and Corpses: The Last Hope of the Rich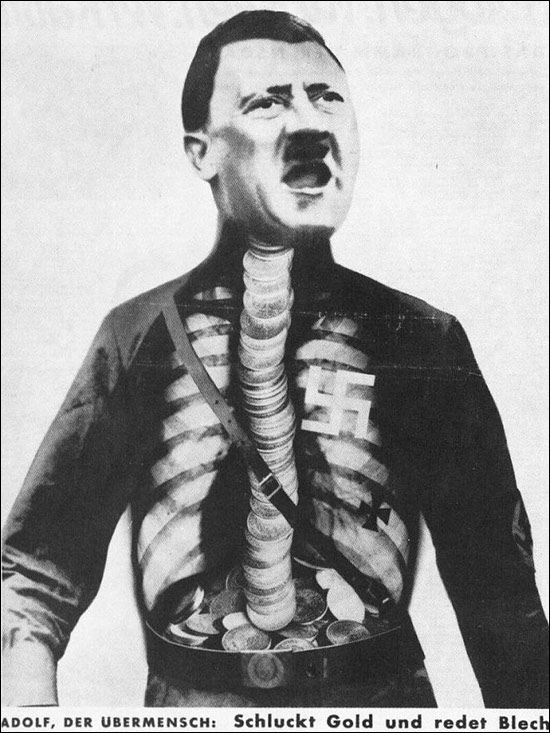 Adolf the Superman: Swallows Gold and Spouts Tin
If art was not art, then it stood to reason that it's production should also be in opposition to the normal means of making and showing work. Heartfield would sketch out his compositions and then find appropriate photographs. When necessary, he would have new photos made. He would then cut them apart and reassemble them. They would be photographed and a printing plate would be made. From this, massive numbers of prints could be cheaply made and freely distributed.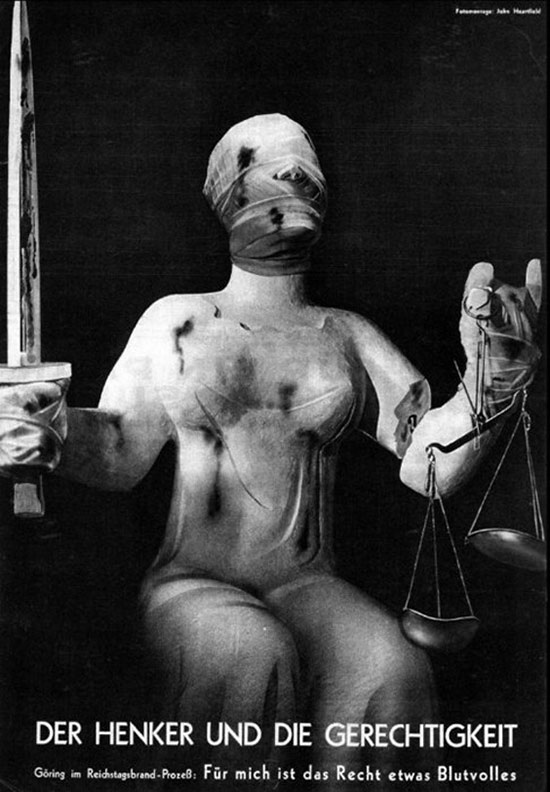 The Executioner and Justice
Whoever Reads Bourgeois Newspapers Becomes Blind and Deaf
The Nazis saw Heartfield and his readily available work as a threat and in 1933 they attempted to arrest and kill him. He managed to escape by jumping from a second story window. He moved to Czechoslovakia where he continued to work until the Nazi invasion, at which time he relocated to England until after the war.
When you get a group of artists or students together the one question that invariably arises is whether art can cause social change. Heartfield was a man who believed it could, risking all for his beliefs. I don't know if his way is our way in this media saturated environment but it's sure worth considering.
I'm going to end with a rather long scroll through some more of his photomontages. Heartfield used symbolic images and metaphors extensively in his work. I'd suggest you google his name along with the specific titles I've included under each image. This should provide you with detailed information about the people and things portrayed in the photomontages and their metaphoric content.
(For those of you receiving this through email if you are having problems with the images loading please click here.)
The Meaning of the Hitler Salute: Little Man Asks for Big Gifts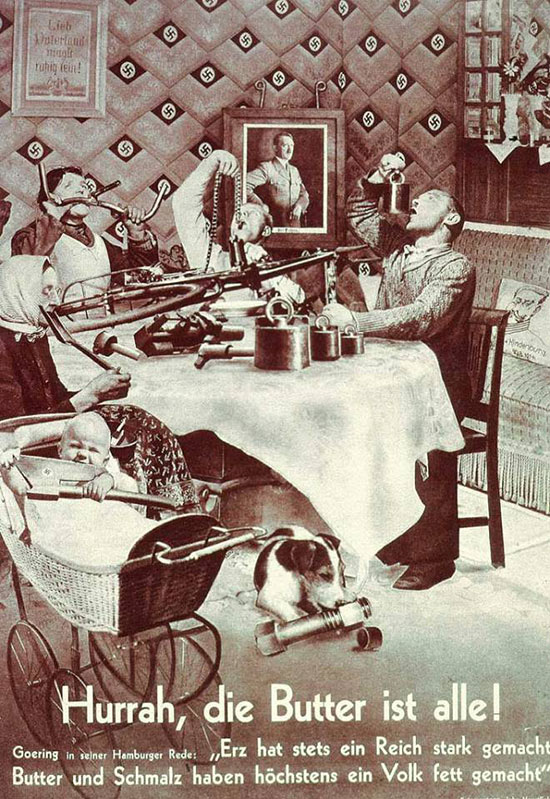 Hurrah, the butter is gone!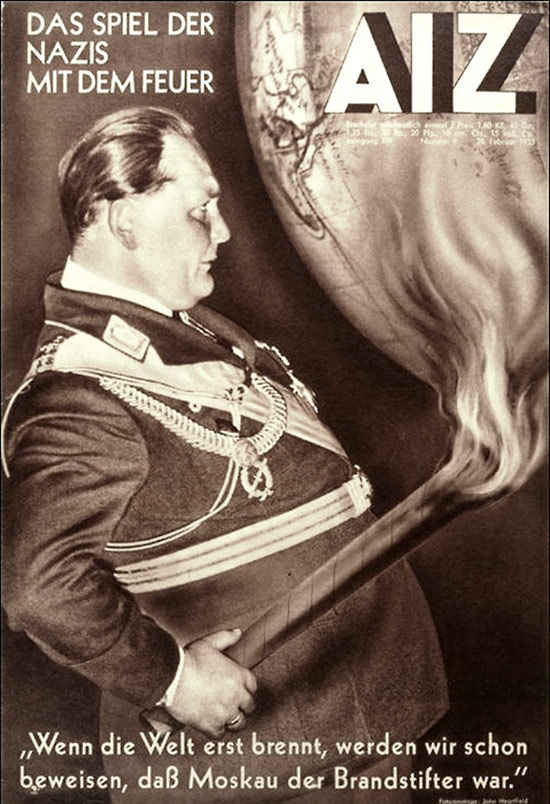 The Nazis Playing with Fire
Blood and Iron
O Christmas Tree in German Soil, How Crooked Are Your Branches
And Yet It Moves