In light of the many unconstitutional moves made by our truth-challenged leader with the support of our ethically-challenged Congress I've been thinking a lot about what are the real values of the United States. What does make us great?
The easy and obvious answer to that question is all the wonderful immigrants who have chosen to enrich us – culturally, socially and economically. Today I thought I'd profile the work of one of those individuals, Anila Quayyum Agha, a Pakistani born artist who received an MFA degree from the University of North Texas and now lives and teaches in Indiana.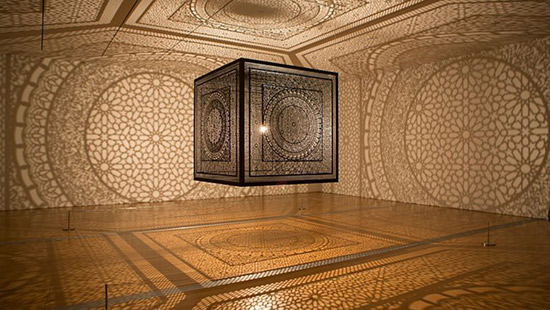 You may remember this installation "Intersections" from a post of ours "Material Presence: Real Encounters With Art." Using an economy of means Quayyum Agha filled a room with light and pattern. A single high wattage light bulb was suspended within a six foot square laser cut wooden box, projecting complex Islamic patterning onto the floor, ceiling and walls.
"Intersections" was inspired by a visit to the Alhambra, a Moorish palace in Spain that was built in the 9th century (and enlarged in the 11th century). Quayyum Agha was awe-struck by the palace. She realized that although she was Islamic she had rarely visited a mosque when she lived in Pakistan due to the restrictions placed on female visitors. She decided to create a sublime space that would be open to all, and she wanted to do this in her current home in the United States.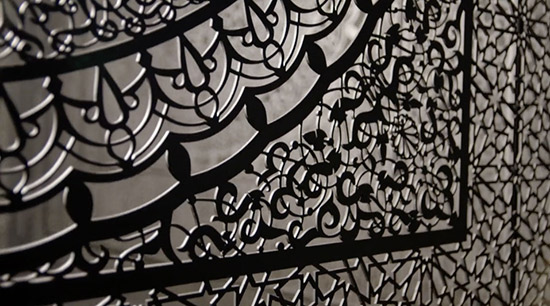 If you click on the image above you'll see a fascinating video about Quayyum Agha in which she discusses her process and motivations.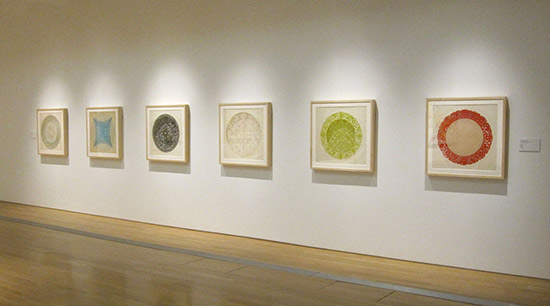 Quayyum Agha is primarily known for "Intersections" but she also creates mixed media drawings and paintings. The pieces shown above, part of the series "All the Flowers Are For Me," combine laser-cut designs, embroidery, and beads. Quayyum Agha has a background in fiber arts and this is reflected in not only her use of materials but also in her attitude toward these traditionally female media. In an interview with Scott Shoger she says "In a sense, I'm trying to elevate this whole domesticated element of the thread and the needle, which has usually been used to denote women, putting craft into dialogue with fine art." By elevating the media she also wants to elevate women and their contributions.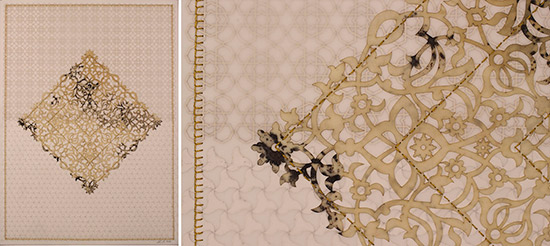 I thought I'd end with this quote that was part of a discussion about one of Quayyum Agha's recent installations. "The works in this exhibition were borne of the varied mix of emotion that followed my son's wedding and my mother's passing. On a larger level, it was the communal sense of loss – of loved ones, identities, homes and countries – experienced by myriad people across a world ravaged by the atrocities of war and displacement that created equivalence. It added poignancy to my personal loss and the global loss I bear witness to daily via the news media. This work also reflects my joy for my son and his future life alongside of the lives of many people across the world who have been given second chances through resettlement in new lands but who will always carry with them a sense of loss."
I didn't realize when I wrote this post that today is  A Day Without Immigrants.