Pantone is a company synonymous with color management in the commercial world – particularly print media. It was started in the early 1960s by Lawrence Herbert who recognized the need for colors to be standardized when design projects moved from the creative studio to the print shop.
To solve this workflow problem Herbert developed the Pantone Matching System (PMS). This system identifies a wide range of individual colors that can be mixed using the four colors of ink employed in offset printing (cyan, magenta, yellow and black). The system also identifies what colored inks look like when they are printed on different types of papers.
In Pantone's PMS every color is assigned a number and a formula for mixing it. Samples of the colors are printed on different papers (with their corresponding numbers) and assembled in swatch books called Pantone Guides. Designers refer to these samples when they create images or talk with clients. Printers can then mix the exact same colors when they receive the final job order.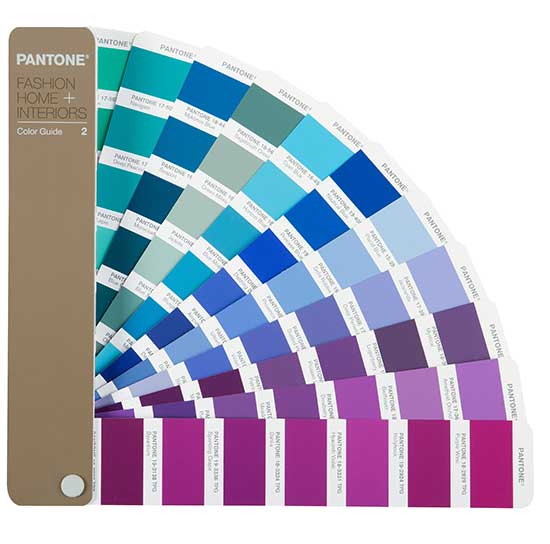 Pantone quickly became the world's standard for effectively managing color workflow in the print world. But that was just the beginning.
Since then Pantone has not only stayed current with the needs of this growing industry they are constantly expanding the role they play as well as their range of influence.
Today Pantone sponsors a Color Institute that helps designers and clients explore new possibilities of color. They have developed additional color matching systems for products as diverse as plastics, makeup, fabrics and house paints. They publish books on the topic and have a smart phone app to help the general public work with color.
Pantone also markets an assortment of accessories – from handbags and bedding to coffee mugs and cosmetics. There is even a Pantone Hotel in Brussels.
The Pantone Matching System has become so established and pervasive that it is actually codified in legislation. For example, some colors in the official flags of Scotland, Canada, South Korea and the state of Texas are required by law to be specific Pantone numbered colors.
Every year Pantone convenes a secret panel of international experts in print media and fashion. Panel members compare their observations about the color trends they see in their fields and arrive at a single prediction for the next year's Color of the Year. The color for 2017 is Greenery PANTONE 15-0343.
The color of the year designation is not intended to dictate color use. It is, rather, a heads-up notice to design professionals about what they might expect to see. Pantone also provides suggestions about color harmonies and real world applications for the featured color.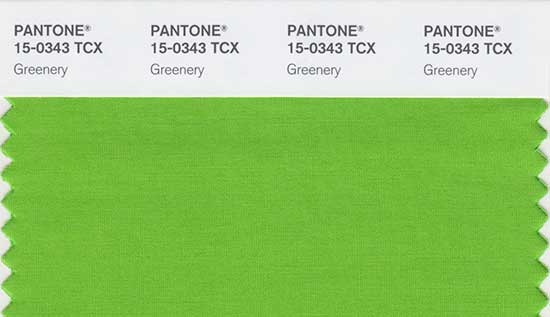 As you can probably imagine Pantone is a regular collaborator with major houses of fashion and decor. Occasionally these collaborations also lead to purely humanitarian ends. For example, a partnership with Sephora that was designed to help customers match cosmetics with skin tones is now helping doctors prepare prosthetics for amputees.
Pantone strives to constantly find more ways to promote color and to influence how we use it. Wherever we turn in the design world it seems we can find evidence of their involvement.
Even artists working outside the world of commercial design acknowledge Pantone's influence. Here are two examples…
Glasgow born artist Nick Smith has created a large group of images using a technique that bridges the conceptual space between pixilation and Pantone's PMS. He uses individual PMS swatches to represent the average sampled colors in famous paintings and his own photographs. In the image below he has created a PMS version of Andy Warhol's portrait of Marilyn Monroe.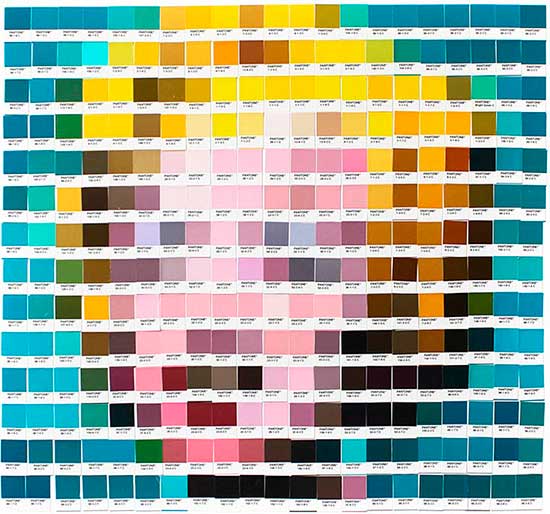 Brazilian photographer Angelica Dass has an ongoing artwork titled Humanae that consists of portraits she has taken around the world. Dass then samples the skin tones of the individuals and matches them to a specific Pantone color. The photos are displayed in a large grid with their corresponding Pantone color numbers. The overall range of colors is both narrower and wider than different viewers might expect – revealing the commonality and diversity of the human race.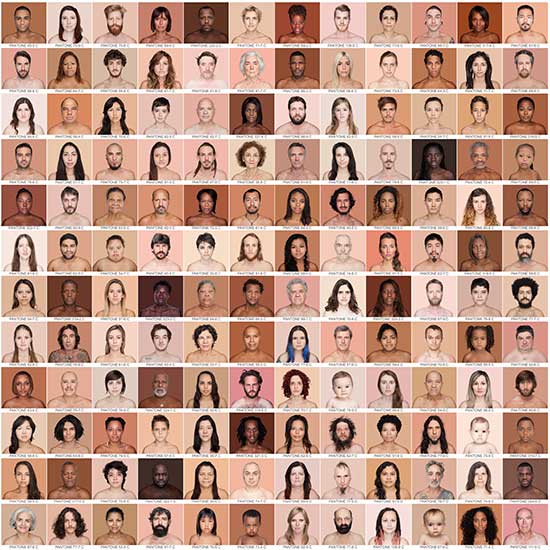 For those of you new to working with color we suggest you review Chapter 7 (Color) in our book Design: A Beginner's Handbook. In the book we discuss the element of color and other color systems.