Few art forms are as fun to look at as a good neon sign. The glowing colors against a dark background epitomize what we mean when we say "eye candy." A classic neon sign also conjures up thoughts of a previous era filled with bustling energy and an optimistic attitude.
Now, however, these signs have largely slipped into the realms of historical artifacts or incidental novelties. Most young designers have never experienced the analog grandeur of seeing a town's entire main street lit up with glowing tubes of bright colors. The only neon signs most of us see today are miniature versions hanging on the walls of sports bars or pizza parlors.
In today's blog post let's take a look at the history of the medium and some classic neon signs from the past…
French engineer/chemist/inventor Georges Claude is credited with developing the process that is the basis for neon technology. He displayed his first neon lamp in 1910 and sold his first commercial sign, to a barbershop, in 1912.
Then in 1923, Claude sold two signs to a Packard automobile dealership in Los Angeles…and sparked a revolution in sign making.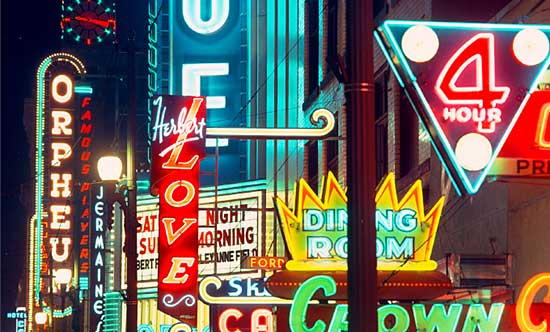 The bright glowing light from neon signs caught the attention of customers and projected a strong personality onto the busy sidewalk outside. Neon signs could be seen for blocks away. They were natural choices for destination buildings such as theaters and restaurants.
It wasn't long before practically every business needed a neon sign. To be without one mean't you were nearly invisible.
The neon sign phenomenon spread quickly, particularly in America, but also in many of the major cities of Europe. By the end of the 1930s city centers were illuminated by neon signs as much as by street lights. In 1940 there were over 2,000 neon sign shops in the United States and New York City's Time's Square was famous as the epicenter of neon graphics.
Beyond the urban environment neon signs were also obvious choices for roadside businesses such as diners and the newly emerging motel industry. The signs could be seen from miles away and were welcoming beacons at the end of a long day on the road.
The last big push for neon signage came in post-World War Two America with the development of Las Vegas and its world famous "strip." Each casino and hotel attempted to out do its neighbors and because much of the city's activity took place at night it was the perfect environment for neon signs.
Then during the 1960s everything started to change. Across the United States city centers with their many individual, stand alone stores were largely abandoned in favor of suburban shopping malls.
The public's taste for the style of traditional neon signs waned.
Zoning laws that limited what signs could look like followed these other trends and by the mid 1970s large scale neon signs for individual businesses were a thing of the past.
Although neon signs no longer dominate our urban and roadside landscapes they haven't disappeared. Architectural and cultural conservationists recognize how important the signs were and have included many of them in their protection and restoration efforts. Most of the theaters and restaurants that managed to survive still have their famous signs. It helps that one of the qualities of a neon sign is its durability and low maintenance. As a result, many of the old signs continue to function decades after they were installed.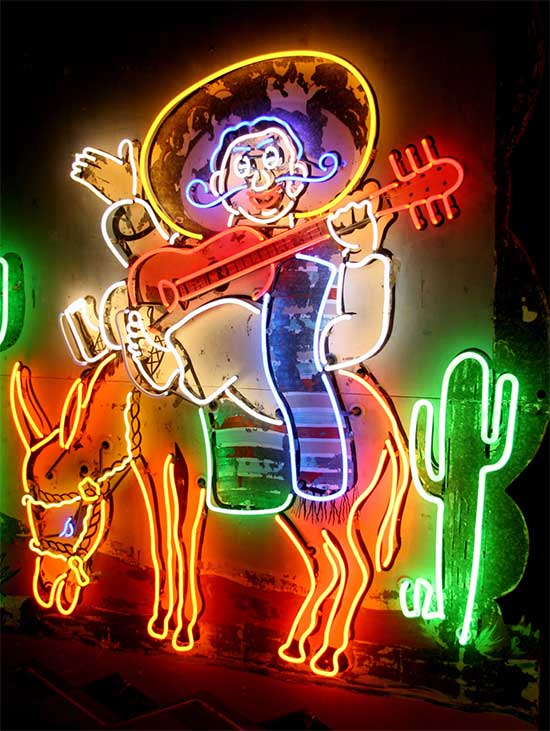 Today you can find examples of restored signs at institutions such as the Museum of Neon Art.
If you are interested in learning what goes into making one of these delightful objects here is a short video that describes the process of creating a neon sign.
If you are reading this in email click here to see the video.