In our very first blogpost we promised readers we would write about design wherever we found it – not just in fine art settings and traditional design contexts.
Today's post focuses on four sets of images that are all highly orchestrated visual statements – each of them tightly composed and carefully manipulated. They are about as "designed" as they could be.
They also celebrate the functional non-art world we live in every day.
Let's look at them…
In his ongoing series titled Mass Carson David Brown roams the aisles of big box stores here in the United States and creates impromptu sculptures using the items they have for sale. Color, shape, texture and relative size are the primary factors that guide his selections and configurations.
Brown's sculptures are created rapidly in the aisles and corners of the stores because he is working without the knowledge or permission of the store management. He then photographs the work before store clerks discover what he has done. The assembled sculptures usually survive for just a few minutes or hours before store personnel take them apart and return the components to their shelves.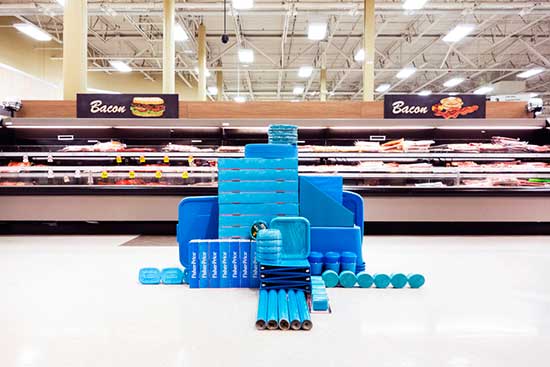 Kelsey McClellan is a photographer and Michelle Maguire is a designer/art history resource librarian/set stylist. Together they have created a delightful series of photos titled Wardrobe Snacks. In the series they present perfect combinations of common foods with the appropriate clothes to be worn while eating them. Color and texture are the primary design elements at play here.
McClellan and Maguire were inspired to create this series by watching people eat on the run or while balancing plates of food on their laps. The relationships created by body parts, clothing and food are at once functional, intimate and universal.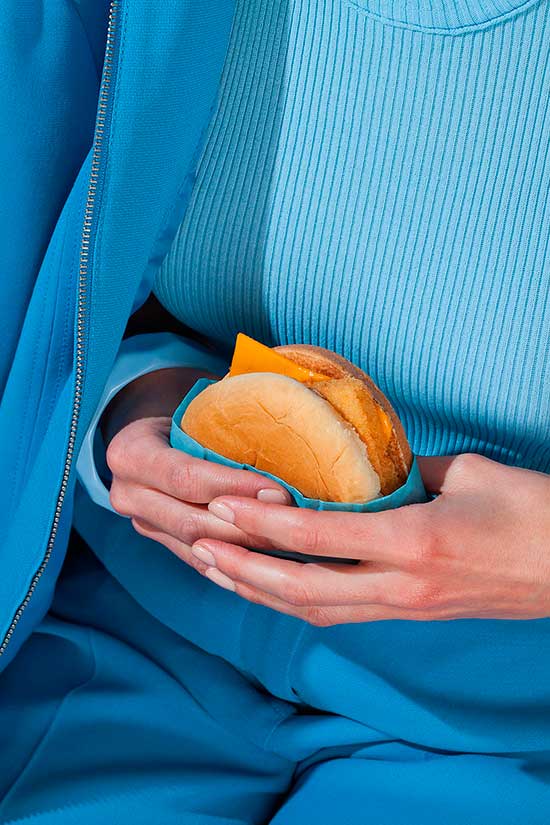 Speaking of food… Chefs and cooking aficionados from around the world participate in the Facebook page titled Food4Inspiration. Here are two examples. Notice the textures, shapes, colors and balance in each of these edible compositions/presentations.
The first is by Zubeyir Ekicibasi (Turkish national team member) and consists of Chub Mackerel gravlax – sour cream – stuffed celery stalks – baby radish – pesto cream.
The second is by Rasmus Kofoed (Copenhagen). It consists of Maldivian lobster – passion fruit leaves – lobster jus – coconut oil.
Our final examples are by Andrius Burba, a photographer from Lithuania. Burba's photo series Under-cats and Under-dogs show these internet favorites from a decidedly different angle. This new perspective de-emphasizes the subjects' personalities and highlights the formal aspects of their bodies.
Forget for a moment that that these are photos of cats and dogs as viewed from beneath a glass table and consider the shape, texture, color, symmetry and placement of what you see.