I recently came across two unexpected environments in which to view art. This got me thinking about a design exercise for all of you. The parameters are simple: Find a unique place to display art and then create appropriate work.
What do I mean by appropriate i.e. what questions do you need to ask yourself before you begin work? Maybe the best way to explain is by talking for a moment about the two sites I discovered, "Art-o-Mat" and "Peephole Cinema."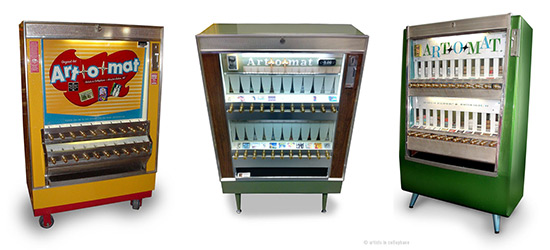 Twenty years ago the artist Clark Whittington decided to exhibit his paintings in old cigarette vending machines. The director of the gallery where his work was displayed was so enamored with the idea that she encouraged him to engage other artists in converting the machines and filling them with art. They formed an organization called AIC – Artists in Cellophane (named after the cellophane wrappings found in cigarette packaging). With this Art-o-mat was born. There are now art vending machines in public sites all over the United States.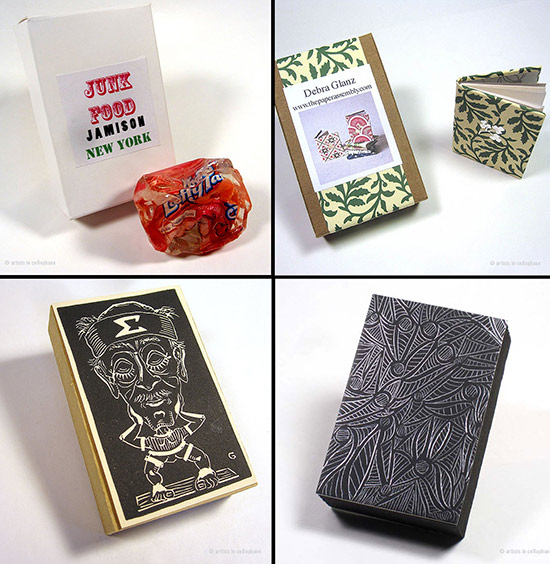 There are very strict requirements for making art for the machines. It can't jam, it needs to be a very specific size, the materials can't rot, etc. Obviously the work is small scale. Oddly shaped artworks require additional packaging while paintings on blocks of wood do not. This extra packaging can be unembellished or a work of art in itself.
If you decide to make art like this the parameters would involve solutions to practical questions of size and materials. This doesn't mean that conceptual considerations aren't also important. What is your intent? How can you play with the intimacy invoked by the small scale? Do you want to work with a single theme or several? For the beginners among you I'd suggest concentrating on one of the design elements or principles and making multiple works around that idea.
The second site that I came across is devoted to the medium of film. Originally created by Laurie O'Brien, the cinema is now a collective of sorts, with locations in three cities. 24 hours a day, 7 days a week, silent film shorts are screened through a dime-sized "peephole" installed in a public place. The site in the city near me, San Francisco, is easy to miss but when you do find it there is a wonderful moment of discovery, a sense of true adventure that rarely occurs in the 21st century.
It's awkward and and slightly uncomfortable to bend to the tiny viewing hole, consequently the films shown are very short in duration. According to Sarah Klein, the programmer for the San Francisco site "The small format works to the advantage of a lot of films. It makes the film a little gem in this tiny little space with no distractions."
In work like this there are many practical considerations – designing a projection system that can stand up to 24/7 use, scheduling maintenance for the equipment, making work that is short and does not require sound – but outside of these pragmatic concerns anything is possible. Short narrative films, stop-motion animation, comedies, dramas…
From these two examples you can see that there are two main aspects to this assignment. One deals with the "how." The other is conceptual, dealing with the "what" and "why." Let me also remind you that regardless of what you select to make don't forget the elements and principles of design. They are essential to the successful completion of this exercise. (I suggest you refer to our book "Design: A Beginner's Handbook.")
I've presented you with two examples but try to find your own solution to this problem. Please share what you have made with us on our Facebook page.