If you're anything like me you have multiple email accounts, I have almost a dozen. The one account that overfills with hundreds of messages each day is the equivalent of the junk drawer in my kitchen, a place for a random assortment of items of questionable value. When I discover something that does interest me I usually forward it to one of my other accounts, thus establishing its worth.
By an act of serendipity two emails arrived, one after the other, in this miscellaneous account, forming an interesting connection. One linked to an article in The Atlantic that discussed the industrial designer Raymond Loewy, while the other contained auction results for the work of the Mexican-American artist Eduardo Sarabia.
Loewy began work in the early 1900s, eventually becoming one of the most influential designers of the 20th century. He made advances not only in design but also in marketing. As factories became more efficient at producing durable goods a market based on desire needed to be created. Why replace something if it still works? The answer was found by making objects that changed style regularly and by equating those changes with increased value.
To quote Derek Thompson, writing in The Atlantic, "Loewy had an uncanny sense of how to make things fashionable. He believed that consumers are torn between two opposing forces: neophilia, a curiosity about new things; and neophobia, a fear of anything too new. As a result, they gravitate to products that are bold, but instantly comprehensible. Loewy called his grand theory "Most Advanced Yet Acceptable"—maya. He said to sell something surprising, make it familiar; and to sell something familiar, make it surprising."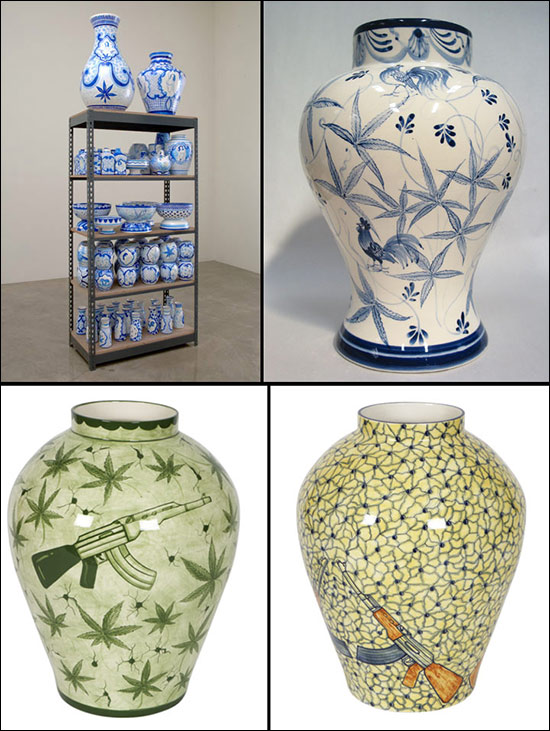 Eduardo Sarabia is an artist, not a designer, and his main goal isn't to sell things. Nonetheless, I was struck by Loewy's ideas when I viewed Sarabia's decorated ceramic plates and vases. Sarabia plays with common forms but juxtaposes them with "out of context" painted images, creating a tension between the known and the unexplored.
Sarabia is known for his art installations, photo-realistic paintings and ceramic works. Today I want to look at his work with ceramics.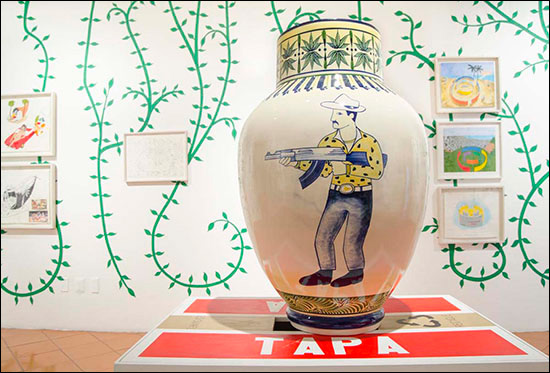 Born and raised in Los Angeles to immigrant parents Sarabia relocated to Mexico almost fifteen years ago. His work has long been concerned with the uneasy border between his identity as a first generation American and his Mexican heritage. Using humor and absurdity he plays with cultural stereotypes. This is no more evident than in the large ceramic vases and plates that combine traditional folk motifs with emblems of "narco" culture.
Living in Guadalajara, a center for drug trafficking, Sarabia is surrounded by the reality and mythology of the narco world. He has employed the iconography of the drug trade – guns, pills, wild women, marijuana leaves – and mixed them with more traditional folk designs. Parrots (cocaine), goats (heroin), roosters (marijuana) and vines intertwine in playful patterns. Many of his vases and plates mimic the blue and white Talavera vases that are sold to tourists. At first glance Sarabia's ceramics appear homey and comforting but the narrative painted on the surface disrupts this sense of tranquility.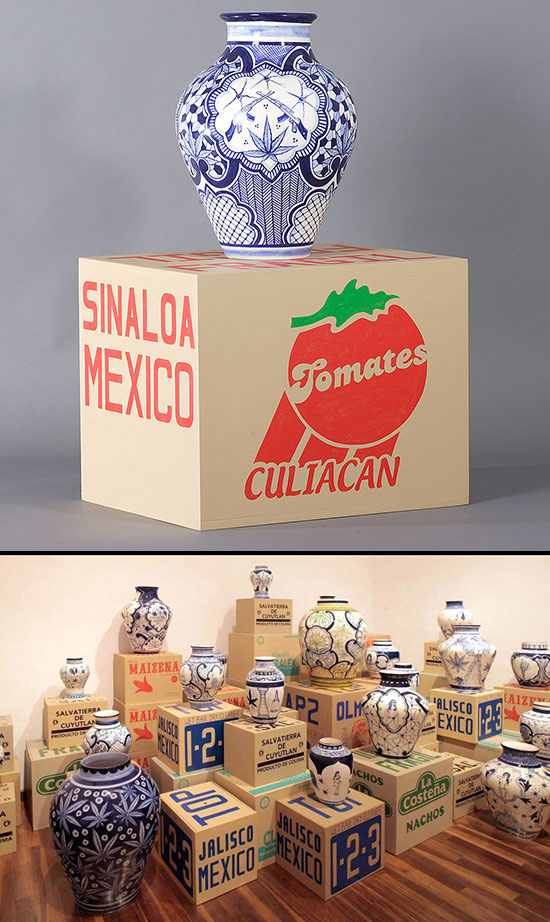 Along with the vases Sarabia fabricates cardboard shipping boxes that are equally part of the artwork. The sides of the boxes are printed with company logos, a reference to the hiding of contraband goods within the shipment of legitimate products.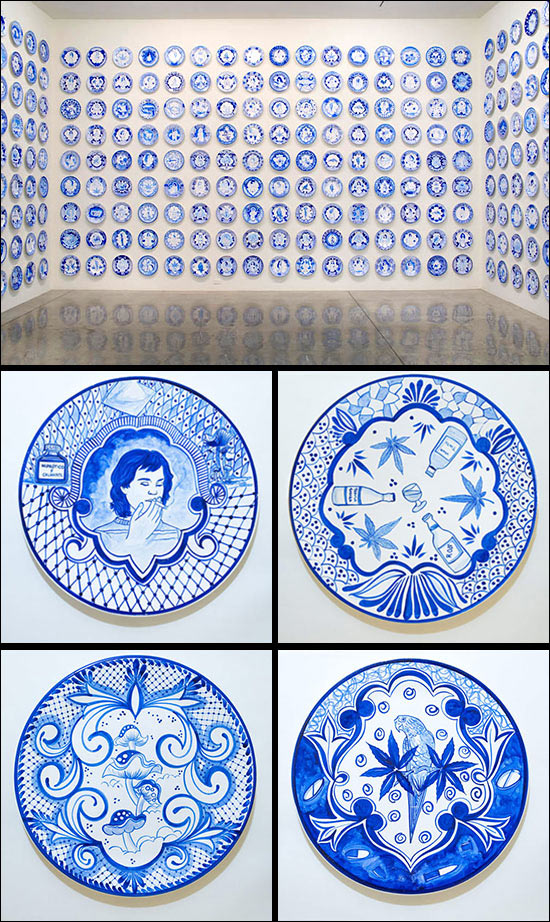 All of these ceramic pieces seem to be about the familiar and the surprise of the unknown, and it is from this that they draw their strength.