Editors Note: This may seem like an ad for IKEA but for those of you interested in the field of design this post will give you an idea of the design concerns of one company. Aesthetics are only part of the picture. Issues of resourcing, global economies, and environmental impact are of equal concern.
Whenever I drive on the freeway, north out of Oakland, I pass a giant IKEA store with its instantly recognizable blue and yellow exterior.
I've spent hours inside this Emeryville IKEA wandering along their convoluted pre-determined shopping path on my way to the big warehouse and checkout area. Over the years I've come to own a fair number of their items – large and small and they are in nearly every room of my house.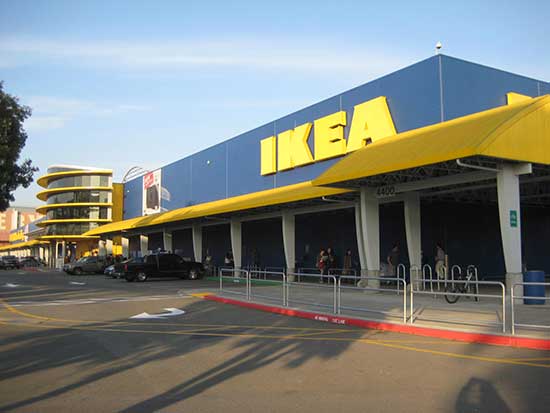 So that brings me to the point of this blogpost… Lets take a quick look at IKEA and its design vision.
They were founded in 1943 in Sweden by Ingvar Kamprad (the "I K" of IKEA).
There are approximately 200,000 employees and over 390 stores located in 48 countries. In 2016 IKEA generated nearly $39 billion USD (34.2 billion Euro) in sales.
The company's products are so ubiquitous in Europe it has been estimated that 1 out of every 10 people living there was conceived on a bed sold by IKEA.
IKEA is also the third largest consumer of lumber and wood byproducts in the world (behind Home Depot and Lowes but ahead of Walmart).
The overall esthetic of IKEA's products is minimalist, inspired by Scandinavian Modern Design. Their items celebrate functionality and downplay embellishment. They have uncluttered lines, basic patterns and simple color/value combinations. The metal, wood, plastic or fabric used to make a typical IKEA product is never disguised, but rather featured as a main component of the design.
This sparse, straightforward look helps give the company's products a universal appeal. With few exceptions, what they sell in China and Australia is the same as what they sell in France and the United States.
The clean functional look of IKEA furniture also helps individual pieces fit into a wide range of home decor styles. My house, for example, is furnished with an eclectic mix of antiques, collectibles, original artworks and purely functional objects my wife and I have acquired over the years. The clear acrylic chairs and the bold black and white rug we purchased from IKEA are perfect counterpoints to a large traditional dining room table we inherited.
Although the overall design of most IKEA products is consistently spare and functional the company works with in-house and freelance designers to keep their inventory fresh. They regularly produce a PS Collection of more adventurous items and this year they are collaborating with costume designer and fashion activist Bea Åkerlund (think Madonna, Katy Perry and Lady Gaga) to produce accent and display objects.
In order to keep their design and marketing efforts on track IKEA sends teams of researchers into the field to conduct home visits with customers. During their visits the team asks about a wide range of topics that might include how the customer interacts with their own home, what new products would make their daily life more productive or rewarding, and the customer's impression of their last visit to an IKEA store.
In 2015 IKEA produced a report titled Life At Home. This document is based on a survey of over 8,000 people in eight cities around the world. It found – among many interesting insights – that morning is the most stressful part of the day for urbanites and that New Yorkers prefer to select their next day work clothes the night before. It also found that 52% of the people surveyed enjoyed cooking in the company of other people. The results of the survey have already influenced the development and design of new products.
This concern for how a product fits into the real world also influences the way IKEA approaches the sourcing of raw materials and their general emphasis on sustainability. For example, IKEA uses recycled PET plastics from disposable bottles to make quilts and pillows. They use bamboo when possible to create a hardwood alternative for furniture. They also design and sell water-saving kitchen faucets and energy-saving appliances. All of the lighting IKEA sells is LED that uses 85% less energy and lasts up to 20 years.
One part of IKEA design that gets a lot of attention is their flat packaging. It originated in the 1950s when an employee removed the legs from an end table in order to fit it into their car. Compacting the form of a piece of furniture for shipping and handling soon became a major goal.
Today when you buy a piece of IKEA furniture from their store it comes in a plain rectangular cardboard box. Inside the box is the unassembled piece of furniture and necessary hardware arranged in the most efficient way imaginable. The packaging is so efficient there is never a need for extra padding. It is a brick.
In addition to the furniture and hardware in the box there is an assembly instruction sheet that uses hieroglyphic style diagrams. Using the diagrams as a cryptic guide customers work their way through the assembly process and become active partners in creating their new piece of furniture.
The picture-only instruction sheet is one more concession to IKEA's international marketing efforts and efficient use of resources. It is also the inspiration for many stand-up comedians and online commenters both positive and negative.
The emphasis on affordable, minimalist design influenced by customer input – what IKEA calls "democratic design" – combined with sustainability and efficient packaging/handling is a complex endeavor. I think IKEA does a spectacular job of orchestrating and managing all these design challenges.