Earlier this year I added a book to my library. It's by the graphic designer Michael Bierut and it's title is How to. The complete title is How to use graphic design to sell things, explain things, make things look better, make people laugh, make people cry, and (every once in a while) change the world.
Even though the book is about graphic design, it is a valuable read for anyone interested in any field of the visual arts. It briefly describes Bierut's education and work history and then goes into detail about aspects of one design project after another.
The book is a very personal examination of Bierut's creative process. He describes how he got involved with a number of challenging projects and how he and his team problem solved their way to completion. Bierut has been a professional designer for over 35 years – first with Massimo Vignelli and then with the international design firm Pentagram – so there are many projects to look at and lots of examples.
One of the qualities I particularly like about this book is the writing style. It is unassuming and unpretentious from start to finish. This is not the writing of an ivory tower professor or a theory driven art critic. It reads, instead, like a conversation you might have with a knowledgeable friend or co-worker who just happens to be sharing stories with you over dinner.
Time and again, Bierut confesses to being at a loss for ideas and direction when presented with a new project. But then, through trial and error or brainstorming or maybe just dumb luck, there is a breakthrough and the solution begins to present itself. To Bierut's credit he seems to embrace this recurring process and optimistically says, "…your best chance to grow is to do something you don't know how to do."
Here are a few examples from the book that will give you a sense of Bierut's creative process and writing style…
The head of marketing at Saks Fifth Avenue in New York City approached Bierut asking for a new graphics marketing program that would be distinctive and instantly recognizable. He gave Bierut total control of the project.
The store is a traditional landmark of high quality retail merchandising. It also offers the most current fashions. Bierut's challenge was to combine "…timelessness and trendiness."
Bierut continues, "We tried everything. We set the name in dozens of different typefaces: they looked inauthentic. We tried images of their flagship building: too old. We invented patterns: frustratingly arbitrary. Finally, sensing our exhaustion, Terron made a suggestion: a lot of people, he said, still liked a cursive logo from the 1970s by lettering artist Tom Carnase. A florid bit of Spencerian script, it looked dated to me, but I asked our designer Kerrie Powell to see if it could be refined. Later that afternoon, I glanced at Kerrie's computer screen from across the room. On it was a small fragment of that dated 1970s logo. The enlarged detail looked as fresh and dramatic as the Nike swoosh. I realized this was it."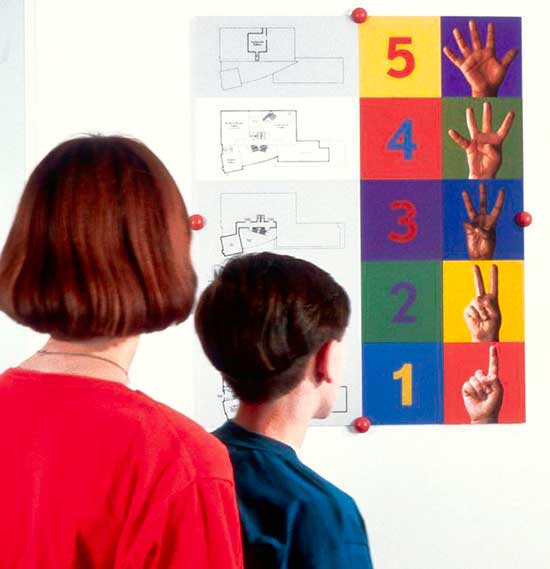 In 1995 the Minnesota Children's Museum moved to a new building and Bierut was asked to develop signage to be used throughout the new space. He describes the early stages of the design process, "Inevitably, the clichés poured out. Crayon markings. Bright primary colors. Building blocks, balloons, smiley faces."
After considerable discussion Bierut and his team of designers came to a conclusion… "Sometimes avoiding the obvious means embracing it – and wrestling it to the ground. Children's hands, with their invitation to touch and their sense of scale, provided the key. Instead of trying to draw them (silhouettes? crayon scribbles?) we recruited local kids to serve as hand models and photographed them pointing, counting, playing. Today, at the Minnesota Children's Museum, these hands – of children that are now in their twenties – continue to point the way, and pick out that delicate path between what's expected and what surprises."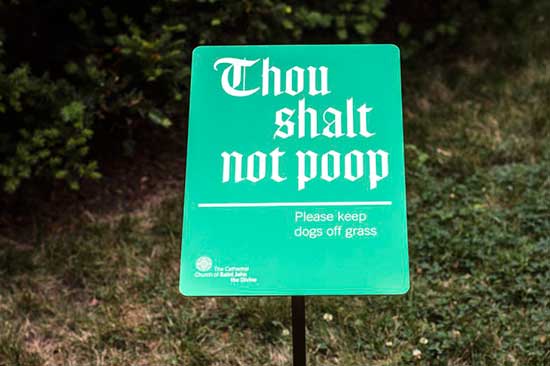 The Cathedral Church of St. John the Divine is an historic landmark on the Upper West Side of Manhattan. In addition to its religious significance and historical architecture it hosts concerts and art exhibits as well as serving over 25,000 soup kitchen meals a year.
Bierut describes the challenge of rebranding this landmark… "What is the best way to signal that a stone monument over 120 years old is a vibrant, indispensable part of 21st-century life?"
"We were mesmerized by this combination of old stones and modern life, and sought a way to replicate the surprise that visitors experience when they step through its great west doors. We started with a frankly contemporary, even humorous, tone of voice. But then we took that voice and set it in a new version of an old typeface: Divine, a redrawn, digitized version of a 1928 blackletter by Frederic Goudy, who in turn had based his designs on the type in Gutenberg's 42-line Bible. This contrast between historical form and contemporary content became our way to echo the contrasting but symbiotic relationship of the container and the thing it contains."
The challenges Bierut faced in each of these projects (and all the others in the book), the process he and his team used to solve those challenges, and the solutions they came up with are totally relevant to artists and designers across the full spectrum of visual arts. How to is a valuable resource and an enjoyable read. It would be a great addition to any artist's library.