Last week I wrote about the French artist Sophie Calle and her exhibition Missing at Fort Mason Center for Arts and Culture. I discussed two of the four works shown. Today's post looks at the other two components of that multi-part exhibition, Rachel Monique and Take Care of Yourself. All four parts of Missing were produced and curated by the organization Ars Citizen.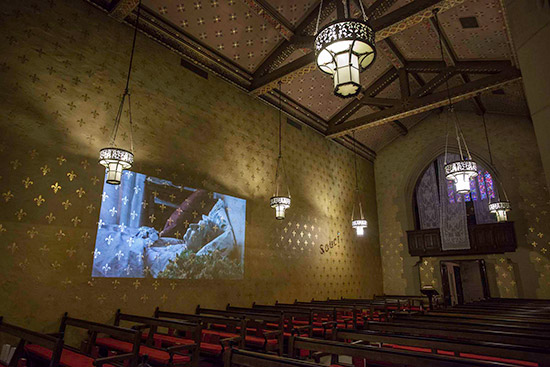 Rachel Monique
Disclaimer: The photographs in this post were found online. Some of them show the projects installed in sites other than Fort Mason.
Rachel Monique was exhibited at Fort Mason in the old U.S. Army Chapel. It is clear that the installation was designed specifically for a chapel setting with a soaring ceiling, a pew lined room, and religious symbols and images embedded in the architecture.
Calle's mother, Rachel Monique, is the subject of the installation. Upon her death Monique left her daughter a lifetime's worth of her diaries. Where some might see this installation as an invasion of her mother's privacy the act of gifting the diaries, combined with the years Calle was hounded by her mother to include her in one of Calle's projects, is clear permission to use her life and death as the basis for a work of art.
The centerpiece of the exhibition was a large video projection of the last nine minutes of Rachel Monique's life. In the video, Couldn't Capture Death, we see Monique lying on her deathbed, surrounded by relatives who we glimpse as they lean in trying to see if she is dead or still breathing. This is such a private moment and I felt uncomfortable, as if I had violated a sacred space. At the same time, I was reminded of the death of my own loved ones and I felt comforted in the familiarity of the experience.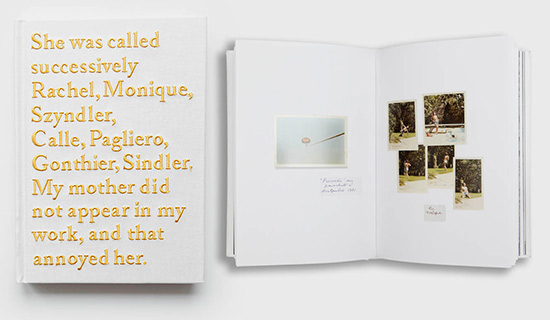 Scattered in the backs of the pews that faced the video were white bound journals, mimicking prayer books, that contained photographs and excerpts from her mother's numerous diaries. On the floor were oversized photographs of inscribed tombstones, their horizontal position referencing their graveyard locations.
The installation was a celebration of life and death, both highly specific and personal, and yet universal.
Take Care of Yourself
For me the knockout exhibition in this quartet was the project Take Care of Yourself. Here is Calle's description of the piece:
I received an email telling me it was over.
I didn't know how to respond 
It was almost as if it hadn't been meant for me.
It ended with the words, Take care of yourself.
I followed this advice to the letter 
I asked 104 women (as well as two handpuppets and a parrot), chosen for their profession or skills, to interpret the letter.
To analyse it, comment on it, dance it, sing it. Dissect it. Exhaust it.
Understand it for me. Answer for me.
It was a way of taking the time to break up
A way to take care of myself.
Take Care of Yourself was actually the first of the four exhibitions that I saw, although I'm discussing it last. The room was huge. There was a lot of text. Standing at the entrance and glancing in I didn't know if I was up for so much reading, so much involvement in a type of detachment often found in text-based art. I couldn't have been more wrong about what I would find once I stepped into the room.
(Click on the above photo. It will link to a site where you can view a video of the parrot's response to the breakup note.)
For a piece about the loss of love it was pretty hilarious. And captivating. And over the top. Like wandering in a mirrored funhouse – with the same sense of vertigo.
The piece is about Calle's breakup and yet she is remarkably absent. By asking other women to use their professional expertise to dissect the letter, and also instructing them to remain objective – no venting – Calle has distanced herself from her own life.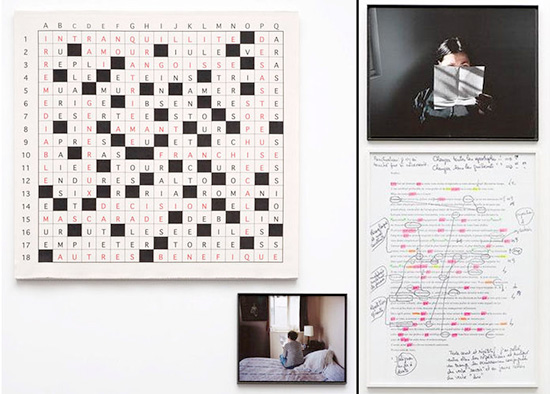 Part of the humor comes from the objective stance of the writers combined with the presentation methodology used by Calle. A lawyer draws up what looks like a legal letter, a copy editor marks up the original email missive with editing marks, a children's book writer re-contextualizes the letter as a fairytale which is then beautifully bound and printed.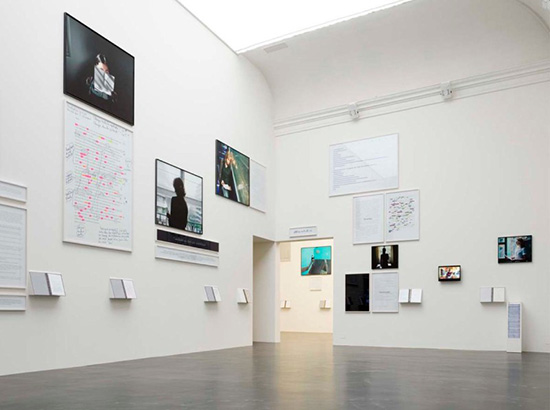 One of the things that struck me about all 107 pieces in the exhibit was how carefully they were designed and fabricated. Each of the printed pieces juxtaposed a large photograph of the writer/interpreter with their evaluation of the breakup letter. The layout, graphics, and materials used were sophisticated and showed a concern for form and presentation. In other pieces of Calle that I've viewed I'd say that the conceptual took precedence over the formal. Here, the "perfect" and "professional" presentation actually added to the objectivity, and thus the disconnect between the personal anguish of a breakup and it's brutal evaluation (which as I said earlier, is somehow, very funny).
In addition to the printed works a number of the "evaluators" responded with dance, song, dramatized recitations, etc. that were presented in a long grid of videos.
Here is just a small list of some of the letter evaluators: a talmudic scholar, a translator, a markswoman, a cartoonist, a criminal prosecutor, a clown, a child, an etiquette advisor, a chess player, a crossword puzzle creator, a forensic psychiatrist, and of course, a parrot.
This is really a great work of the imagination. Each time I moved to a new analysis of the letter I found myself amazed by the variety of possibilities. What a wondrous world we live in, even when it's painful.