In this series of blog posts we have been exploring artwork designed to cause viewers to look again (and even again) at what they think they are seeing. So far we have discussed examples of imaginary space and hidden symbolism, things used out of context, and meticulous imitations.
As you can tell, this topic is quite extensive. I think we could easily do another four-part series of posts and still not fully cover it. But I want to wrap up our discussion today. So let's go out with some flashy and fun stuff.
I'm talking about mirrors.
The artists in today's post have used mirror reflections like other artists use brush strokes or sculptural textures, and the results are super charged. The objects they have created challenge our perception right to its foundation and cause us to question everything we're looking at. What is it we see in front of us or behind us? What is above or below us? Where are the solid elements and where is the empty negative space?
Let's look at a few examples…
Lucas Samaras' early works were performance based pieces and installations. Later he became known for his manipulated Polaroid photo self-portraits. A consistent theme in Samaras' work has been "self-investigation." What better way to do this than by looking in a mirror.
In 1965 Samaras created Mirrored Room, a sculptural installation in which every surface is reflective. A viewer entering the room becomes lost in an infinite loop of visual information that turns normal space into a challenging, fragmented version of itself. The viewer becomes a kaleidoscopic player in the scene while the table, chairs and structure of the room almost disappear.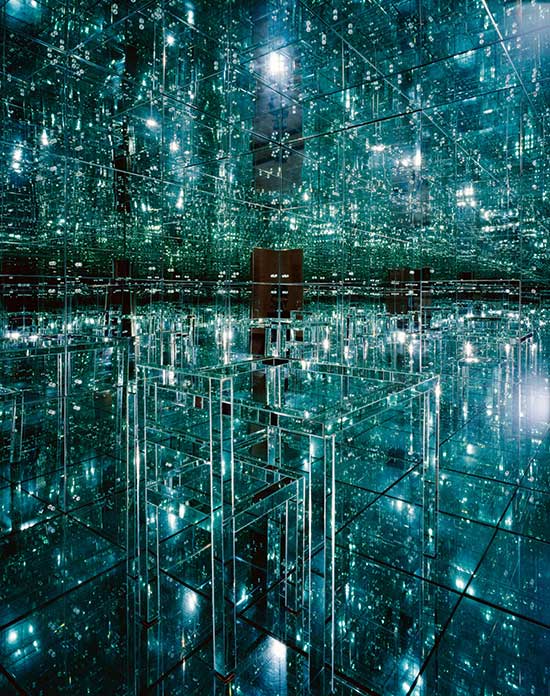 Yayoi Kusama is known for her obsessively patterned installations using a seemingly endless number of dots. The dots cover walls, floors and individual objects in her installations and cause the camouflaged objects to be visually subordinate to her larger installation.
Like Lucas Samaras, Kusama built her first Infinity Mirror Room in 1965. Since then she has created several major installations based on mirrors reflecting dot patterns ad infinitum. In each of these spaces viewers get lost in an etherial, all-encompassing field of dots extending out seemingly forever.
Kusama's environments are meditative and encourage the viewer to feel as though they are hovering over an immense field or floating in deep space.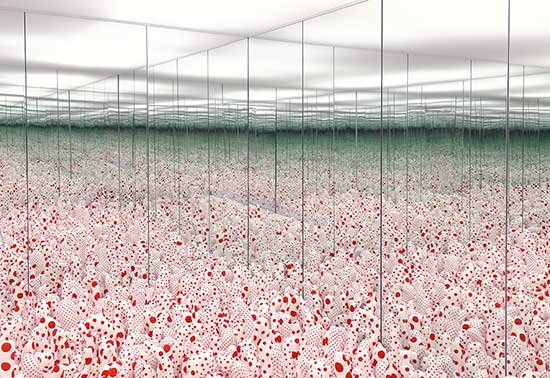 Alyson Shotz is an artist who has often used reflective materials such as silvered beads, prismatic discs and mirrored surfaces in her large scale sculptures. She is interested in exploring the viewer's perception of an object in its surrounding space.
Her sculpture titled Mirror Fence is meant to be seen out in nature in the company of grasses, trees and shrubbery. In this busy environment the fence materializes and then disappears time and again as the wind blows the foliage, the light changes, or the viewer shifts location.
The usual positive/negative alternating space relationship we expect to see when we view a picket fence is turned on its head. The fence slats and the empty spaces between them trade places as solids or voids. The gaps between the slats often seem to be more substantial than the solid fence.
If you are reading this in e-mail click here to see the video.
Phillip K. Smith III lives in southern California and much of his artwork is site specific – installed on location and responding directly to the desert or ocean beach. His installations often include mirrored surfaces that interact with the location and cause the viewer to look again and again at the scene in front of them.
Lucid Stead is a modified abandoned cabin located in the desert near Joshua Tree, California. Smith filled the windows and doorway with mirrors. He also mounted long horizontal mirrors on all four sides of the shack. During the day the effect is one of looking right through the structure. The roof seems to float above a stack of levitating boards. At night, computer controlled colored lights are projected on the windows and doorway from inside the cabin.
Smith says this piece is about light – reflected light and projected light. It is also about the ever-shifting quality of light unique to the desert.
Anish Kapoor is a sculptor known for creating eccentric formalist shapes with unique color and surface textures. In 2004 he was commissioned to create Cloud Gate for permanent installation at Millennium Park in Chicago.
Cloud Gate is a 110 ton stainless steel sculpture with a polished mirrored surface. It is 66 feet long and has a 12 foot high arch in the center that allows visitors to walk under the form. "The Bean" as it has been nicknamed by Chicagoans reflects the city's skyline and the sky. As viewers approach the form and walk around it they see distorted reflections of themselves and their environment.
Kapoor has noted that the horizontal nature of the form complements the intense verticality of the downtown buildings. The shape emphasizes a view of the clouds and the plaza while minimizing the visual presence of the surrounding skyscrapers.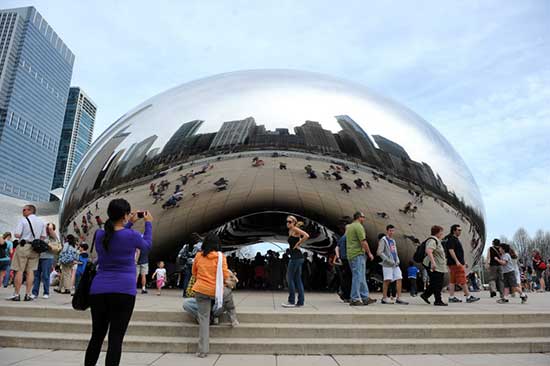 In each of these examples the reflective quality of the mirrored surfaces dramatically challenge what we would normally see if the forms were plain. They are all simple structures that have been magically transformed. Their mirrored state gives them another quality that must be examined again and again by viewers trying to make sense of what they see.