In several recent posts we've discussed the design element of texture. I want to add to that discussion by presenting the work of two additional artists, Alexandra Kehayoglou and Sigalit Landau.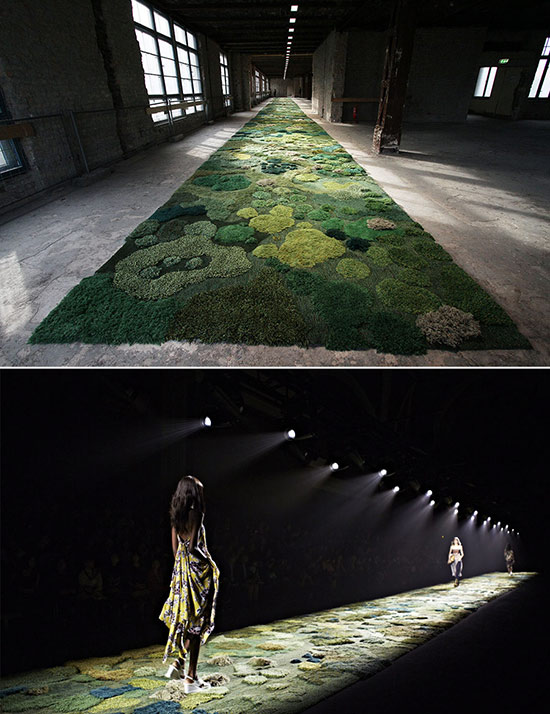 Argentinian artist Alexandra Kehayoglou is known for her elaborately tufted works that utilize traditional rug making techniques. Born into a famous carpet making family, Kehayoglou has branched out, producing nature inspired works that, as she states, reflect her "interest and consciousness about the environment – full of endangered species, and our cultural heritage."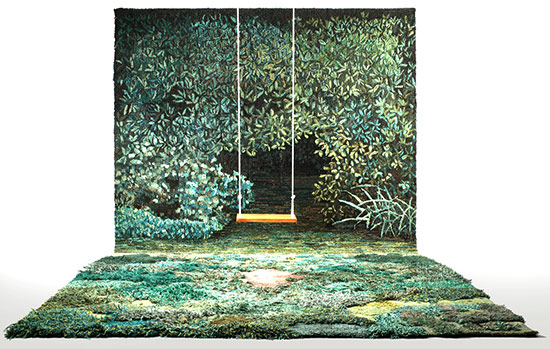 Working with a "tufting gun" and yarn remnants from her family's carpet factory Kehayoglou creates work that mimics the textures and patterns found throughout the natural world. What makes her work so powerful is the disconnect that occurs when lush forested environments are transferred to man-made interior spaces.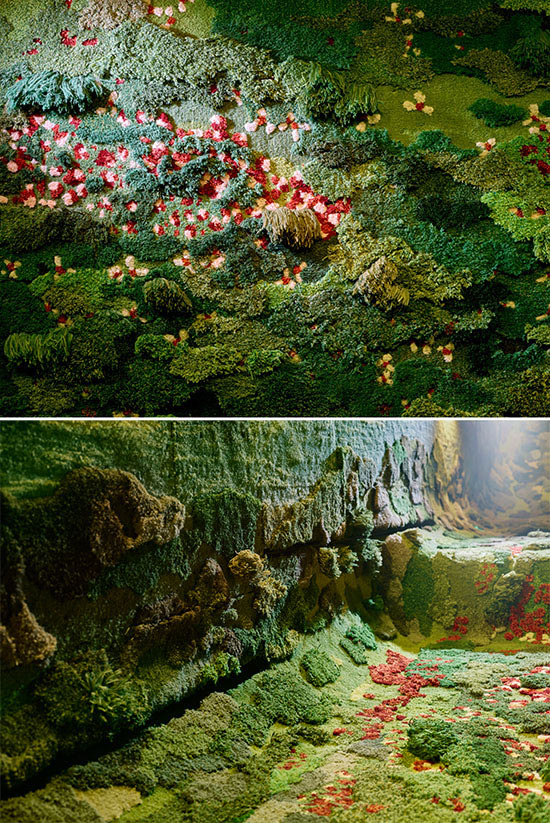 The images shown above represent her collaboration with the Danish architecture firm MVRDV (whom we profiled in an earlier post about the Tianjin Binhai Library in China). Created for the Jut Group in Taipei the project has been called "a green dream" that brings the natural world into the urbanized center of the city. This soothing green oasis functions on multiple levels, one of which is to act as a natural acoustic modulator that dampens the external sounds in this space designed as a lecture hall.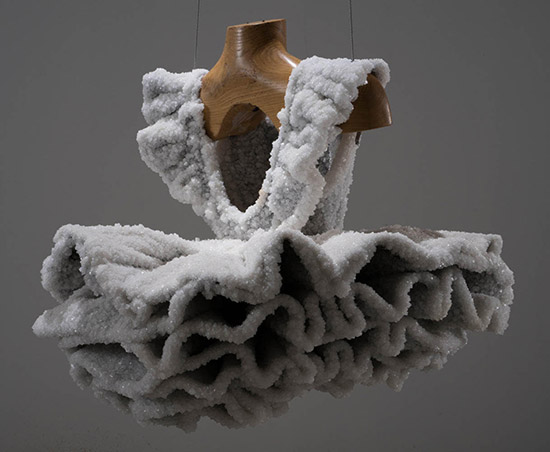 If Alexandra Kehayoglou can be seen as a type of trompe l'oeil artist who fabricates replicas of nature, then Israeli artist Sigalit Landau should be viewed as an interventionist who uses natural processes to make highly metaphorical works of art.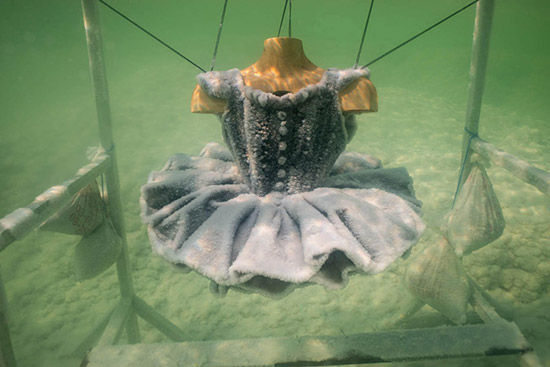 Landau was raised overlooking the Dead Sea and it has continued to capture her imagination. It embodies both her personal memories and those found in cultural myths and history. She has used the lake as a site for performances and photographs, and to make densely salt encrusted sculptural objects.
Using the hyper-saline environment of the Dead Sea, Landau suspends objects on elaborate armatures in its waters. It is not as straightforward as it may seem. First, the extreme saturation levels of the salt make things float so she has had to develop a system to keep the objects completely covered by water. Once suspended, nature takes over and becomes a collaborator in the making of the work. Salt crystals begin to form on the object's surface and after several months of immersion the work is ready to be removed. At this point another problem presents itself. The sculptures have become both extremely heavy and very delicate. Some works are photographed in place over the months of their creation and cannot be moved while others survive as intact sculptures.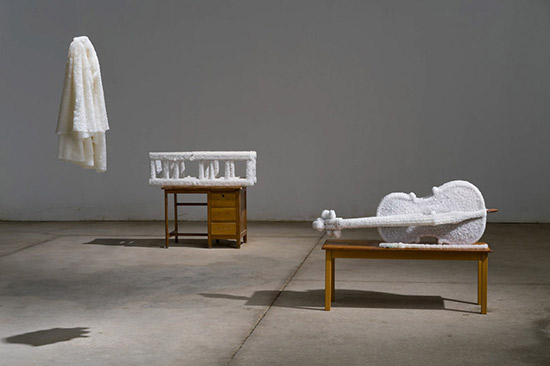 Salt is a magical material. It destroys and preserves. It's necessary for life, but too much can be deadly. It is found in cleansing rituals in a diverse array of cultures. It has been the subject of myth – we all remember the story of Lot's wife who was turned into a pillar of salt. With salt there is an alchemy at work that transforms ordinary objects into bejeweled wonders.
Landau has alluded to the submersion of objects in the Dead Sea as a baptism. On her website she states, "Baptizing profane objects in its waters, Landau relies on the Dead Sea to breathe life into inanimate objects, which emerge from their submersion as if belonging to a different time system, a different logic, or another planet yet their transformation unveils the divine and the eternal in nature."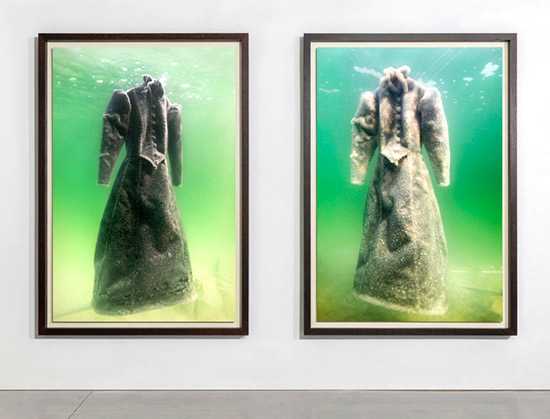 The photographs above are from Landau's series "The Salt Bride." To read more about this specific project click on this link to a useful article in the New York Times.
Texture is an integral part of many works of art. In the work of the two artists just discussed, it is essential. In one case it is part of an illusionary recreation of the natural world while in the other it structurally knits together material and memory.