In several recent posts we've discussed artists who use the design element of texture. I'm asking you to put the new knowledge you've gained from those posts to use.
The best way to begin to do this is by reviewing Chapter 5 (Texture) in our book "Design: A Beginner's Handbook." In addition, at the end of today's blog I've included links to some prior posts that you may find useful. I've also included images in this post of several art works by professional artists who use texture in unexpected ways.
Meret Oppenheim
I am proposing that you create two responses to this exercise, one using real three-dimensional objects, and the other using two-dimensional media (drawing, painting, or collage) and simulated texture.
Mona Hatoum
Working with a three-dimensional object change its nature, and or function, by altering its texture. The fur-lined teacup shown above might feel smooth and sensual against your lips but wouldn't be very useful for sipping tea. And that carpet made of pins is hardly welcoming. Both of these examples have shock value because they are so foreign and defy our expectations. At the same time, they help us see the true nature of the original unaltered object by negating its function.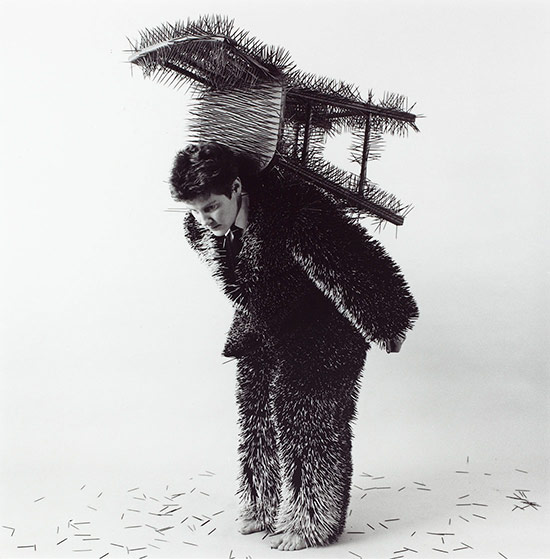 Ann Hamilton
Think carefully about what object and new texture you combine. See if you can do more than just surprise us. Would a rug made of pumpkins be as effective as one made of pins? Probably not. Ask yourself, what is the essence of the object? How can I negate or reinforce that? What am I trying to say i.e. do I want to make a political statement or one about aesthetics?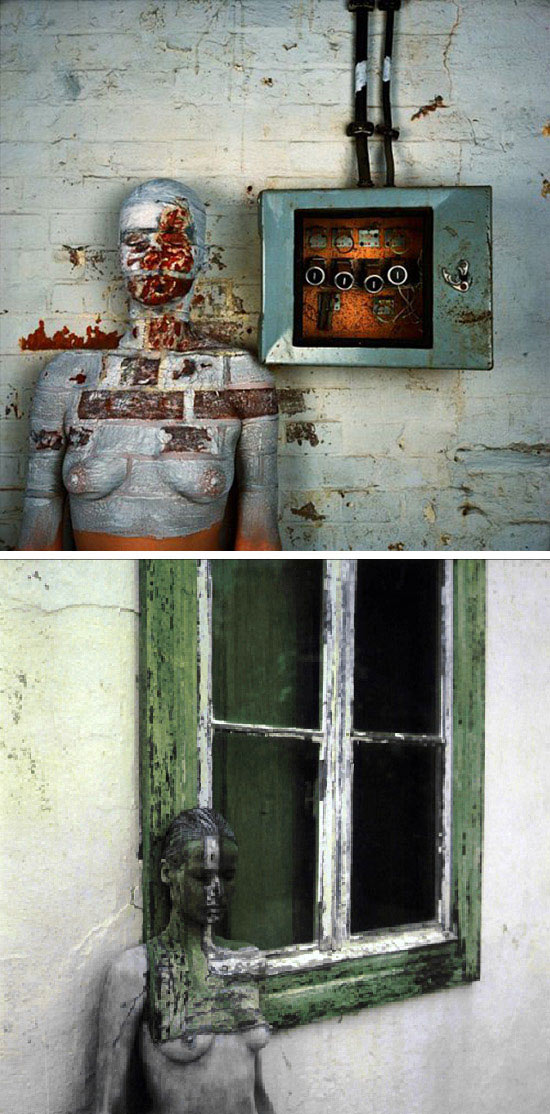 Vera Lehndorff and Holger Trulzsch
The collaborative piece shown above is a combination of actual and simulated textures. Vera Lehndorff's body has been meticulously painted in a trompe-l'oeil fashion, camouflaging her and allowing her to hide in plain sight. (The final work is presented in photographic form.)
In the first part of this exercise you work with actual texture. In this second part you'll use simulated texture – which can include trompe-l'oeil and faux finishes. You will work on a two-dimensional surface using paint, drawing media or collage – or a combination of these mediums.
Istvan Orosz
You can use any of the three types of simulated texture we discuss in our book – objective, abstract or invented. Do you want to alter all of the things shown in your drawing or only select items? If your intent is to create a fantasy environment then maybe everything should have unique textures, for example, a world where the land is made of candy. If you want to make a political statement changing only one primary element in a scene might be the answer.
IC4Design
Please share what you make with us on our Facebook page.
And now for some links to past posts:
Texture As Material And Metaphor
Fool The Eyes: Artists Who Use Their Skills To Challenge Our Perception (Part 2)
Fool The Eyes: Artists Who Use Their Skills To Challenge Our Perception (Part 3)
Time and the Construction of an Uncanny Beauty
The Mystery of the Mundane: The Art of Tara Donovan
Jelly Buildings and Waterfalls of Chocolate: Bompas and Parr